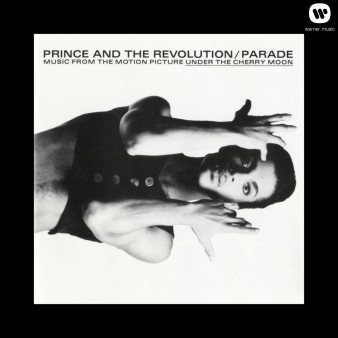 – –
The Album
[Rating:4.5/5]
The album and film, Purple Rain, put Prince and his band, The Revolution, at the top of the charts. Not content to rest on his laurels, Prince's next release, Around the World in a Day, went in a new musical direction with hints of the Middle East, psychedelia, and orchestral scores. A film soundtrack, Parade improves on this new direction, as seen in its opener. "Christopher Tracy's Parade" filled with drums, keyboards, horns and strings arranged by noted jazz pianist Clare Fischer, composer of the jazz standard, "Pensativa". Prince adds a beautiful ballad, "Under the Cherry Moon". With an infectious beat, "Girls and Boys" picks up the pace with a real ear-worm chorus, to boot.
With Parade, Prince is clearly moving past the usual pop song genre and, with Fischer's help, is creating some sound pictures that recall Debussy or Ravel. The tracks alternate chaotic or dissonant music as in the ending moments of "Life Can Be So Nice," followed by those laden with lush melodies as in "Venus De Milo". "Mountains," like many of the songs on the album begin with a steady, drum beat followed by a hypnotic progression. A descending saxophone run leads into a horn section supported by moving chords and bass, reminiscent of the instrumental breaks in Frank Zappa's "Wet T-Shirt Nite" or "Jumbo Go Away". This song finally fades out on a groove variation different from its beginning. The hit single from this album, "Kiss", was recorded with little reverb and featured short, staccato notes, making it stand out from the other tracks. The final number, "Sometimes it Snows in April" is sparsely scored for only guitar, piano, and three voices and could easily be a hit if thrown into today's music world. Following the tour for Parade, the Revolution was dissolved. Prince's subsequent album, Sign O' the Times while not as commercially successful as Purple Rain, would be heralded as one of his best, if not his absolute best release.
Christopher Tracy's Parade (2:11)

New Position (2:20)

I Wonder U (1:39)

Under the Cherry Moon (2:56)

Girls and Boys (5:29)

Life Can Be So Nice (3:13)

Venus De Milo (1:55)

Mountains (3:57)

Do U Lie? (2:44)

Kiss (3:37)

Anotherloverholenyohead (4:00)

Sometimes it Snows in April (6:48)
Audio Quality
[Rating:4/5]
Recorded primarily at Paisley Park, Prince's own recording studio complex, with other tracking done at Sunset Sound and Monterrey Sound, this high-resolution download exploits both sides of the spectrum, both treble through bass and acoustic and digital. Fischer's orchestral work stands on its own against the processed percussion (which can take time to adjust to as it is really upfront on some songs). The instruments sound natural and the mix works well. Keyboards don't fall by the wayside either. A great example are the overlapping harmony lines on "Life Can be So Nice". "Sometimes it Snows in April" sounds as if you are sitting ten or fifteen feet away from the musicians and "Venus De Milo" transports you to the middle of a concert hall while the ensemble plays just for you. The 192kHz/24-bit FLAC from HDtracks (also available in 96kHz/24-bit FLAC, ALAC, AIFF, and WAV) makes it possible to experience Parade in the best way possible. And for you truly dedicated followers of the man from Paisley Park, the puckered lips smooching on the chorus of "Kiss" could cause heart palpitations.
Supplemental Materials:
[Rating:0.5/5]
A high-resolution .pdf of the front cover art is included.
The Definitive Word:
Overall:
[Rating:4/5]
While not filled to the brim with radio singles and classics, Parade rises above and presents the album as a whole. I cannot say enough about the Prince/Fischer collaboration as it really brings the Revolution to the next level. Named the 1986 New Music Express (NME) album of the year, it beat out such classic albums as Paul Simon's Graceland and The Smith's The Queen is Dead. With one listen you can see why Parade earned such an honor. Unfortunately, this is the final Prince album HDtracks currently offers and should be taken advantage of.