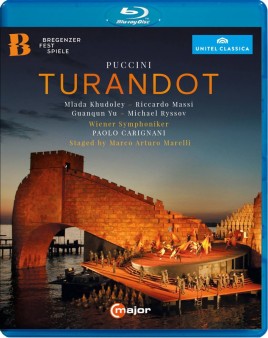 –
The Performance
[Rating:3.5/5]
Unlike Giacomo Puccini's other oriental masterpiece, Madama Butterfly, Turandot was left unfinished at the composer's death and the current production uses a score "completed" by Franco Alfano. The watery setting of the Bregenz Festspiele, held in an open-air ampitheater on the shores of Lake Constance, imposes considerable technical demands on the construction of the stage and sets. This high-definition video was filmed in July 2015 under the guidance of Felix Breisach, and includes choirs from Prague and Bregenz and the Wiener Symphoniker all led by opera veteran Paolo Carignani.
The story is based on a commedia dell'arte by Carlo Gozzi, set in Peking (Beijing), China. The beautiful but heartless Princess Turandot (Mlada Khudoley) challenges royal suitors to solve three riddles and when they invariably fail, the suitors are executed. Prince Calaf (Riccardo Massi) arrives and reunites with his blind father, Timur, exiled King of the Tartars (Michail Ryssov) and his devoted slave-girl Liu (Guanqun Yu). After another failed suitor, the Prince of Persia, is beheaded, Calaf sees Turandot and is immediately smitten. The three royal ministers, Ping (Andre Schuen), Pang (Taylan Reinhard), and Pong (Cosmin Ifrim) try to dissuade Calaf but he strikes the gong, signalling his pursuit of the "Ice Princess."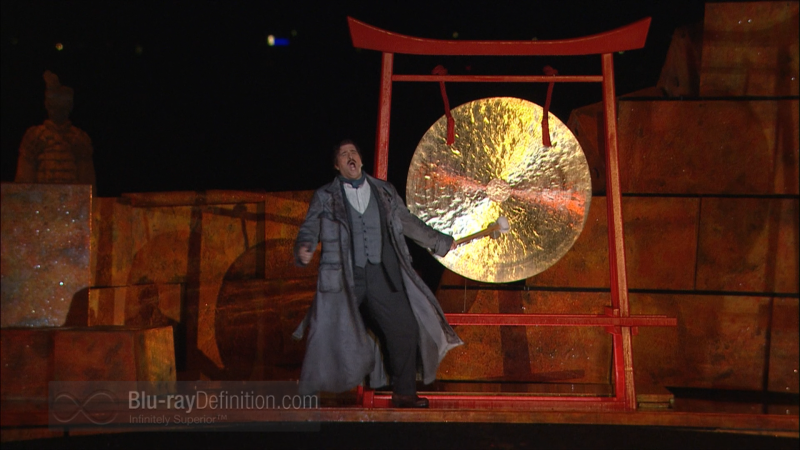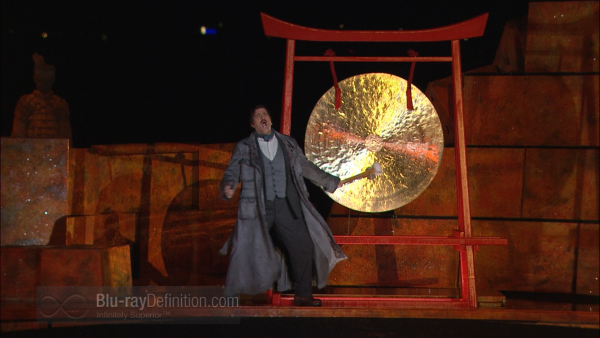 Emperor Altoum (Manuel von Senden), and eventually Turandot herself entreat  Calaf to change his mind but to no avail. Amazingly, the Prince solves the riddles and a stunned Princess must now accept her suitor. But Calaf then poses his own riddle: if Turandot can discovers his name before dawn, the prince will surrender his life.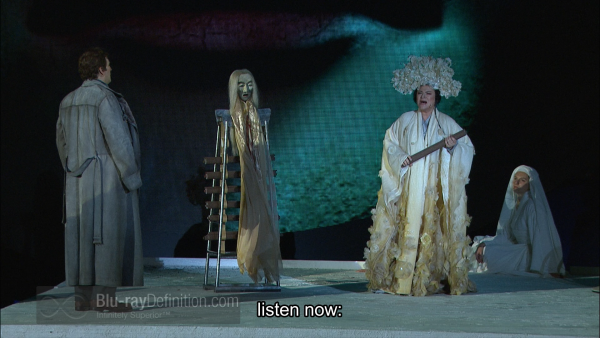 Calaf is offered women and jewels to give up Turandot but he turns them aside. Liu has been captured and fearing that she will give up Calaf's name under torture, she commits suicide. As her body is borne off, Calaf and Turandot are left alone. He finally reveals his name, in hopes that Turandot will yield to him. When the couple return to the palace, Turandot tells all assembled that she knows Calaf's real name and it is simply, "love."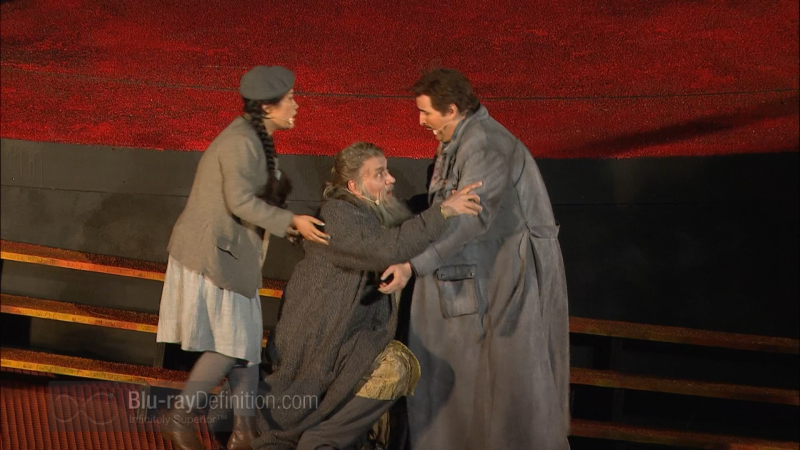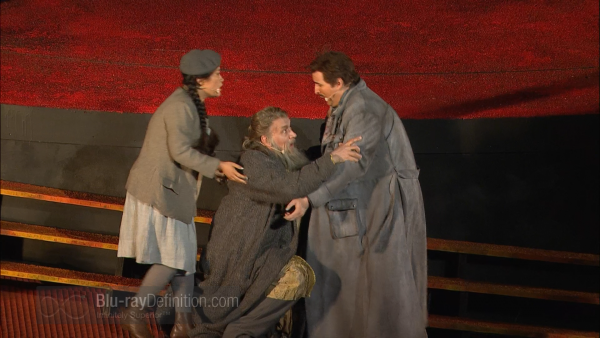 Director Marelli merges the characters of Puccini and the Prince apparently in deference to the composer's actual intense identification with his hero.  The massive set consists of a great wall that splits in the middle, a huge circular platform and two towers. Costumes mix Mandarin and early 20th century fashion (the opera was written in the 1920s).  Most of this cast was new to me and I was greeted by honeyed-toned tenor Massi who possesses the requisite Italian ping while Chinese soprano Yu was a very affecting Liu. The Ping/Pang/Pong trio provided the appropriate commedia dell'arte personas and experienced Crimean bass Ryssov was a sympathetic old Timur.  Russian soprano Khudoley has taken on such killer roles as Salome and Aida but her Turandot receives a stridor that makes for a challenging listen.  On a more positive note, Carignani's pacing is spot on and the all-important choruses make great contributions.

Video Quality
[Rating:4.5/5]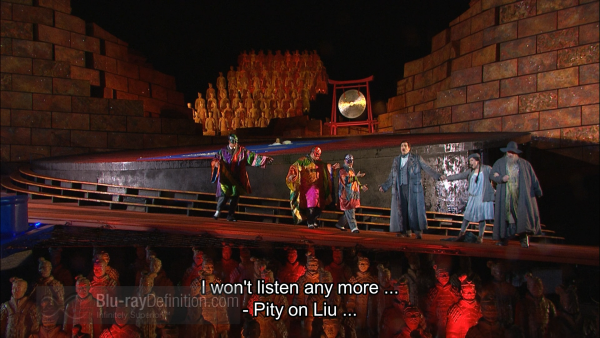 Filmed outdoors and at night, Breisach's camera crew does a fabulous job at rendering the excitement of the moment. Colors and details are superb and the special effects like the huge projections are well captured.

Audio Quality
[Rating:4.5/5]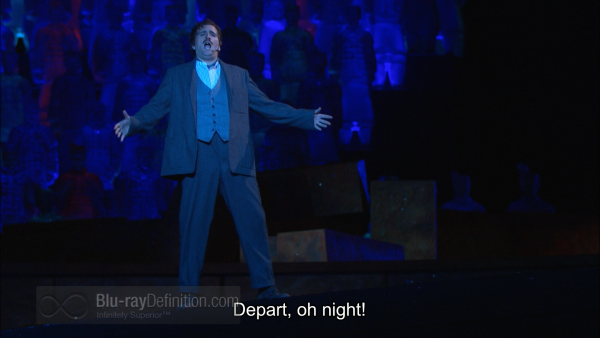 The integration of miked singers and the distant orchestra is simply phenomenal. Being outdoors, there is modest ambience (except for the offstage voices in Act III) but the dynamics of the orchestra, particularly the copious percussive effects are most impressive.

Supplemental Materials
[Rating:1/5]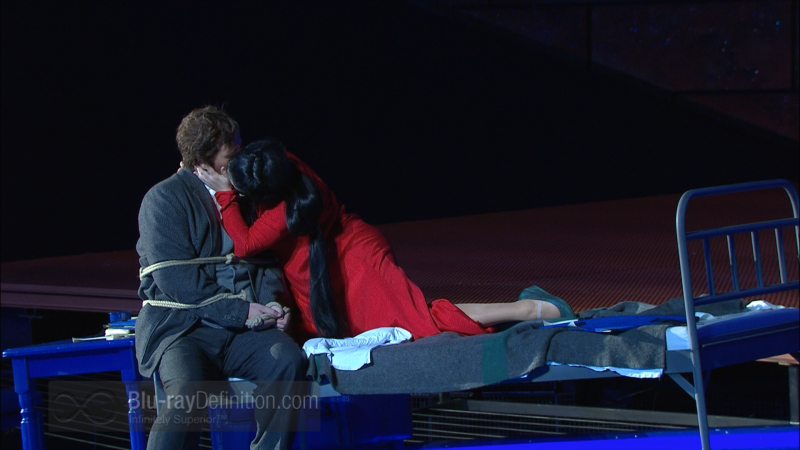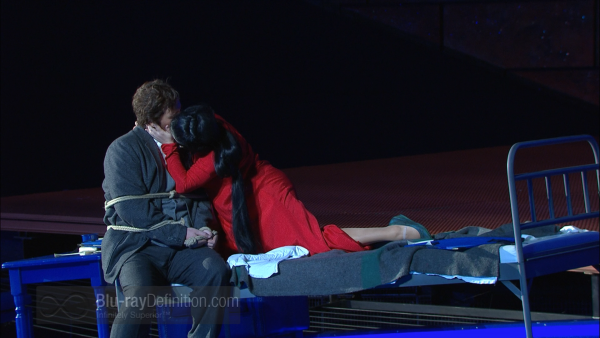 We get a program booklet with cast and production credits, track listing, synopsis, and a background essay on the opera. C Major trailers are included.

The Definitive Word
Overall:
[Rating:3.5/5]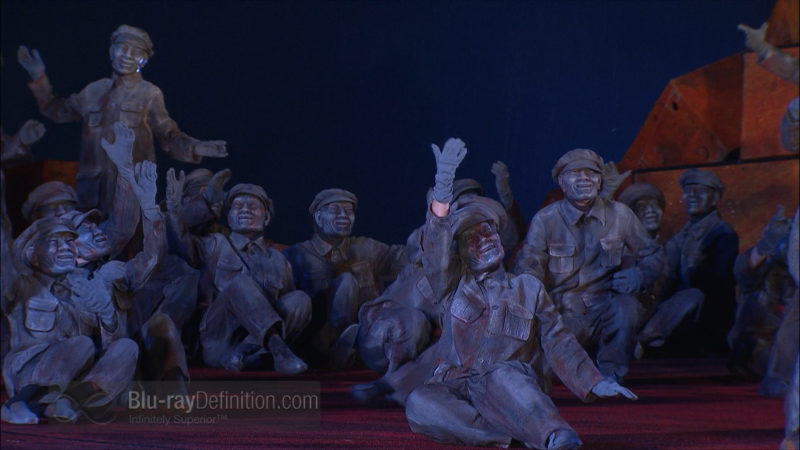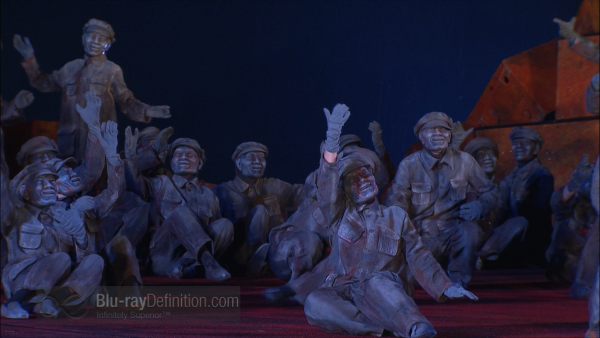 Bregenz Festival opera productions are typically exciting to watch and this one is no exception. That said, and with most of the principal parts so well carried off and production values so high, the major disappointment resides in the performance of the title role, creating a major reservation for recommending this disc. Those considering an alternative Blu-ray version of Turandot might well investigate the previously reviewed Opera Australia Blu-ray. Of course, for sheerly spectacular visuals (if not spectacular vocals), the Metropolitan Opera's presentation of Franco Zeffirelli's magnificent production must, at least, be seen as well.

Additional Screen Captures