Estimated reading time: 23 minutes
No matter which side of the giving/receiving equation you're on, there are only winners this year. From thoughtfully designed steelbooks to TV series collections, special editions and megasets, this year's bevy of present-able discs is bound to click with friends and family, whether they prefer humble 480p or snazzy 4K, with plenty of high definition in between. So let's start gifting so they can start spinning!
Robin Williams: Comic Genius DVD
Ed Sullivan's Rock & Roll Classics DVD (both available exclusively at TimeLife.com*)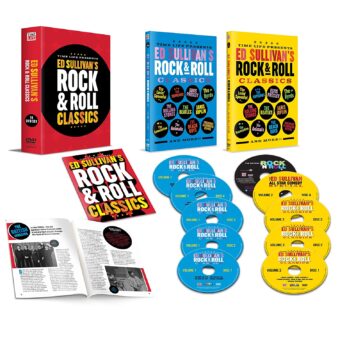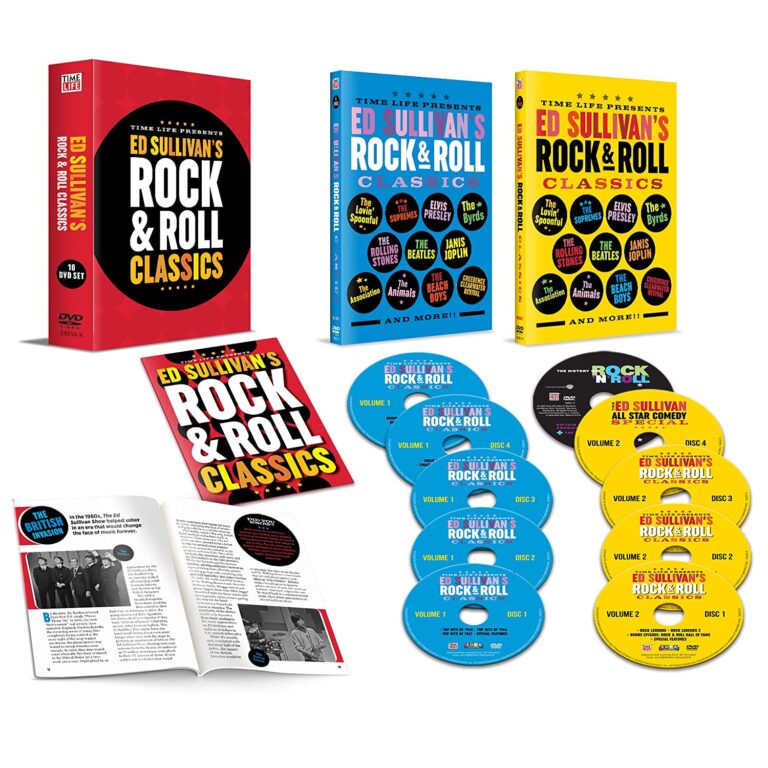 If one had to define the singular Robin Williams' greatest professional assets in two words, they might have to be Energy and Originality, and what more could we ask from a comedian? I can't recall such an elaborate, in-depth celebration of a single entertainer as Time Life has assembled in his honor, nor can I imagine a more worthy subject for a 22-disc compilation spanning decades in his life and career. It's an eclectic mix to be sure, built upon all five of his HBO specials plus entire never-before-released live shows and a smattering of command performances as well as his infamous guest spots on a range of talk shows and footage of some of his earliest standups. We'll also find episodes Mork & Mindy and Saturday Night Live, his appearance on Inside the Actors Studio, plus deleted scenes, a comprehensive collection of Robin's USO shows and the 2018 documentary Robin Williams: Come Inside My Mind. Newly produced featurettes join recent interviews and archival extras. This is a great potential gift for his many fans out there, the sheer heft making for an impressive presentation before the wrapping paper comes off.
Rock & Roll Classics catalogs one of the most glorious periods in all of recorded music, reintroducing us to the men and women who would appear on American television to promote their latest tunes. The Beatles made history on The Ed Sullivan Show with their U.S. TV debut, but the sheer quantity and surprising variety of legendary musicians represented across these eight discs is exhaustive. Be prepared to go on a melodic journey with everyone from The Byrds to The Animals, from The Bee Gees to The Beach Boys, from Elvis to Gladys to Janis. And did I mention the frickin' Beatles? Time Life keeps us on our toes with choices such as "Help!" alongside "I Want to Hold Your Hand"; The Stones' "Time Is on My Side" not far from "(I Can't Get No) Satisfaction"; lots of hits certainly but also a few you've probably never heard before, or perhaps never experienced in a live performance. Artist interviews add unique insight and context. And when our neck is sore from rockin' out, pop in the All Star Comedy Special bonus disc, hosted by Mary Tyler Moore and featuring a who's who of the titans of standup. (We can safely assume that Mr. Williams would have been a welcome member of this exclusive club.)  And as a bonus-bonus, two chapters from the History of Rock 'N' Roll documentary series are provided on a tenth platter.
*These can also be found for sale at marketplace sellers on Amazon.com
---
Halo Season One 4K Limited Edition Steelbook (Paramount)
Videogame adaptations typically miss the mark, so the Paramount+ series Halo came as a pleasant surprise this year with its spectacular production values and clever nods to long-running franchise. The basics are the same, with the USNC going all out in their war against the devastating alien Covenant, but this is a new story that departs from established canon, some of it understandable in the transition to episodic drama while other aspects–such as Spartan super-soldier Master Chief removing his signature helmet–have infuriated the fans. (A vocally disgruntled gamer: Go figure.) Halo is that rare TV show that also provides exceptional A/V demo material, and so the Ultra HD route makes a lot of sense with its explosive Dolby Atmos and you-are-there Dolby Vision. A vast array of featurettes totals more than five hours across the five discs, in addition to a set of art cards. There's also something quite fitting about a show starring a guy in armor arriving housed in a steelbook as several of the games have been over the years, too.
---
Rollerball 4K (Shout! Factory)
With its somewhat dated but well-rendered predictions of things to come, Rollerball is a can't-miss gem of mid-'70s science fiction. In this strangely peaceful new world, corporations reign supreme as wars have been replaced with an ultra-violent, ultra-popular sport. And when its star player (James Caan) is in danger of becoming bigger than the game itself, he's encouraged to walk away… or suffer the consequences. I remember this R-rated action-drama being my absolute favorite when I was a kid (after The Three and Four Musketeers and right before Star Wars) and while it might not have aged like a sublime Bordeaux, Shout! has given us a hot new 4K video master and color grade presented in Dolby Vision, teamed with a plethora of archival bonus features, including separate full-length audio commentaries from director Norman Jewison and writer William Harrison.
---
Yellowstone The Dutton Legacy Collection Giftset Blu-ray (Paramount)
Even in an era of endless entertainment choices, the title of Most-Watched Show on Cable carries a lot of clout. Oscar-winner Kevin "Still-Got-It" Costner stars as head of the modern-day Dutton clan, frequently fighting to maintain their generations-old claim to the family ranch that has gone back for generations, not to mention repeated head-butting with their own kin. This set is great for greenhorns like me who had not yet partaken of this delicious drama and are looking to catch up as Yellowstone continues its fifth-season run on the Paramount Network. The saga is so  popular in fact that it spawned a "Yellowstone Universe," leading to the creation of the limited companion series 1883, an origin story if you will, starring Sam Elliott, Faith Hill and Tim McGraw, also included here in its entirety. (Another series, 1923 starring Harrison Ford, is set to debut before Christmas.) To make this set extra gifty, a quartet of custom-designed coasters is supplied, just the thing to keep rings off the furniture when you're throwing back a Yellow Jacket beer or a frontier whisky.
---
Belle 4K Collector's Edition (Shout! Factory)
The moniker "Belle" is spot-on as this is one of the most gorgeous animated spectacles it has ever been my privilege to watch, a lavish production and it shows in the wide spectrum of bold, nuanced Dolby Vision hues, with Dolby Atmos (separate tracks for Japanese and the English dub) for good, immersive measure. And while I'm not generally a fan of virtual reality as a plot device, Belle (original title Ryuu to Sobakasu no Hime, literally "Princess of Dragons and Freckles") is an engaging story of fantasy and identity. The on-disc extras are bountiful: "making of," director interviews, scene breakdowns, with a bonus disc full of additional content exclusive to this edition, and it's actually quite fascinating. This is a three-disc set (one 4K + two HD Blu-rays) in exquisite packaging that also houses a book, art cards, a character sticker and a folded mini movie poster. Strongly recommended for those looking to transcend traditional animation.
---
The Offer DVD* (Paramount)
Paramount+'s companion miniseries to The Godfather, this dramatization based upon the recollections of film producer Albert S. Ruddy takes far more liberties with the facts than it should, but the saga at its core about the little bestseller adaptation that could is one for the ages. Miles Teller shines as the make-it-happen man behind the scenes, overcoming budgets, egos, corruption and even physical violence to deliver what would be, for a time, the highest-grossing movie ever. Along the way we meet a disparate crew including author Mario Puzo, director Francis Ford Coppola, stars Marlon Brando and Al Pacino, studio chief Bob Evans and mob boss Joe Colombo–all through Ruddy's lens–and we're left wondering how this damned movie ever got made. The Offer also answers the longstanding question, "What does a producer actually do?" The ten hour-long episodes are supplemented by a generous array of interviews and deleted scenes.
*Editor's Note: Also available on Blu-ray. Paramount sent out only DVD for review.
---
Ray Donovan The Complete Series DVD (CBS DVD/Paramount)
Liev Schreiber headlines as the "fixer to the stars," a sweet gig that takes him from New York to Los Angeles, doing every dirty little job that the rich and famous need handled with discretion and efficiency. A tough guy with a checkered past but a heart of (tarnished?) gold, Ray is remarkably good at what he does, but at any given moment his fractured family–including Oscar-winner Jon Voight as dad Mickey, a role that earned him a Golden Globe–could drag him down. Showtime's hit drama ran for seven gripping, grownup-skewing seasons spanning 2013 to 2020, with plenty of memorable story arcs and gut-wrenching complications across these 82 episodes, 29 discs total with a modest but welcome bunch of legacy featurettes plus the 2022 reunion movie.
---
To Kill a Mockingbird 4K (Universal Pictures Home Entertainment)
While it has come under criticism in recent years for perpetuating the myth of the "white savior"–among other concerns–To Kill a Mockingbird endures as one of the most human of cinematic dramas, capped by a career-defining performance by Gregory Peck as lawyer/single father extraordinaire, Atticus Finch. For its 60th anniversary, it's feted with a native 4K remaster that reinvigorates the Oscar-nominated black-and-white cinematography with bold contrast and magnificent detail graced by appropriate levels of film grain. This is a crown jewel for Universal so the legacy extras are substantial, and yet we are given the new "All Points of View" documentary that manages to find fresh takes on the movie and Harper Lee's book that put them into perspective for a new generation. (NOTE: For those, like my mom, who couldn't get enough of Mockingbird, there's also apparently a fancier gift set out there.)
---
Dexter The Complete Series + Dexter: New Blood Blu-ray (CBS Blu-ray/Paramount)
Not all serial killers are a bad sort, right? Take Dexter Morgan (Michael C. Hall), a forensics professional and genius hematologist who uses his vast scientific knowledge to identify, execute and ultimately dispose of some pretty nasty rogues without a trace. Born of author Jeff Lindsay's series of novels, Dex is endlessly charming to those who know him even as he grapples with his demons, a troubled soul in search of his own happy ending, and his warm relationship with his homicide detective sister (Jennifer Carpenter) certainly keeps things interesting. The former real-life husband-and-wife lead a solid cast that also invited a fantastic group of guest stars to stop by over the show's eight-year run. All 96 episodes from the original Showtime series are here and, despite appearances to the contrary, Dexter lives to kill again in the ten-episode sequel series, New Blood. Series-specific supplements are provided, including an aptly titled featurette on New Blood entitled "Why Now?"
---
Supergirl The Complete Series Blu-ray
Legends of Tomorrow The Complete Series Blu-ray
Peacemaker The Complete First Season Blu-ray (all Warner)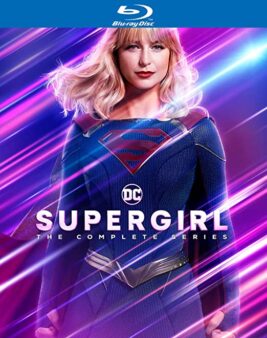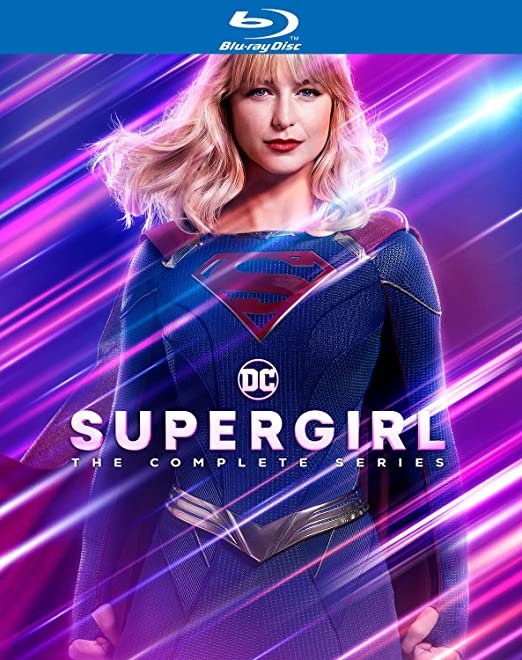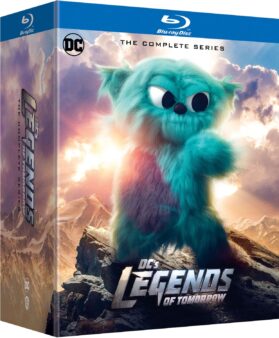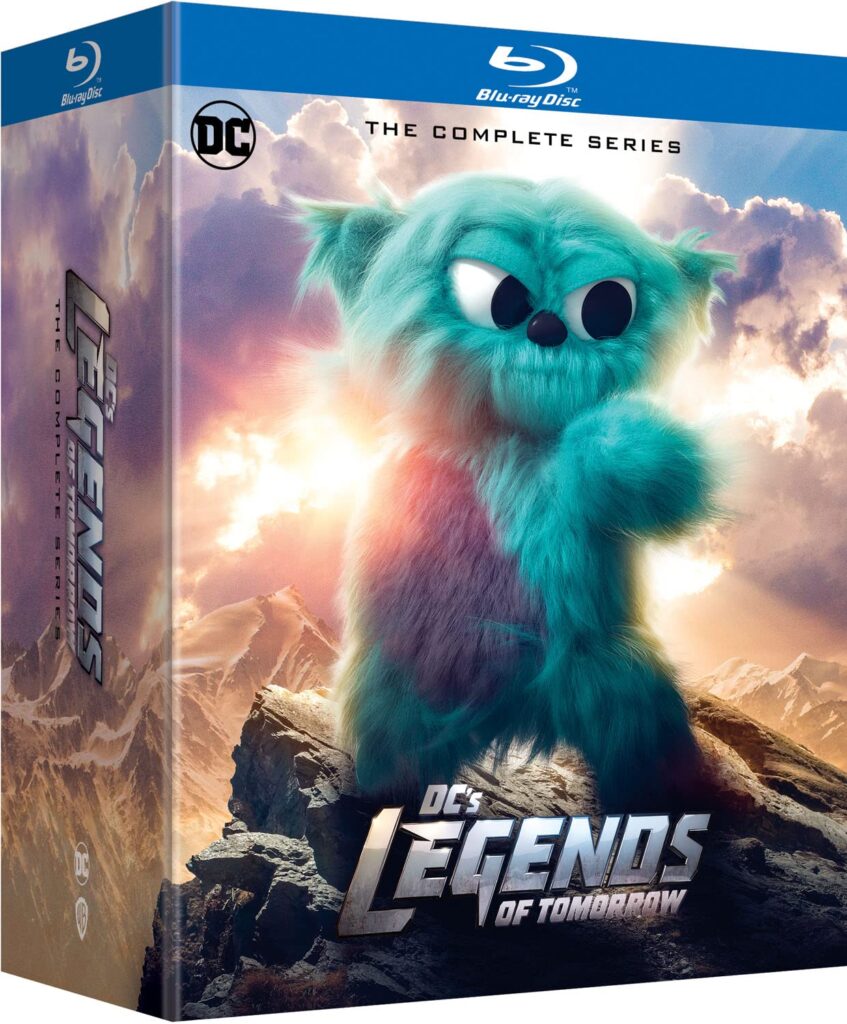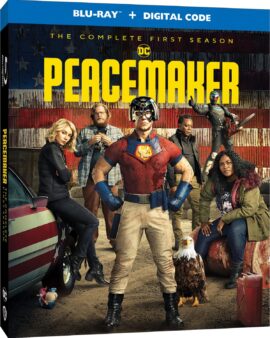 Not since Lynda Carter (who slyly cameos on Supergirl) starred as Wonder Woman have TV audiences enjoyed a solo live-action über-heroine flying into their homes each week. The irresistible Melissa Benoist stars as Kara Danvers, her dual identity keenly playing off the actress' mousy persona from Glee while also empowering her to spread her wings, if you will. Cousin of the Man of Steel (whose latest iteration was in turn introduced here) and doer-of-good, Kara has seen her story extensively rewritten for modern sensibilities and reasonable budgets, with an emphasis of personal drama across six seasons and 126 episodes.
Supergirl became an essential part of the CW's "Arrowverse" of interconnected DC Comics shows, as was Legends of Tomorrow. Props to creator Greg Berlanti for assembling Legends' own unique ultra-team from the available odds and ends he found lying around the DC utility drawer: The Atom, Captain Cold, Heat Wave, White Canary, Firestorm et. al. each bring something special to their history-hopping exploits, doing a far better job of protecting the timeline than a certain god of mischief I could mention. Both series remind even us cynics of the thrill of seeing these beloved heroes and villains brought to life, with fun crossover events (Supergirl includes a bonus disc with all five parts of the better-than-it-needed-to-be "Crisis on Infinite Earths" multiverse storyline) and even a clever appearance by one John Constantine. Blame ratings, corporate politics and/or the pandemic for their cancellation, with fans mounting a campaign to bring back Legends since it ended on a cliffhanger. The Girl of Steel lands in a single relatively slim case, with The Tomorrow Bunch collected in the seven individual-season cases (some nifty cover artwork on these) packed together in a cardboard slipcase and keeping all of the original featurettes, unaired scenes and gag reels.
Rooted in the DCEU's "Snyderverse" (soon to be "Gunniverse"?), Peacemaker is the HBO Max extension of James Gunn's wicked big-screen project, The Suicide Squad, created during his unfortunate Marvel Studios exile. The hardest-working man in graphic novel adaptations personally scripted all eight episodes and directed five of them, delivering a raucous and unapologetically adults-only romp centered on an obscure Charlton Comics character from the '60s, acquired by DC and embodied here by the buff, often hilarious John Cena. I haven't yet figured out how to play that sweet opening dance number on endless repeat, but there are instead some fun featurettes and a gag reel. (Peacemaker comes with a digital copy, a welcome inclusion that I'm finding to be increasingly rare for TV series on disc.)
---
The Classic Christmas Specials Collection 4K (Universal Pictures Home Entertainment)
For many, the holidays just aren't the holidays without these go-to Rankin/Bass TV specials. That would include my family, as I recall with some embarrassment the year my kids watched Rudolph the Red-Nosed Reindeer five times in a row, and how they burst into tears as I hit the eject button when it was time to leave Grandma's house. Stop-motion animation can look stunning in 4K (see the Laikas, elsewhere in this story) and neither Rudolph nor Santa Claus Is Comin' to Town disappoints. These, along with the hand-drawn 2D animation of Frosty the Snowman, were all 35mm film, Technicolor productions, arriving on Ultra HD with a pleasingly sharp image and vibrant shades, surely the best they've ever looked. Expert commentaries are supplied for Santa and Frosty, with some interesting video tidbits on Rudolph. HD Blu-rays, Movies Anywhere digital copies and the "Animagic World of Rankin/Bass" documentary are provided for all three.
Planes, Trains and Automobiles 4K (Paramount)
The arrival of PT&A 4K put me in mind that I have owned this movie–a less-common holiday comedy about the quest to get home for Thanksgiving–in just about every different home entertainment format over the decades, and for good reason: Few other films combine perfectly cast stars getting ample R-rated laughs while still tugging at the strings of the heart. As Brandon pointed out in his review, the 4K image quality here could certainly be better (despite the best intentions by two-time Oscar-nominated cinematographer Don Peterman), but beyond the ample legacy bonus features on the 4K disc, the real carrot (yam?) here is the bonus Blu-ray. This second platter serves up well over an hour of mostly never-before-seen extended and deleted scenes (including the previously released "Airplane Food" exchange) from the late writer/director John Hughes' archive, giving us real insight into his creative process. Also here is actor Dylan Baker's original audition tape, because… why not?
---
E.T. The Extra-Terrestrial 40th Anniversary Limited Edition – Walmart Exclusive (Universal Pictures Home Entertainment)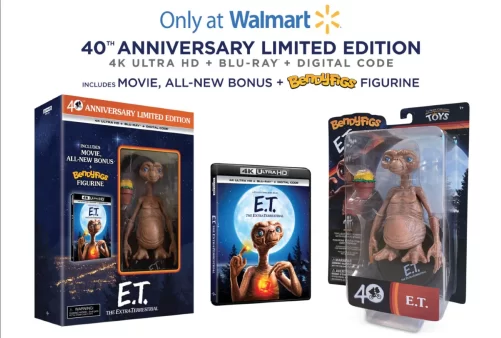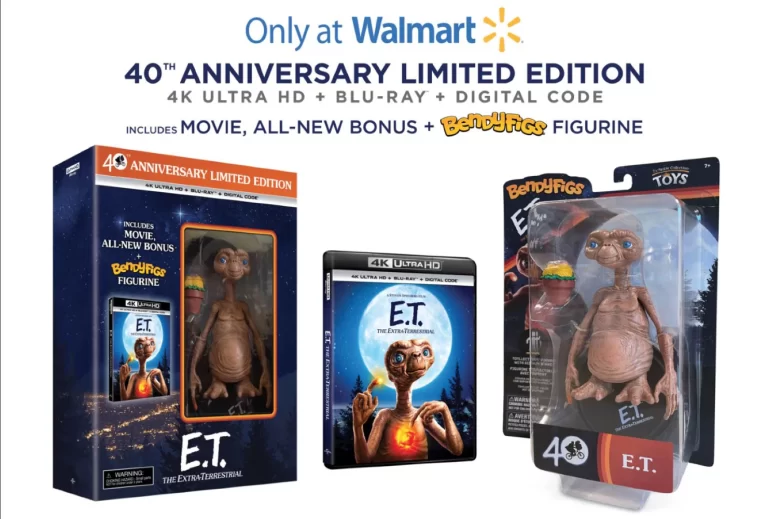 A timeless family film, E.T. remains a nigh-perfect gift for just about anyone, anytime. This year, its 40th anniversary, Universal has chosen to create a Walmart-exclusive package which arrives with a BendyFigs toy that tracks with the sort of merch I saw on shelves back in the early '80s, a fun little plastic doodad to remind us of a simpler time. It also makes an effective bribe just in case one of your kids isn't eager to watch "that old movie" with you. Unlike the 35th Anniversary disc from 2017, the generous legacy extras appear on the 4K disc–which has been quietly upgraded from dual-layer (66GB) to triple-layer (100GB)–showcasing Steven Spielberg and John Williams, plus deleted scenes. New bonus consists of a fluffier piece about celebs remembering their first time seeing the film and then a more substantive encounter with Mr. Spielberg looking back at his incredible career and E.T. in particular.
E.T. The Extra-Terrestrial 40th Anniversary Limited Edition – Walmart.com
---
Euphoria Complete Seasons 1 + 2 DVD (HBO)
Have a high-drama teen on your list? (Aren't they all, in their way?) Why not slip this first-ever disc release of Euphoria–the complete story so far–into their stocking… unless the jaw-dropping depictions of high school sex, drugs and violence are not a good fit for your gifting vibe. An American take on an Israeli miniseries, HBO's unabashedly graphic dramedy employs an effective flashback/"origin" structure to help us better understand the youngsters' dubious, often self-destructive choices. The first and second seasons are presented on five discs, along with the two "special" episodes that dropped in between, one each for BAEs Rue (Zendaya) and Jules (Hunter Schafer). The groundbreaking, tone-setting Season One is clearly the superior, as we can practically feel the writers running out of steam toward the end of Two, but hopefully a nice long breather will reignite the euphoria for Three.
---
Coraline and ParaNorman 4K Limited SteelBook Editions (both Shout! Factory)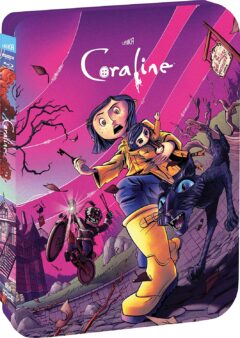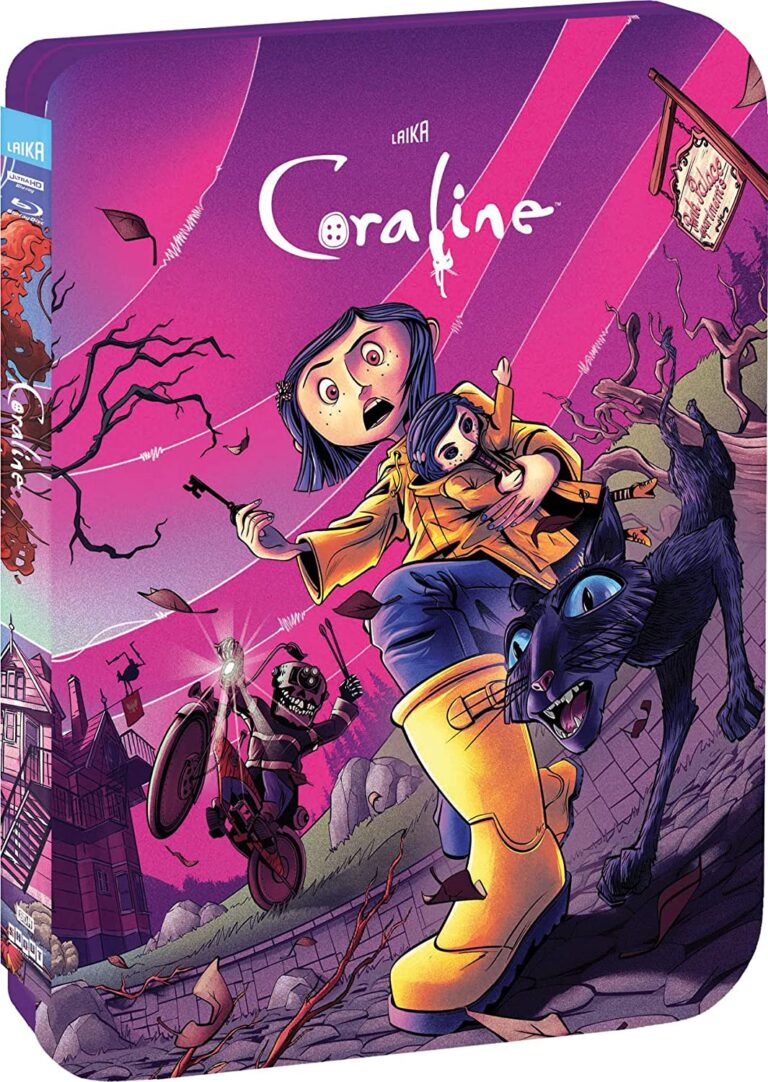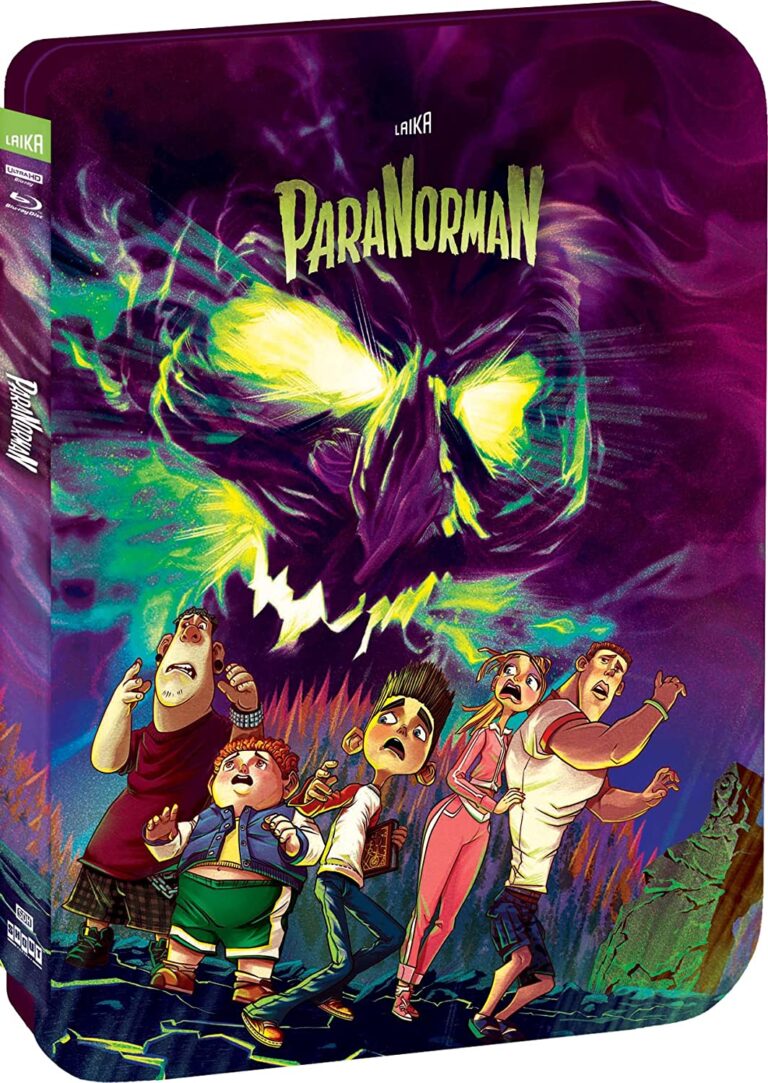 If you dig stop-motion animation and Santa ain't your bag, you owe it to yourself to check out two of Laika Studios' best feature films. For these new 4K releases (now with Dolby Atmos audio, too), shot-by-shot Dolby Vision remasters were overseen by company CEO Travis Knight and VFX Supervisor Steve Emerson, the better to appreciate the consummate care that directors Henry Selick (Coraline) and Chris Butler and Sam Fell (ParaNorman) put into their work. The creepy adventures of preteen ghostbuster 'Norman are more amusing than I remembered, and Neil Gaiman's delightfully disturbing Coraline recently (and shockingly) had the distinction of becoming the top-voted bedtime story in the U.S., based upon Google searches, making it undeniably deserving of a watch, or re-watch for that matter. Even the packaging is special, the metal cases adorned with inspired illustrations by artists Cesar Moreno and Kevin Tong. Now that this pair has arrived in 4K, I can start counting down to what I hope is the inevitable arrival of Laika's The Boxtrolls and Kubo and the Two Strings to join them.
---
South Park: Post COVID Blu-ray (Paramount)
Paramount's final South Park disc release of the year unites Post COVID and The Return of COVID which originally debuted three weeks apart on Paramount+ late in 2021. Taken together, the two hour-long specials form a sort of feature-length conclusion to what is loosely considered "Season 24." In an irreverent glimpse of the future, the boys are all grown up (except for Kenny, who's dead of course) and living very different lives as the world is finally over the pandemic… or is it? The real solution to the problem might be to travel back in time to both prevent COVID from ever becoming a reality in the first place and save their friend, but nothing is ever simple with these guys so expect some wildly inappropriate twists but ultimately a lot of fun, too.
---
Goodbye, Don Glees! Blu-ray (Shout! Factory)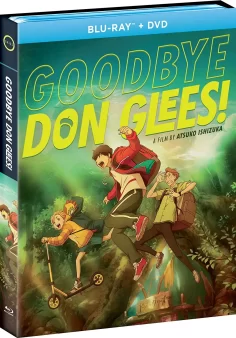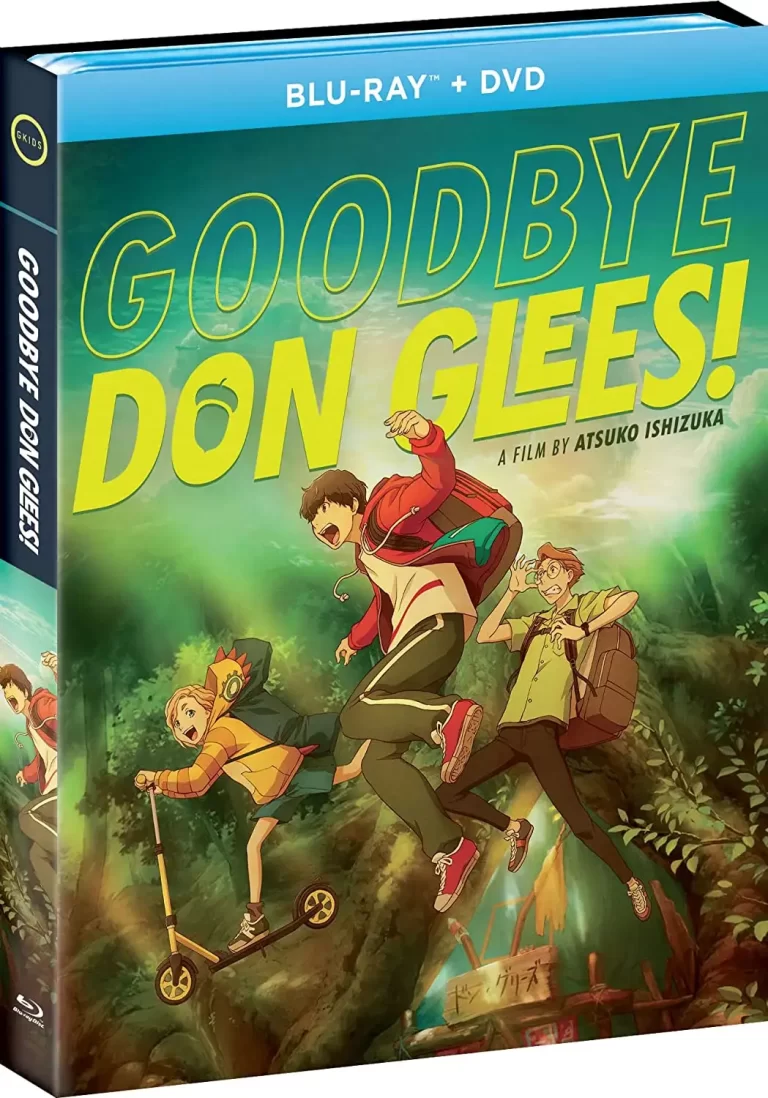 A pleasant surprise from GKIDS, Don Glees (original title Gubbai, Don Gurîzu!) is a sumptuously animated and touchingly conceived coming-of-age tale vaguely reminiscent of Stand by Me yet, as is the case with such inspired anime, it becomes something all its own. There are modern adventures and sincere explorations of the nature of youth, as tightly knit friendships are tested by new challenges at the possible end of innocence. Highly recommended for anime fans and admirers of heartfelt teen drama… although certainly not to be confused with Euphoria, elsewhere on this list. The one real extra is an interview with writer/director Atsuko Ishizuka.
---
Frasier The Complete Series Blu-ray (CBS/Paramount)
The success of Frasier as arguably the best spinoff series ever and considered by many to be the best sitcom of all time is no small feat when the parent here is the rightly revered Cheers, and both ran for a not-too-shabby eleven seasons. (Frasier is a close second in final episode count at 264.) Frasier owes much to its central conceit as its title character (Kelsey Grammer in his signature role) is a respected psychiatrist and self-help radio host whose many foibles often get the better of him. Grammer is backed by a stellar supporting cast assembled for the show, led by "brother" David Hyde Pierce (four Emmys and eleven total nominations) as the perfect neurotic foil, Niles. As befits the (not always) sophisticated siblings, the series arrives in classy season-by-season packaging, 33 discs in all, accessorized with a smattering of featurettes sourced from back in the DVD/standard-definition days.
---
The Taking of Pelham One Two Three 4K (Kino Lorber Studio Classics)
With a script by Peter Stone working from John Godey's novel, Pelham is a suspenseful caper set where none had gone before: the New York City subway. Walter Matthau charms as the gruff transit officer who serves as the main point of contact for the slick leader (Robert Shaw) of the hijackers who were clearly an inspiration for Quentin Tarantino's color-coded crew in Reservoir Dogs. A commercial TV staple when I was a kid, the movie gave audiences an eye-level view of the downright awful streets of NYC where it was shot in the early '70s, and KLSC has given us a terrific Ultra HD video master with Dolby Vision HDR from a new 4K OCN scan that captures all the grit and grime. On both the 5.1 and 2.0 audio options, David Shire's score still works brilliantly, the legacy interviews are first-rate, and there are now two different commentaries to choose from.
(Career Highlight: When else have I ever had the chance to say One Two Three 4K? Maybe if I write about the remake someday….)
---
Dragons Forever 4K (88 Films)
Produced well into Jackie Chan's lengthy career but still well before he would achieve widespread popularity in the U.S., Dragons Forever captures the combination of broad comedy and superb martial arts against a backdrop of criminal activity that epitomized so much of Chan's work in his native China. Here, he's a lawyer with some surprising skills who soon uncovers a drug ring and–with a little help from his friends–breaks it up, old-school. Director Sammo Hung memorably co-stars with much of the action staged by co-director Corey Yuen. 88 Films has hit new heights with this exquisitely packaged special edition that presents the movie in three different cuts, all in 4K: the Hong Kong cut, the Cyclone Z cut created for the Japanese market and the international cut specifically for non-Asian audiences. Various audio options including Dolby Atmos and 5.1 are provided, with Cantonese and English choices plus newly translated subtitles. Across the two discs (an HD Blu-ray is also supplied) is a wealth of bonus content, including new and legacy audio commentaries and extensive talent interviews. There's also an outstanding 88-page booklet, a set of miniature lobby card reprints and a folded poster.
---
Editor's Special Mentions:
For the Home Theater and Audio Enthusiasts:
---