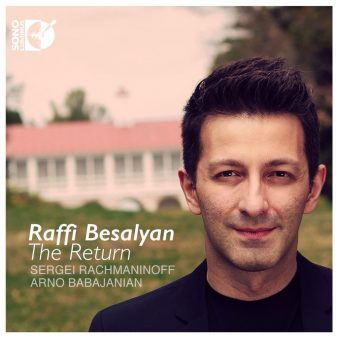 –
The Album
[Rating:4.5/5]
Raffi Besalyan is a young Armenian piano virtuoso, now living in the United States, and is professor of piano performance at Georgia State University. Besalyan's career has soared since his 2003 Carnegie Hall debut and the accolades for his concerts have continued to mount.  The Return refers to a painting by Swiss symbolist artist Arnold Bocklin that conjures up memories of the home that Besalyan left years ago. A lineal descendant of the Russian school of pianism, Raffi presents a recital that features works by legendary composer/pianist Sergei Rachmaninoff and fellow Armenian composer Arno Babajanian. The playlist is as follows:
Rachmaninoff:

Prelude Op.3, No.2 (3:51)
Prelude Op.23, No. 5 (3:52)
Prelude Op.23, No.6 (3:11)
Prelude Op.23, No.7 (2:54)
Prelude Op.32, No.5 (3:07)
Prelude Op.32, No.10(4:41)
Prelude Op.32, No. 12(2:43)
Etudes-Tableaux Op.33, No.6 (1:48)
Etudes-Tableaux Op.39, No.1 (3:36)
Etudes-Tableaux Op.39, No.5 (5:04)
Etudes-Tableaux Op. 39, No. 6 (3:03)
Variations on a Theme of Corelli (16:02)

Babajanian:

Prelude (1:47)
Melody (2:10)
Elegy (3:31)
Vagharshapat and Dance (2:14)
From the opening bars of Rachmaninoff's most familiar Prelude in C-sharp minor, we know that we are in for something very special. Besalyan's command of the often-daunting Rachmaninoff repertoire is astonishing. Extracting the absolute essence of these brief dazzlers, he conveys the impression of simply effortless technique in contradistinction to the immense effort that these scores really require.  The four Babajanian pieces hold an obvious cherished place in this pianist's heart and receive definitive and brilliant readings.
Audio Quality
[Rating:4.5/5]
The piano is a notoriously difficult instrument to record and this Pure Audio Blu-ray Disc captures the dynamic range, the subtle nuances of the pedals, and the overhang of the notes as well as I have ever heard them.  Of course, it does not hurt matters that the instrument in this recording is a Steinway Model D grand piano. Recorded in 352.8k/24b resolution and in a 7.1-channel format, I expected stunning sound.  Both of the 192kHz/24-bit versions are superb, and preferable to my ear over the 96kHz/24-bit 7.1-channel alternative that seemed less detailed.
Supplemental Materials
[Rating:4/5]
The thorough program booklet discusses the composers and the works on the program and offers a brief biography of the artist. Track listings and production credits are also included. A red book audio CD is an additional bonus and while lacking the sensational sonics of the Pure Audio disc, it is still a worthy rendition of the program. Via mShuttle, mp3 and FLAC versions are available as digital downloads.
The Definitive Word
Overall:
[Rating:4.5/5]
Although I was unfamiliar with Raffi Besalyan before I received this Pure Audio Blu-ray disc, I will make certain that I follow this artist's recordings in the future. The Return is simply superb pianism in the grand manner that recalls such eminent Russian virtuosos as Sviatislov Richter and Emil Gilels.  This is one of the best-recorded piano recitals that I have heard recently and one that should delight those who love the piano repertory. Highly recommended.
[amazon-product]B00TISVPEA[/amazon-product]