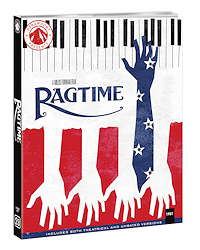 Milos Forman's adaptation of E.L. Doctorow's best seller Ragtime traces the racial and class clashes in early 1900s suburban Westchester County, NY and Atlantic City, NJ.
The genius ragtime pianist Coalhouse Walker Jr. (Howard E. Rollins Jr. playing the Scott Joplin-esque character) enters the lives of white, upper middle-class family the Nesbits, living in the up-and-coming Westchester suburb of New Rochelle, when his girlfriend is taken in by Mrs. Nesbit (Mary Steenburgen). Trouble with a racist local fire chief (Kenneth McMillan) who ruins Coalhouse's brand-new Ford Model-T leaving Coalhouse arrested and seeking justice he cannot get draws the Nesbits further into the racial tensions. Meanwhile, Mr. Nesbit's (James Olson) brother-in-law (Brad Dourif) gets involved with a former showgirl (Elizabeth McGovern) who is mixed up with high powered men in Atlantic City. His fight for justice, which involves trying to get a nude statue of his girlfriend taken down and shooting the man who owns it, leads him to empathize with the plight of Coalhouse and the other black men seeking justice over his Model-T, a fight that soon turns violent.
This film holds a special place in my memory since I studied both the original novel and the film in a high school class I had called "Classics into Film," and it helped me to become a fan of Doctorow's writing to this day. Much the film is also set in New Rochelle where I attended school from 3rd grade straight through high school and spent much of my younger days hanging out. I was not a very big fan of adaptation by Milos Forman then and I am still not much of a fan of it now, far referring the novel, although my criticism has softened a bit over the decades.
There is a lot to like in this film. Rollins Jr. puts on a masterful performance and, in fact, the entire cast is superb. Forman does keep the film together well and craft a gorgeous looking production that transports the viewer back to the early 20th century. The film also stars James Cagney, Mandy Patinkin, and Moses Gunn.

The Video
Ragtime has been remastered from a 4K film transfer and is presented on Blu-ray in an AVC 1080p encodement framed at 2.40:1. There is some very slight murkiness in shadows that is likely due to the filming techniques, but everything looks natural with no noise or compression issues. The palette at times favors the rich midtones and sepia tones for that 'old timey' feel, but there are also scenes in dance halls with brighter colors and lights that are more colorful or the scenes in the suburban household of the Nesbits that look a little lighter and more natural. This all comes across well in this transfer. The newly discovered unrated director's workprint is also included and is worth a watch, but is well below the visual quality of the theatrical cut, showing lots of source damage, black crush, noise, and other issues.
The Audio
Paramount provides a Dolby TrueHD 5.1 track for Ragtime on this release. It provides mainly atmospherics in the surrounds but is also very good at presenting the ragtime music performances and the big explosion in the street in the final act with a good amount of low end, not earth shaking, but decent.
The Supplements
Do make a point to listen to the audio commentary with Milos Forman and watch the new featurette Ragtime Revisited.
Collectible packaging with foldout featuring original theatrical poster art and interior spread with key moments from the movie
Digital Copy Code
Commentary by director Milos Forman and executive producer Michael Hausman
NEW Deleted and Extended Scenes (1080p; 00:17:06)
Deleted Scene (SD; 00:10:19)
NEW Ragtime Revisited: A Conversation with Larry Karaszewski and Screenwriter Michael Weller on Ragtime (1080p; 00:21:11)
Remembering Ragtime (SD; 00:18:32)
The Final Assessment
Another satisfying release from Paramount Presents in a collectible cover. This is a great way to rediscover this film.
Ragtime is out on Blu-ray November 16, 2021 from Paramount
---
Rating Certificate: PG (Theatrical) | Unrated
Studios & Distributors: Dino De Laurentiis Company | Sunley Productions Ltd. | Paramount Home Entertainment
Director: Milos Forman
Written By: E.L. Doctorow (based on the novel by) | Michael Weller (screenplay)
Run Time: 155 Mins. (Theatrical) | 174 Mins. (Unrated)
Street Date: 16 November 2021
Aspect Ratio: 2.39:1
Video Format: AVC 1080p
Primary Audio: English Dolby TrueHD 5.1
Subtitles: English | English SDH