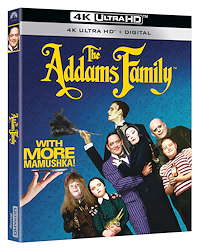 Director Barry Sonnenfeld helmed this theatrical reboot of The Addams Family, the classic TV series that originally ran from 1964 to 1966 but had an afterlife in reruns that extended far longer than that. Here, the eccentric family of horror trope archetypes which include Gomez Addams (played by Raul Julia), his wife Morticia (Anjelica Huston), their two children who are fascinated with death and, in one case, trying to kill each other, Wednesday (Christina Ricci) and Pugsley (Jimmy Workman), their Frankenstein's-monster-esque butler Lurch (Carel Struyken), bald and obsessed with dangerous experimentation Uncle Fester (Christopher Lloyd) and Granny (Judith Malina), the subject of a con by two unscrupulous criminals who claim that a man (also Lloyd) is their long lost Uncle Fester in order to infiltrate the family and gain access to a vault containing their vast stash of wealth.
Much of what made the original series such as long lasting success even after it was originally canceled is apparent in this take by Sonnenfeld and the then contemporary update made the Addams seem even weirder at the time than I recall them from my childhood watching in reruns. Seeing Wednesday try to electrocute Pugsley in an electric chair in full color while her mother Morticia seems downright encouraging is, well, strange, to say the least. That it is all tongue-in-cheek and played with a wink and a nod to the classic horror films makes all the more amusing, especially if you get the joke.
Anjelica Huston and Raul Julia are superbly cast in their roles as is Christopher Lloyd, who seems born to play these sorts of out of left field characters. The young (at the time) breakout star Christina Ricci would go on to further success as an adult star in her own right.

The Video
Paramount states The Adams Family has been "newly remastered and restored" "under the supervision" of director Barry Sonnenfeld and it arrives on 4K Ultra HD with an HEVC 2160p (4K UHD) Dolby Vision HDR encodement framed at 1.85:1. A 4K DI was utilized for this remaster. There is some film softness that is present in this 1991 vintage film that uses a lot of practical visual effects, but ultimately the detail comes through nicely and grain structure looks organic and somewhat consistent throughout. The wide color gamut of Dolby Vision is well applied to offer a bit more depth to the palette. The added dynamic range of the Dolby Vision, which has a MaxLL of 1000 nits and MaxFALL of 214 nits, doesn't necessarily add a lot of brightness to the visuals, but it does add more nuance to the shadows and blacks, so we see a bit more dimensionality in the patterns on Morticia Addams' black dress, for instance, and we also get some very good specular highlights in the numerous candelabras placed around the Addams' house or in the lightning strikes and so on.
The Audio
The English DTS-HD Master Audio 5.1 mix for The Addams Family is earth shaking in its low-end extension, nor is it aggressive with its panning of discrete effects, but the mix works. For instance, where there's a thunderstorm, we get the sense that we are engulfed by the storm and the clap of thunder fills the room with enough low end to be convincing. The dialogue remains mostly in the center channel and clear, with the score sounding quite lush and dynamic.
The Supplements
The bonus features are sparse, but we are provided with both the theatrical and extended cuts of the film on this disc, which includes and full-length song and dance routine.
Digital Copy Code
Introduction by Director Barry Sonnenfeld (00:00:32)
Filmmaker Focus: Barry Sonnenfeld on The Adams Family (1080p; 00:16:32)
Archival Featurette (1080p; 00:07:29
The Final Assessment
The Addams Family still holds up especially for old time fans of the original series. Newcomers may find some offbeat charm in this as well and the 4K restoration is a solid effort.
The Addams Family is out on 4K Ultra HD + Digital & Remastered Blu-ray November 23, 2021 from Paramount.
---
Rating Certificate: PG-13
Studios & Distributors: Orion Pictures | Paramount Pictures | Scott Rudin Productions | Paramount Home Media Distribution
Director: Barry Sonnenfeld
Written By: Charles Addams (characters) | Caroline Thompson | Larry Wilson
Run Time: 99 Mins (Theatrical) | 101 Mins. (More Mamushka!)
Street Date: 23 November 2021
Aspect Ratio: 1.85:1
Video Format: HEVC 2160p (4K UHD)
HDR Format: Dolby Vision (Compatible w/HDR10)
Primary Audio: English DTS-HD MA 5.1
Secondary Audio: English Audio Description | French DD 2.0
Subtitles: English | English SDH | French