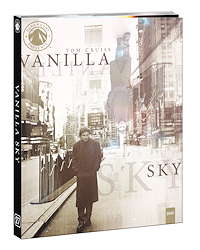 Writer/director Cameron Crowe's 2001 labyrinthine thriller Vanilla Sky, a remake of the Spanish Film Abre Los Ojos (Alejandro Amenábar) is a multilayered fever dream, if you will, that is at times a little difficult to follow.
Tom Cruise plays David Aames, a billionaire playboy who has inherited his father's fortune and publishing empire, but with a hitch. His father gave him only 51% control of the business and left a board of directors that doesn't respect him in control of the rest, a board he calls "the seven dwarves." When he falls in love with his best friend's girlfriend Sofia (Penelope Cruz, who reprises her role from the original film), he begins to finally find true love and redemption, but a terrible car crash with his obsessed ex-lover ex-lover, Julie (Cameron Diaz), who goes so mad over his constant refusal to show her any attention and realize that she loves him she drives her car off of bridge, cause his life to go off the rails. His good looks damaged by the crash, Julie dead, and Sofia acting strangely, David begins to suspect the board set him up, especially when Sofia turns up dead and he is the prime suspect but has no recollection of killing her.
There are many layers that one could dive into with Vanilla Sky, but to dive to deep would be to reveal everything. The crux of the film, as seems to be with many of Crowe's films, is the romance between David and Sofia. Sofia prompts David to "open your eyes" and that is a phrase that has multiple meanings. He awakens to love, to friendship, to adulthood, and to many other things. But Crowe isn't always successful at crafting the narrative across the many layers or keeping hidden from viewers what is going on before what is meant to be the big reveal in the finale.
Jason Lee and Kurt Russell also star in the film and Alejandro Amenábar would release his own international hit the same year starring Tom Cruise's then wife Nicole Kidman with his haunted house film The Others, an uncredited remake of The Innocents (1961).

The Video
Paramount lists Vanilla Sky as being newly remastered from a new 4K film transfer under the supervision of director Cameron Crowe. The film arrives in a 1.78:1 AVC 1080p transfer on Blu-ray. The OAR for the film was 1.85:1. Shot on high and medium speed 35mm Kodak Vision 500T 5279 and Eastman EXR 200T 5293, the film has a similar grainy, at times softer look like Crowe's previous film Almost Famous, although this film certainly leans to the crisper side. The grain structure looks natural, and any variances are likely due to the filming techniques and differences in film stock and not the restoration or transfer, which looks very clean, with good depth of field, shadow nuance, and color reproduction.
The Audio
Vanilla Sky comes with an English DTS-HD Master Audio 5.1 mix in this release. It's not the sort of mix that will set your home theater ablaze by any means, leaning heavily on low atmospherics with the occasional discrete effects escaping to the surrounds.
The Supplements
There are extensive legacy bonus features included on the disc plus a new, nine-minute Filmmaker Focus featuring Cameron Crowe discussing the film.
Limited edition Blu-ray with collectible packaging featuring foldout image of the film's theatrical poster and an interior spread with key movie moments
Digital Copy Code
Commentary by Cameron Crowe and Nancy Wilson
NEW Filmmaker Focus: Cameron Crowe on Vanilla Sky (1080p; 00:08:54)
Alternate Ending w/optional commentary by Cameron Crowe (1080p; 00:29:45)
Prelude to a Dream (SD; 00:06:13)
Hitting it Hard (SD; 00:10:04)
An Interview with Paul McCartney (SD; 00:01:34)
Gag Reel (SD; 00:05:27)
Music Video "Afrika Shox" by Leftfield/Afrika Bambaataa (SD; 00:03:57)
Photo Gallery w/Optional Audio Introduction (0:02:43) by Photographer Neal Preston (1080p; 00:18:15)
Mask Test w/optional audio commentary by Cameron Crowe (1080p; 00:03:23)
Kurt Russell Single Take w/optional audio commentary by Cameron Crowe (1080p; 00:06:08)
Trailers

Unreleased Teaser Trailer (SD)
International Trailer (SD)

Deleted Scenes w/optional audio commentary by Cameron Crowe (1080p; 00:34:16)
The Final Assessment
This is another solid release in the Paramount Presents line with a strong visual presentation, good sound, and an extensive set of bonus features. Recommended.
Vanilla Sky is out on Blu-ray November 16, 2021 from Paramount
---
Rating Certificate: R (for sexuality and strong language)
Studios & Distributors: Paramount Pictures | Cruise/Wagner Productions | Vinyl Films | Sogecine | Summit Entertainment | Artisan Entertainment | Paramount Home Entertainment
Director: Cameron Crowe
Written By: Alejandro Amenábar
Mateo Gil Cameron Crowe
Run Time: 136 Mins.
Street Date: 16 November 2021
Aspect Ratio: 1.78:1
Video Format: AVC 1080p
Primary Audio: English DTS-HD MA 5.1
Secondary Audio: German DD 5.1
Subtitles: English | English SDH | German