The fourth installment of the Final Destination franchise is set to arrive January 5th when Warner Home Video/New Line is set to release The Final Destination on Blu-ray and DVD. And for a limited time only the Blu-ray edition will include a 3D version of the film and 3D glasses.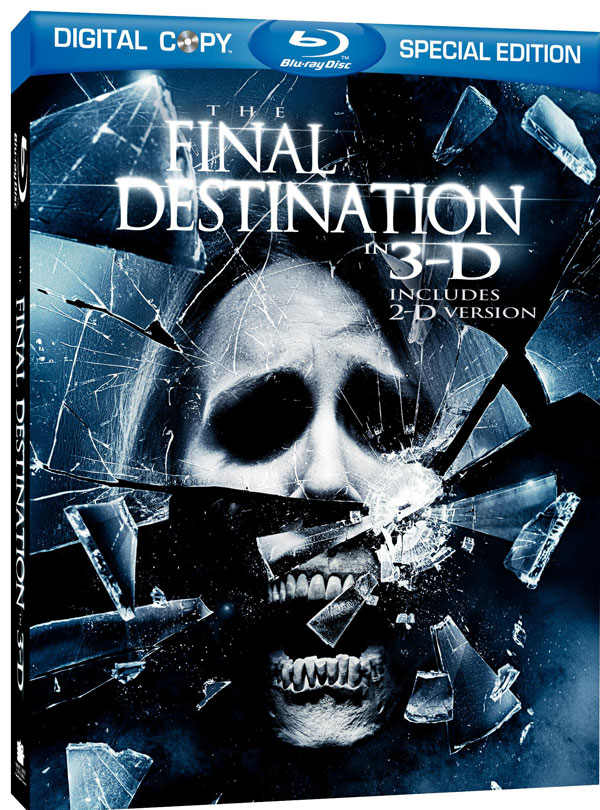 Synopsis:
After a strange premonition causes friends to abandon their day at the speedway, just before a crushing pileup hurtles cars into the bleachers, they believe that they have cheated Death.  But Death is only getting started.   While the group thinks they have a new lease on life, unfortunately for Nick and Lori, it is only the beginning. As Nick's premonitions continue and the crash survivors begin to die one-by-one–in increasingly gruesome ways–Nick must figure out how to survive before he, too, reaches his final destination.
The Final Destination is directed by David R. Ellis (Snakes on a Plane) and stars Bobby Campo (99, Legally Blondes), Shantel Vansanten (TV's One Tree Hill), Nick Zano (TV's Cougar Town, TV's Melrose Place) and Mykelti Williamson (TV's 24, August Rush).
The Final Destination will be available in 3D on Blu-ray for a SRP of $35.99 and will include two pairs of 3D glasses inside.  The title will also be available on single disc DVD for $28.98 as as a digital download.
Blu-ray Special Features will include: