Aspect Ratio: 1.78:1
Video Codec: MPEG-2; AVC/MPEG-4
Resolution: 1080p/24; 1080i/60
Audio Codec: DTS-HD Master Audio 5.1 (96kHz/24-bit), LPCM 2.0 (96kHz/24-bit)

Subtitles: English, Dutch, French, German, Japanese

Region: Region Free
Rating: Not Rated

Discs: 4
Label: Naxos
Release Date: October 27, 2009

List Price: $67.98[amazon-product align="right"]B002JP9I1G[/amazon-product]
BestBuy.com:


Purchase The Virtual Haydn on Blu-ray
at CD Universe

Shop with us for more Blu-ray releases at Amazon.com

Overall
[Rating:4/5]
The Collection
[Rating:4.5/5]
Video Quality
[Rating:4/5]
Audio Quality
[Rating:4/5]
Supplemental Materials
[Rating:3/5]
Click thumbnails for high-resolution 1920X1080p screen captures
More Screen Captures (23 Total)
(Screen captures are lightly compressed with lossy JPEG  thus are meant as a general representation of the content and do not fully reveal the capabilities of the Blu-ray format)
The Collection
[Rating:4.5/5]

The Virtual Haydn: Complete Works for Solo Keyboard is another in a line of Blu-ray Audio recordings utilizing the "Pure Audio" standard jointly developed by msm-studios in Germany and Norwegian label 2L. It allows for switching between the high-resolution 5.1(DTS-HD Master Audio; 96kHz/24-bit) and 2.0 (LPCM 96kHz/24-bit) audio programs on the discs by simply pressing the Red or Yellow buttons on your player's remote. It is the first such release from Naxos.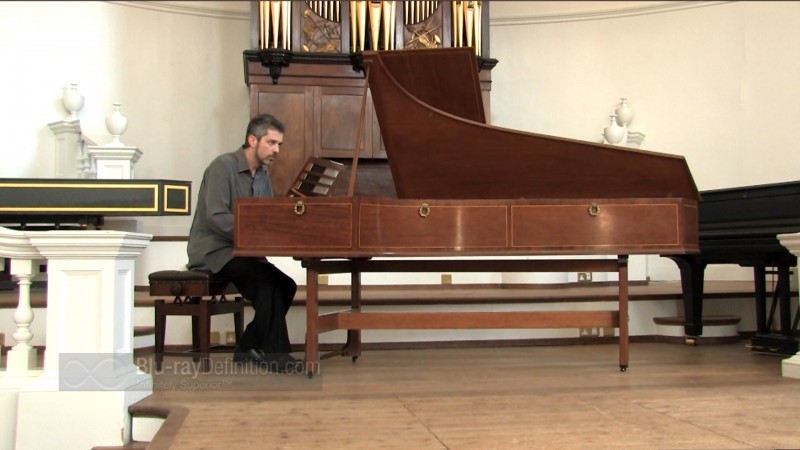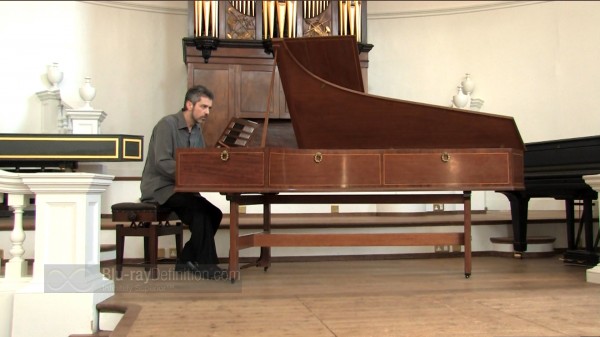 For this 4-BD collection, Tom Beghin, musician and historian, teams up with his McGill University colleagues Martha De Francisco and Wieslaw Woszczyk for what turns out to be a rather interesting, yet unusual, project in the world of Classical music. Joseph Haydn is one of the accepted masters of music, no doubt, but his solo keyboard repertoire has been neglected over the years in favor of his younger contemporaries Mozart and Beethoven. There are perhaps only two pieces from Haydn's keyboard works that have become standards of the repertoire, and they are the Sonata in E-Flat Major. Hob.  XVI:49 and Sonata in E-Flat Major, Hob, XVI:52.
Tom Beghin wanted to change all of that by finally bringing together all of Haydn's solo keyboard works in one grand collection. But The Virtual Haydn goes one step beyond that by bringing together Haydn's works on instruments that he would have played on in the 18th Century and placing them in the very rooms where Haydn himself and his contemporaries would have played them.
How this is accomplished is the real story behind what makes The Virtual Haydn quite unique in the world of Classical recordings. The palaces, homes, and music halls that were once in secluded areas during Haydn's time are now in heavily trafficked areas where noise impedes the recording process — in other words, they are absolutely no good for making a quality acoustic recording. Wieslaw Woszczyk, a professor of Sound Recording at McGill University approached Beghin with the idea of using virtual acoustics. They would sample the acoustics of the actual rooms and use highly sophisticated equipment in the sound laboratory to reconstruct the sound space of those rooms during the recording process to place the instruments in the various acoustic spaces.
9 rooms were sampled and they are all virtually reconstructed on this recording. BDs 1 – 3 present Beghin playing Haydn's solo keyboard works on a variety of reconstructed period keyboards, from clavichords, to French-style harpsichords and fortepianos. Beyond that, the recordings are also careful to rake into account the tunings and temperaments of the period. Those were days before tunings had become widely standardized around 440Hz. One piece that modern ears might find most unusual is the Capriccio in G Major on BD 1, Program One, which uses a quarter-comma meantone. Today, most would think it was "out of key."
To my ears, raised equally on the music of Schöenberg, Stockhausen, and Sonic Youth, and also having spent my teens and early-twenties experimenting with various tunings and temperaments on my guitar the moment I realized there was something other than 440, the Capriccio sounds marvelously off-kilter.
Beghin's performance of the Haydn pieces are obviously well informed and he is a skilled and impassioned keyboardist, no doubt. The repertoire is given the appropriate performance style for the period and instrumentation used. It is neither over-romanticized, nor too stiff. The early harpsichord and clavichord pieces have an air of regality and grandeur, whilst moving into the later fortepiano pieces, the playing becomes just a bit more personal and emotional.
The Virtual Haydn will make a lovely collection for any classical music lover, but particularly those with a taste for Haydn.
Video Quality
[Rating:4/5]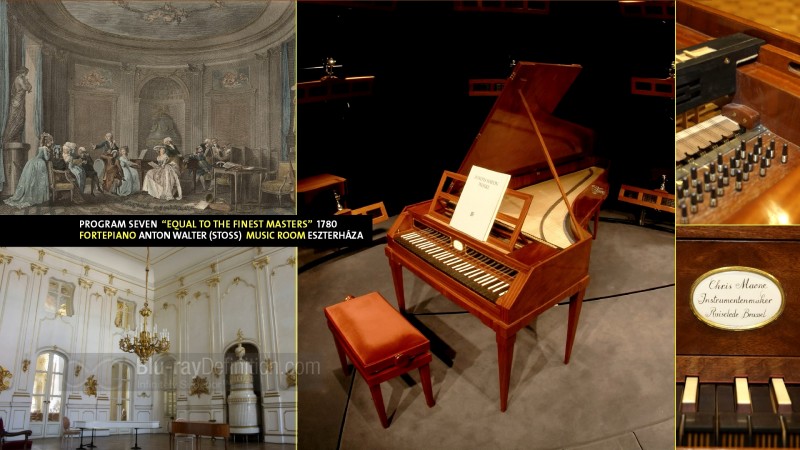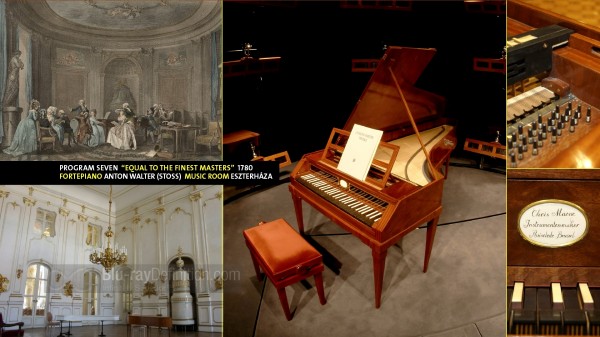 While The Virtual Haydn is focused on audio, with BDs 1 – 3 containing no more than limited disc menus in 1.78:1 1080p/24 (MPEG-2) that is very crisp and detailed, BD 4 does contain high definition video in the form of the documentary Playing the Room (1080i/60; MPEG-2) as well as a few video performances (1080i/60; MPEG-2) and a photo gallery (1080p/24; AVC/MPEG-4). The 1080i high definition video looks a bit soft and high in video noise in some areas as well as showing many instances of aliasing, but the photo gallery is again very detailed, clean, and vivid.
Audio Quality
[Rating:4/5]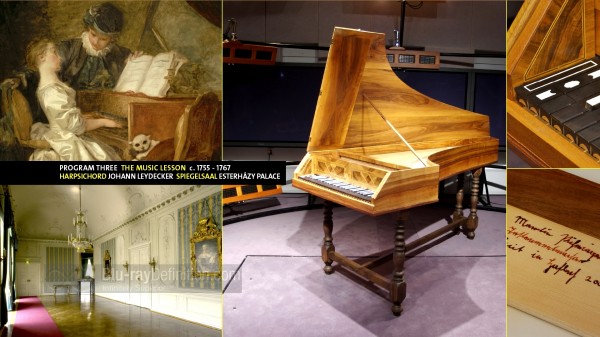 Most Classical recordings are made up solely of the natural sounds of the instruments and the acoustical properties of the room in which the recording was made. On judging the audio quality of The Virtual Haydn, one must put oneself into a slightly different mindset, however. The entire approach of the project goes against the established norm for the Classical industry, but it was done with good intentions. To capture the entire solo keyboard repertoire of Joseph Haydn on instruments he would have played in the spaces he would have played them in seems like a noble and worthy task, but the realities of the modern world mean that most of those places are now in areas where traffic and pedestrian noise make for terrible recording spaces. So, unlike the vast majority of Classical recordings today, The Virtual Haydn uses digitally generated reverberation, based on actual room samples done by McGill University to reconstruct the performance spaces of Haydn's era. These "virtual rooms" are what we hear on The Virtual Haydn, rather than the real reverberation picked from microphones during the recording sessions. The actual instruments were recorded in a studio that was basically anechoic.
I'm positive that whether the resulting recordings constitutes a true audiophile recording will be debated until the cows come home, but it certainly does not sound horrendous. For the most part the period instruments, made up of harpsichords, clavichords, and fortepianos, sound realistic. It could be my own natural biases creeping in, but in Program 2, BD 1, I almost thought there were moments where the clavichord did sound a bit electronic, more like a clavinet, than something wooden. Delay times on the reverberation throughout the recording also seemed to always be just a little unnaturally long to my ears, even when purporting to be in rooms that were supposed to be small and intimate. Things were just a little "wetter" than what I would expect to hear in a recording with naturally captured ambience. With that being said, Naxos and the folks at McGill University still did a darn good job bringing the 18th Century back to life in a somewhat realistic manner, in my opinion.
Supplemental Materials
[Rating:3/5]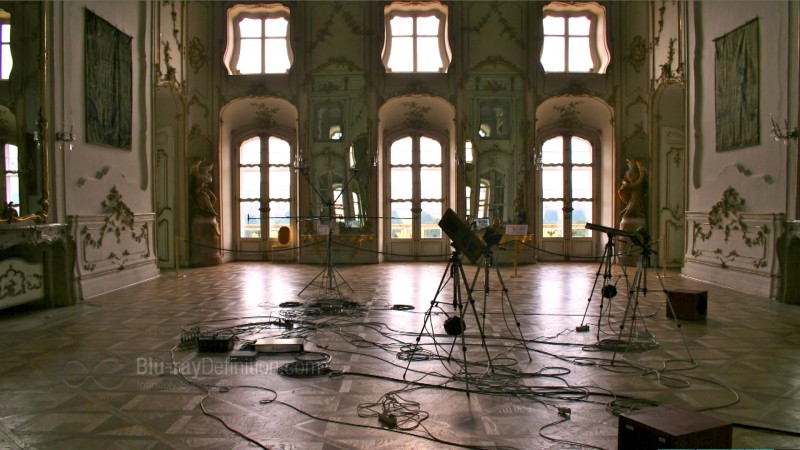 There aren't any real "supplements" singled out as such on The Virtual Haydn, per se, especially if one takes the collection as one whole, but I suppose the Photo Gallery and 7 X 9 Matrix: 7 Instruments, 9 Rooms feature on BD 4 which allows listeners to listen to a performance of the Andante for Musical Clock hXIX:10 on each instrument used on this recording and switch between the different virtual rooms can be considered supplements.
The Definitive Word
Overall:
[Rating:4/5]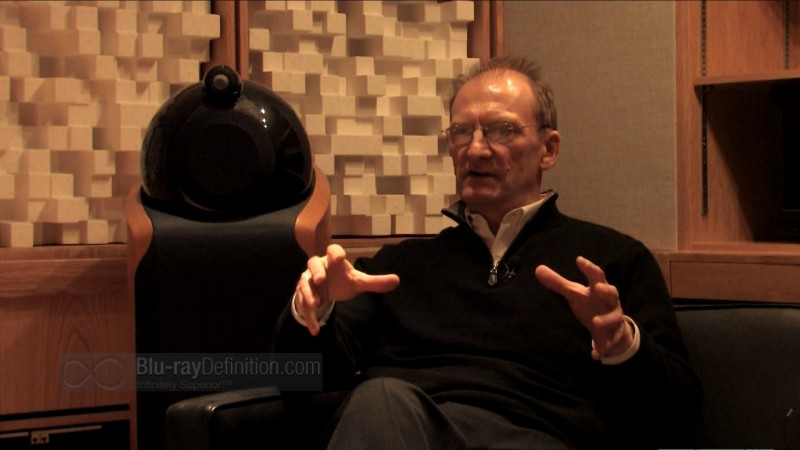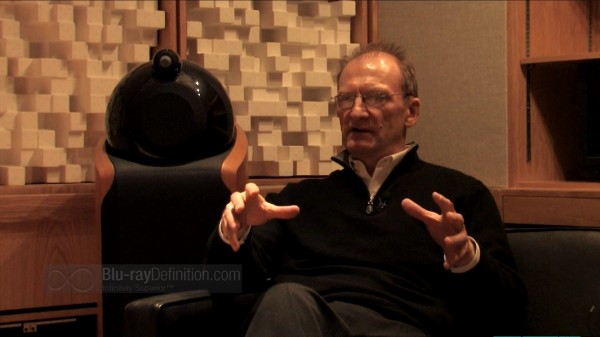 Technology meets art in a good way with The Virtual Haydn Blu-ray collection. I'm never one to advocate messing about with the sound of a good acoustic recording when it comes to Classical music, but as an experiment The Virtual Haydn succeeds rather nicely. I'd still rather stick with the recordings recorded with natural acoustics, but as an historical reference The Virtual Haydn works.

BestBuy.com:

Purchase The Virtual Haydn on Blu-ray
at CD Universe
Shop with us for more Blu-ray releases at Amazon.com