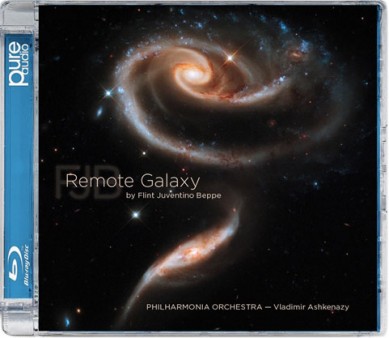 – –

The Recording
[Rating:4.5/5]
To get a proper idea of what this album is really about, you should first go to composer Flint Juventius Beppe's (formerly known as Fred Jonny Berg) liner notes, titled Asperger, Tourette and Art: tightrope walking beneath heaven. This young Norwegian composer, diagnosed with Asperger and Tourette Syndromes, is an entirely self-taught musician. He describes his compositional method quite succinctly: "It is really as simple as it is complicated – I breathe in what life has to offer, and breathe out what I have to offer life. I have given up trying to grasp what actually happens in the process from impression to expression."
This program is, first and foremost, contemporary classical music that, in its intrinsic beauty, looks as much backward as it does forward.  FJB does not acknowledge any musical influences as what he composes comes from somewhere deep inside himself. The playlist is below:
1. Remote Galaxy (18:34). While the title piece does convey a sense of distance and space, there is the unusual spotlighting of the Baroque viola da gamba (predecessor to the cello), ably played by Ralph Rousseau.
2.Distant Winds (16:11) is really a two-movement concerto for clarinet, featuring Mark van de Wiel.
3. Lost in September (9:12) is an early evocative composition inspired by the death of Beppe's pet dog but goes beyond, entering a distant and very private emotional world.
4.Tightrope Walking Beneath Heaven (3:51), is the shortest work on this program. It has the feeling of a zany waltz number but is actually the composer's metaphor for the challenge of living life as he must with the constant risk of falling to his doom.
5. Flute Concerto No. 2 (23:11) is a four-movement work written for and played by flautist Emily Beynon. In this work, filled with virtuosic challenges, the soloist is accompanied by organ and full orchestra.
New music succeeds or fails on the strengths of those who perform it. In this case, its musical advocates are no less than England's legendary Philharmonia Orchestra and noted conductor and pianist Vladimir Ashkenazy. Consequently, we get definitive readings of each work that should set the bar quite high for any subsequent recordings.
Audio Quality
[Rating:4.5/5]
This Pure Audio Blu-ray recording had the significant advantage of being recorded in the Watford Colosseum, noted for its fabulous acoustics. The recording team gives us an orchestral sound picture that is broad and deep with the perspective of a mid-orchestra row seat. Details and balances are close to what is heard the real concert hall experience. Both 5.1 DTS-HD Master Audio and 2-channel LPCM at 192kHz/24-bits are excellent. I was not able to check out the 7.1-channel of Auro-3D versions due to lack of additional channels and speakers. Those lucky few that have such speaker-laden systems, at least from the sound recording diagrams in the program booklet, should be in for a real sonic treat.
Supplemental Materials
[Rating:3/5]
There is the mShuttle Pure Audio option for playing files on your computer in either mp3 or FLAC formats. The program booklet, as is 2L's wont, is chock-full of great notes by Wolfgang Plagge on the pieces themselves, FJB's own bio-piece, and extensive technical descriptions and layout diagrams of the recordings themselves.
The Definitive Word
Overall:
[Rating:4/5]
This program of mostly 21st century music will be extremely accessible to all audiences. I got the recurring notion that a number, if not all, of the pieces in Remote Galaxy could be construed as "soundtracks" for our times.  I would not be surprised to see some of them eventually turn up as bits or entire selections in future films. While I was unaware of Flint Juventius Beppe's body of work before I reviewed this disc, I will be looking forward to future works from this obviously talented composer.
[amazon-product region="uk" tracking_id="bluraydefinit-21″]B00GB0OXP6[/amazon-product]
[amazon-product]B00GB0OXP6[/amazon-product]