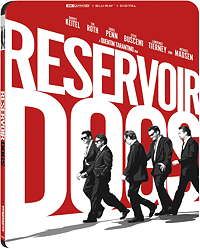 Quentin Tarantino's directorial debut Reservoir Dogs is in many was a smaller, more concise example of themes and techniques he would explore again in fuller, much more complex effect in his follow-up Pulp Fiction.
The surviving group of black-suited criminals hired by a crime boss Joe Cabot (Lawrence Tierney) to rob a jewelry store meet back at a warehouse after the job goes terribly awry and they begin to believe one of group is a police informant. Career criminal Mr. White (Harvey Keitel) takes Mr. Orange (Tim Roth) under his wing while Mr. Pink (Steve Buscemi), a proactive loner who hates tipping in diners, is anxious after. Mr. Blonde (Michael Madsen), just freed from jail after taking the rap on a job for Cabot without squealing, goes ballistic in the jewelry store and sets off the events that lead to the heist's terrible outcome. Mr. Orange, who got shot in the gut, is slowly bleeding out, and Mr. Blonde is still going off the rails with blood lust when he brings back a captured uniformed police officer. The problem remains, however, who is the mole?
Set in nonlinear fashion with the same sort of hip, quick dialogue that would be taken to 11 in his next film, and the sort of setting that is difficult to date, Reservoir Dogs is a stunning feature film debut. Tarantino never shied away from the visceral violence or crude language that would come to define his output, even from the beginning, and that is what makes this film so utterly enjoyable and courageous.
The Video
Reservoir Dogs gets a new 4K Ultra HD restoration framed in 2.35:1 in a HEVC 2160p (4K UHD) Dolby Vision encodement of its Super 35 source. A 4K digital intermediate was used. A lot of detail is apparent in the close-ups on faces – one can see every crevice on Harvey Keitel's face. The issue is, even though that detail is present, this transfer looks very unnatural. It is too super-clean. Backgrounds, as hard as I tried to look, show barely any grain, if any at all. They often look like it was all constructed of shiny linoleum. The Dolby Vision brings superb specular highlight sheen in sweat and shadows, inky blacks in the suits, but there is just too clean a look to this for something shot on Super 35 and some slight ringing can be seen as well. I'm literally stunned at all the praises I have seen over this restoration, despite the upgrade over the previously available Blu-ray.
The Audio
It does not seem like Reservoir Dogs has gotten an audio upgrade of any sort. Lionsgate includes the same Dolby TrueHD 5.1 audio mix that is listenable, has some instances where directional sound shifts into the surround channels to follow action on screen, but is mostly dialogue-driven apart from the brief action/shootout scenes. It works, sounds clean and has a good enough low end to add a bit of kick to the gunshots.
The Supplements
All the previously available bonus features are included in this new release.
Deleted Scenes (SD; 00:12:43):

Background Check
No Protection
Doing My Job
Cutting Off the Ear – Alternate Take A
Cutting Off the Ear – Alternate Take B

Playing it Fast and Loose (1080i; 00:15:43)
Profiling the Reservoir Dogs (1080p; 00:07:06)
The Final Assessment
A stunning debut film with an upgraded 4K that is flawed but still better than the BD we had, this Reservoir Dogs is satisfying and disappointing, but still worth owning.
Reservoir Dogs is out on 4K Ultra HD Combo November 15, 2022 from Lionsgate
---
Rating Certificate: R (for strong violence and language)
Studios & Distributors: Live Entertainment | Dog Eat Dog Productions Inc. | Miramax | Lionsgate
Director: Quentin Tarantino
Written By: Quentin Tarantino | Roger Avary
Run Time: 100 Mins.
Street Date: 15 November 2022
Aspect Ratio: 2.35:1
Video Format: HEVC 2160p (4K UHD)
HDR Format: Dolby Vision (HDR10 Compatible)
Primary Audio: English Dolby TrueHD 5.1
Secondary Audio: Spanish DD 2.0 Stereo
Subtitles: English | English SDH | Spanish