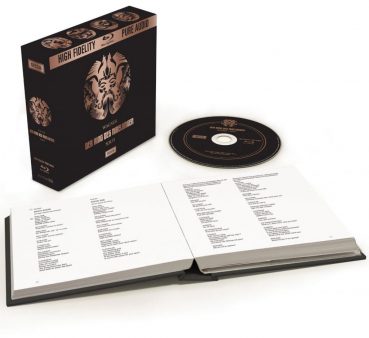 – –

The Recording
[Rating:5/5]
Recorded in the sumptuous Vienna Sofiensaal with some of the greatest Wagnerian singers of its era, Decca Records lavished as much sonic attention on these four operas as an opera recording has ever received. Production teams headed by John Culshaw (Das Rheingold, Die Walkure, Siegfried) and Christopher Raeburn (Gotterdammerung) rewarded listeners with the marvelous engineering feats of Gordon Parry, James Brown and James Lock. The results were not simply thrilling but delivered stage presence that surpassed nearly all of their contemporary studio recordings.
This Pure Audio Blu-ray disc of Der Ring des Nibelungen was a 2012 remastering by Philip Siney included in a huge limited edition box with completely remastered CDs of each opera, a DVD, and several books devoted to this recording project. As the original analogue tapes were not in good enough shape to use, the audio engineers returned to the 1997 48k/24b remasterings used for the second Decca CD reissues of its original cycle. The dates shown in the parentheses below are those of the original recording sessions for each opera with accompanying synopses.
Das Rheingold (The Rhinegold) (1958) starts with the theft of the Rhinegold by evil dwarf Alberich (Gustav Neidlinger). The bereft Rhinemaidens (Oda Balsborg, Heddy Plumacher, Ira Malaniuk) appeal to Wotan (George London) and wife Fricka (Kirsten Flagstad) to return their gold. Giant brothers Fasolt (Walter Kreppel) and Fafner (Kurt Bohme) demand payment for building Valhalla, the gods' new home, and kidnap Fricka's sister (Claire Watson) to ensure that they will receive the stolen gold.  Assisted by Loge (Set Svanholm), Wotan eventually wrests the gold, magic helmet and ring from Alberich. The giants are paid in full but Fafner then kills his brother.  The gods enter Valhalla as the Rhinemaidens lament.
Die Walkure (The Valkyrie) (1963) begins years later. Wotan (Hans Hotter) has fathered, out of wedlock, the warrior sister Valkyries, and twins Siegmund (James King) and Sieglinde (Regine Crespin). Separated since childhood, the siblings passionately reunite in Sieglinde's home, shared with her husband Hunding (Gottlob Frick) and then elope. Wotan sees Siegmund as his chance to recover the Rhinegold and orders daughter Brunnhilde (Birgit Nilsson) to protect him from Hunding. Fricka (Christa Ludwig) seething over Wotan's infidelity forces him to rescind Siegmund's protection.  But Brunnhilde is moved by Sieglinde's plight (now pregnant with Siegfried) and tries to shield Siegmund. Wotan shatters Siegmund's sword, allowing Hunding to kill him.  Sadly, Wotan punishes his disobedient daughter by removing her divinity, surrounding her slumber with a magic fire that only a hero can penetrate.
Siegfried (1962) finds young Siegfried (Wolfgang Windgassen) living with Alberich's brother Mime (Gerhard Stolze) amidst a forge and fragments of father Siegmund's sword. Mime relates the tale of Siegfried's real parents and the youth takes off for the forest.  Mime cannot repair Siegmund's sword and Wotan (Hans Hotter), disguised as the Wanderer, visits the dwarf and predicts his death at the hands of Siegfried. Siegfried returns and forges the sword before pursuing a dragon, the transformed Fafner (Kurt Bohme) who is guarding the Rhinegold.  Meanwhile, Mime brews a sleeping potion for Siegfried so that he can steal the gold that Siegfried will recover after slaying Fafner. Returning home, Siegfried, now aware of Mime's evil plan, kills him. Later, he meets the Wanderer and shatters his spear, the last remnant of the god's authority. Siegfried crosses the circle of fire, awakens Brunnhilde, and claims her love.
Gotterdammerung (Twilight of the Gods) (1964) opens with Siegfried, about to depart, giving Brunnhilde his magic ring while she gives him her horse Grane. At the Gibichung castle, Hagen, Alberich's son (Gottlob Frick)and half-brother to Gunther (Dietrich Fischer-Dieskau) and sister Gutrune (Claire Watson) convinces the pair that they must marry someone quite soon. Siegfried arrives and drinks a potion making him forget Brunnhilde whom he will now court for Gunther but disguised by the magic helmet. Brunnhilde is taken to the castle, and she sees Siegfried (who does not recognize her) with Gutrune. Jealous, she conspires with Hagen to have Siegfried killed. On a hunting expedition, Hagen gives Siegfried a drink restoring his memory and when the hero recounts his prior relationship with Brunnhilde, Hagen stabs him in the back. On their return, Gunther tries to take the ring from the dead Siegfried but is slain by Hagen. Brunnhilde, now realizing how she has been deceived, mounts Siegfried's funeral pyre, the Rhine overflows its banks drowning Hagen and, in the distance, Valhalla burns while the Rhinemaidens reclaim their treasure.
This was the first studio stereo recording of Wagner's Ring Cycle preceded only by a 1955 stereo Joseph Keilberth-led live performance from the Bayreuth Festival.  This  Blu-ray release celebrated the centennial of its conductor, Sir Georg Solti. While there may be performances with better individual singers, there is no question that the white-hot excitement generated by this cast, orchestra, conductor, and recording team remains unsurpassed a half-century later.
Audio Quality
[Rating:5/5]
I first heard this Pure Audio Blu-ray Disc as part of the fore-mentioned deluxe Ring box set and, the equivalent of fourteen individual CDs (!),  it was sonically superior in every way to the Red Book discs. The balances achieved in the 1997 remastering not only bested their 1980s CD counterparts, but put the voices more forward in the mix where they have always belonged. There is warmth that even the original LPs (and I own every version on Decca and London records) often lacked, and of course there is no surface noise. I would like to think that this is how these recordings originally sounded in the studio as their tracks were being laid down and while it has taken a long time to get this Blu-ray reissue, the wait was well worth it.
Supplemental Materials
[Rating:2/5]
The lavish program booklet offers track listings, synopses and background discussions of each work written by producer John Culshaw. Performance and recording credits as well as cast and studio photos from the original set booklets are also included.
The Definitive Word
Overall:
[Rating:5/5]
If Wagner's Ring Cycle is the pinnacle of all operatic accomplishment, then Sir Georg Solti and his performing and recording teams have surely reached its summit. My collection contains twenty (!) complete ring cycles yet the Decca set has been and remains my overall first choice. This Pure Audio Blu-ray disc must be considered one of the treasures of 2015, if not of all time,  and one that opera lovers simply must have!
[amazon-product region="uk"]B00NU2LSW4[/amazon-product]
[amazon-product region="ca" tracking_id="bluraydefinit-20″]B00NU2LSW4[/amazon-product]
[amazon-product]B00NU2LSW4[/amazon-product]