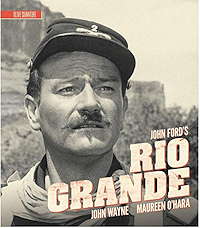 Rio Grande, one the classic John Ford westerns starring John Wayne, follows the cavalry officer Lt. Col. Kirby Yorke (Wayne) who finds himself coping with the albeit stereotypically murderous Apache Indians while also having to deal with his son whom he hasn't seen in 15-years, who was recently dropped as a cadet from West Point and is now in the cavalry assigned to his post, and his estranged wife (Maureen O'Hara).
Rio Grande was the third part of John Ford's renowned "Cavalry Trilogy" (Fort Apache and She Wore a Yellow Ribbon, both also starring John Wayne, were the other two), but it has come to be considered the best of the three. The film was made at the B-Movie studio Republic Pictures as a precondition to Ford being able to also make his passion project, The Quiet Man at the studio. And with good reason Rio has become known as the best given its blend of classic Ford cinematography, deft camerawork and the obvious chemistry between leads Wayne and O'Hara.
What we have in this western is a blend of romance, domestic drama, and action that finds John Ford in charge of a commanding cast putting in superlative performances against the backdrop of Moab, Utah, one of the director's favorite locations in his beloved Utah, a state he would film in throughout his career.
The Video
This release of Rio Grande by Olive Films on their Olive Signature imprint is listed as being from a "new High-Definition digital restoration" that appears here in a 1.37:1 AVC 1080p encodement on Blu-ray. It appears to be from the same new transfer completed by Paramount in 2019 that was issued on Blu-ray in the UK by Eureka Entertainment's Masters of Cinema imprint which I also reviewed. It looks equally good here, with organic film grain, excellent detail for a film of its vintage and inky black levels that just almost tip over into crushing but never quite do. Source damage is not an issue.
The Audio
The monaural audio mix is provided in DTS-HD Master Audio 2.0 here versus the LPCM 2.0 that Masters of Cinema offered up. Both provide lossless sound, so it's a wash, but DTS-HD MA will do it in less space. The sound is good given the limitations of the times and the age of the source.
The Supplements
I really like the slate of extras included in this Olive Signature release and think it may edge out the Eureka limited edition release from the UK in quality of actual on-disc featurettes.
Audio commentary by Nancy Schoenberger
"Bigger than Life" with Claudia Jarman, Jr. (1080p; 00:13:09)
"Strength and Courage" with Patrick Wayne (1080p; 00:10:27)
"Telling Real Histories" with Raoul Trujillo (1080p; 00:13:20)
"Songs of the Rio Grande" with Marc Wanamaker (1080p; 00:05:36)
"The Making of Rio Grande" with Leonard Maltin (1080i; 00:21:15)*
Visual Essay by Tag Gallagher (1080p; 00:10:25)*
Essay by Paul Andrew Hutton (On disc and in 8-page booklet)
Theatrical Trailer (1080i)
*also appears on the UK Masters of Cinema release
The Final Assessment
For collectors, cinephiles, and western aficionados, this is another a great release of this classic John Wayne western that comes with another slate of great supplements in the form of an excellent audio commentary and contemporary interviews.
Rio Grande is out now on Blu-ray from Olive Films
---
Studios & Distributors: Republic Pictures (I) | Argosy Pictures | Olive Films
Director: John Ford
Writers: James Kevin McGuinness (screenplay) | James Warner Bellah (Saturday Evening Post story)
Run Time: 105 Mins.
Street Date: 17 November 2020
Aspect Ratio: 1.37:1
Video Format: AVC 1080p
Primary Audio: English DTS-HD MA 2.0 Mono
Subtitles: English SDH