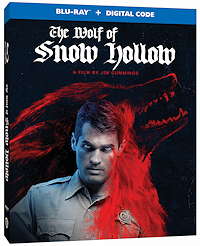 The Wolf of Snow Hollow is an indie horror film that leans more into dark comedy from writer/director/actor Jim Cummings, which had a limited theatrical release on October 9, 2020 and was simultaneously released on VOD the same day.
The film is a dark comedy/horror that follows small-town sheriff's deputy John Marshall (Jim Cummings) who is dealing with the fallout from his failed marriage, his rebellious teenage daughter Jenna (Chloe East), and his ailing father (Robert Forster in his final role), the retiring sheriff, and now a string of gruesome murders that are linked to the full moon.
As more women begin to turn up dead in this idyllic, snowy enclave, the people of the town begin to question John's competency and his ability to catch the suspect, and rumors start to spread that the killer may be a werewolf. The stress begins to send John's way off the wagon, and he begins to have a mini mental breakdown himself – or is he possibly the werewolf?
This is a fun horror film that leans heavily on the dark comedy. It's not what you expect going in. Cummings flips the narrative on werewolf lore and quite cleverly plays with the audience's expectations concerning the mystery involving the killings, who the werewolf could be – if there even is a wolf – and the potential clash between the protagonist and the suspect.
The screenplay by Cummings, who also acts and directs, weaves a cunning mystery that leads to an unexpected ending that also leaves things open-ended at the end about where it will all go. Cummings' performance portrays John Marshall as pathetic, pitiable, and somehow hilarious in his drunken, rage-fueled outbursts and often bumbling investigative attempts. One would be remiss without mentioning the performance of Robert Forster in his last role who has limited screen time but is still always great to see.
In all, this may not be the greatest of all films ever made, but horror fans will certainly enjoy this oddball new take on a well-worn genre and it comes across as breath of fresh air.
The Wolf of Snow Hollow (2020
The Video
The Wolf of Snow Hollow hits Blu-ray in an AVC 1080p encodement framed at 1.85:1. I tried to hunt down information on the source and production and came up with nothing, but my best guess is this was shot digitally at 3.8K resolution and there is some visible "noise" that looks quite filmic or "grainy" either inherent or added in post to give this a less video-like feel. Ultimately, Wolf still kind of has a typical low budget video sort of look to it, but it's high quality, clean, detailed, and has excellent shadow detail. The colors are muted right from the opening, snowy scenes, so 'pop' isn't quite there, but it does help this film out.
The Audio
The Wolf of Snow Hollow get a competent if not earth shattering lossless DTS-HD Master Audio 5.1 audio mix on Blu-ray. There are sufficient ambience and atmospheric effects, but it is mostly front-heavy and that works for this film. The mix offers up clear dialogue and natural dynamics, but no deep low-end extension.
The Supplements
The bonus features, which are pretty self-explanatory, offer interviews with the cast and crew and behind-the-scenes footage.
Digital Code
The Impetus: The Making of The Wolf of Snow Hollow (1080p; 00:01:01)
Working with Jim Cummings (1080p; 00:01:41)
The Story and the Genre (1080p; 00:04:06)
The Design of the Werewolf: Production Diaries (1080p; 00:05:33)
The Final Assessment
A darkly comedic entry into the werewolf horror genre that breathes new life into what can often be a tired retread of cliches, The Wolf of Snow Hollow offers a good time for horror fans and looks great on Blu-ray.
The Wolf of Snow Hollow is out on Blu-ray December 15, 2020 from Warner Bros.
---
Rating Certificate: R (for violence, bloody images, language throughout and some drug use)
Studios & Distributors: Vanishing Angle | New Form | Orion Classics | Warner Bros. Home Entertainment
Director: Jim Cummings
Written By: Jim Cummings
Run Time: 85 Mins.
MSRP: $35.99
Street Date: 15 December 2020
Aspect Ratio: 1.85:1
Video Format: AVC 1080p
Primary Audio: English DTS-HD MA 5.1
Secondary Audio: English Descriptive Audio DD 5.1
Subtitles: English SDH | Spanish