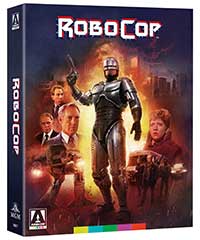 Paul Verhoeven's (Flesh + Blood) Hollywood debut was this now enduring sci-fi visual effects classic, RoboCop, from 1987 that has a place right next to other genre films of the era such as The Terminator and Aliens. Given this is a Verhoeven film, there is a bit more camp mixed into the action, but that only serves to make the film a little more entertaining as at no time does the dystopic vision of the near future ever feel overwhelming or like it takes itself too seriously.
The film takes place in Detroit in the near future. Heroic cop Alex Murphy (Peter Weller, The Adventures of Buckaroo Banzai) is gunned down in the line of duty and is rescued and resurrected as part of a top-secret new program that turns him into a cyborg crime-fighting machine. RoboCop is so effective that he practically wipes out crime from the streets of Detroit within weeks, but soon his human memories begin to return and he finds himself tortured by his past and wanting revenge on the criminals who killed him.
The film is a glorified B-movie that is good despite that and the cheesy trappings that could have derailed it at any moment thanks to Verhoeven's uncanny ability to wrangle a ridiculous film into something much better than it ought to be. He would do it again with films such as Total Recall and Basic Instinct.
The release reviewed here contains the director's cut and theatrical cut of the film as well as the edited-for-TV cut of the film. The difference between the theatrical and director's cuts are small but seem mostly to be about some more lingering frames on the gore shots and so forth, bringing it up to a grand total of about one minute longer than the theatrical cut.
[envira-album id="121045″]
The Video
This Arrow Video release of RoboCop is taken from the 4K restoration of the film from the original camera negative by MGM, transferred in 2013 and approved by director Paul Verhoeven. It is provided in an AVC 1080p encodement framed at its original 1.85:1 theatrical aspect ratio.  The 4K restoration on Blu-ray looks great for a 1987 vintage visual effects-driven film. The grain structure is maintained, and it looks organic. The shadows are reasonably nuanced, with just the slightest hint of some washout in the blacks in some frames, but otherwise, they look solid and deep.
The Audio
RoboCop comes with the original lossless stereo and four-channel mixes plus a DTS-HD Master Audio 5.1 option on both cuts of the film. You really can't go wrong with either mix here. The original stereo mix is wide, dynamic, and clean. The 4.0 expands the soundstage and the 5.1 is rather aggressive and a surprisingly effective remix of an older action film that also extends the low end quite nicely.
The Supplements
The bonus features are where this reissue from Arrow really kicks things up to a thousand, offering up three audio commentaries, a slew of new featurettes, three cuts of the film, and a lot more. Fans need this release – full stop.
Newly commissioned artwork by Paul Shipper
Six collector's postcards (Limited Edition exclusive)
Double-sided, fold-out poster (Limited Edition exclusive)
Reversible sleeve featuring original and newly commissioned artwork
Limited edition collector's booklet featuring new writing on the film by Omar Ahmed, Christopher Griffiths and Henry Blyth, a 1987 Fangoria interview with Rob Bottin, and archive publicity materials (some contents exclusive to Limited Edition)
Disc 1 (Director's Cut):
Archive commentary by director Paul Verhoeven, executive producer Jon Davison and co-writer Ed Neumeier (originally recorded for the Theatrical Cut and re-edited in 2014 for the Director's Cut)
NEW Commentary with film historian Paul M. Sammon
NEW Commentary with Christopher Griffiths, Gary Smart, and Eastwood Allen
The Future of Law Enforcement: Creating RoboCop – A newly filmed interview with co-writer Michael Miner, where he discusses the genesis of the project and the film's enduring legacy.
RoboTalk – A newly filmed roundtable conversation between co-writer Ed Neumeier and filmmakers David Birke (Writer of Elle) and Nicholas McCarthy (director of Orion Pictures' The Prodigy).
Truth of Character with Nancy Allen – A newly filmed interview with star Nancy Allen on her role as Officer Anne Lewis.
Casting Old Detroit with Julie Selzer – A newly filmed interview with casting director Julie Selzer on how the film's ensemble cast was assembled.
Connecting the Shots with Mark Goldblatt – A newly filmed interview with RoboCop's second unit director and frequent Paul Verhoeven collaborator Mark Goldblatt.
Analog with Peter Kuran and Kevin Kutchaver – An all-new featurette focusing on the special photographic effects by VCE, Inc., including new interviews with Peter Kuran and Kevin Kutchaver.
More Man than Machine: Composing RoboCop – A newly filmed tribute to composer Basil Poledouris, featuring film music experts Jeff Bond, Lukas Kendall, Daniel Schweiger, and Robert Townson.
RoboProps – A newly filmed tour of super-fan Julien Dumont's collection of original props and memorabilia.
2012 Q&A with the Filmmakers
Creating a Legend
Villains of Old Detroit
Special Effects: Then & Now
Paul Verhoeven Easter Egg
Deleted Scenes
The Boardroom: Storyboard with Phil Tippett Commentary
Director's Cut Production Footage
Trailers
TV Spots
Image Galleries
Disc 2 (Theatrical Cut):
Audio commentary recorded in 2001 featuring Paul Verhoeven, executive producer Jon Davison and co-writer Ed Neumeier.
Isolated Scores:

Composer's Original Score
Final Theatrical Mix

Edited-for-TV Version
Split Screen Comparisons:

Theatrical vs Director's Cut
Theatrical vs TV Cut
The Final Assessment
A classic 1980s flick that has all the Paul Verhoeven trademarks is reissued here in a fantastic, feature-rich limited-edition collection from Arrow Video. A steelbook edition is also available. Either way, this is a release to add to your collection or give as a gift.
RoboCop Limited & Steelbook Editions are out November 26, 2019 from Arrow Video
Purchase RoboCop Limited Edition on Amazon.com
---
The Film: 4/5
The Video: 4.5/5
The Audio: 4.5/5
The Supplements: 5/5
Rating Certificate: R (Theatrical Cut) | Unrated (Director's Cut)
Studios & Distributors: Orion Pictures | MGM Home Entertainment | Arrow Video
Director: Paul Verhoeven
Writers: Edward Neumeier | Michael Miner
Run Time: 103 Mins. (Director's Cut) | 102 Mins. (Theatrical Cut)
Original MSRP: $49.95
Street Date: 26 November 2019
Aspect Ratio: 1.85:1
Video Format: AVC 1080p
Primary Audio: English DTS-HD MA 5.1
Secondary Audio: English DTS-HD MA 2.0 Stereo | English DTS-HD MA 4.0
Subtitles: English SDH