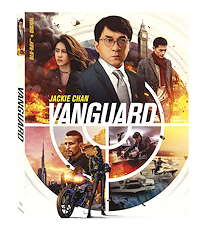 International superstar Jackie Chan has entered the waning phases of his career, which isn't necessarily a bad thing. Look at films such as 2017's The Foreigner and see that Chan has always had a wider range as an actor than given credit for. This latest globetrotting comedy-action-thriller, Vanguard, is another film that is on paper well suited for the now 67-year-old Chan. Much of the physical action is laid off onto his much younger co-stars and the story, which takes the cast to the Jungles of Africa, the Middle East, and London's Chinatown, is more a thriller and comedy than the high-kicking martial arts films Chan was known for in his younger days. In this one, Chan heads an international private security company that is hired to protect an accountant and his daughter who become the targets of a group international mercenaries.
Written and directed by Stanley Tong (Rumble in the Bronx, First Strike) Vanguard works visually and as an over-the-top actioner in the vein of the Brosnan-era 007 films. There's no denying that the Jeep going down the rapids brings up memories of a snowboarding Pierce Brosnan. But Tong's film is flat otherwise. The "Africa" they go to is just that, a generic and nameless place of no specific country and the Middle East is the same, filled with suspicious, English-speaking terrorists. Just swap in the Chinese security experts in place of the typical American or British in Western films and you have a rather cliché film here and one that feels very direct-to-video in most circumstances.


The Video
Vanguard arrives on Blu-ray from Lionsgate framed at 2.39:1 with an AVC 1080p encodement that is pure reference. The film's palette fluctuates between cooler indoor office or mobile operations spaces and the warmer, more saturated outdoor spaces of Africa and the Middle East. Played back from my Panasonic UB9000 into my LG CX OLED, this Blu-ray looks so clean, crisp and colorful with amazingly inky blacks and balanced contrast that it makes an argument for itself to be a 4K title with HDR.
The Audio
Vanguard hits Blu-ray with a really aggressive dual-language English & Mandarin DTS-HD Master Audio 5.1 mix that does set the home theater on fire. The low end is deep and rattling, as you can hear immediately if you jump to chapter 12 at the around the 01:04:00 mark and listen to those explosions boom. There are sounds like bullets and voices placed every everywhere, the score balanced throughout the channels, and dialogue stays full and clear.
The Supplements
This is a barebones release from Lionsgate coming with only a digital code and a brief making of featurette with interviews with Jackie Chan, director Stanley Tong and others.
Digital Code
The Making of Vanguard (1080p; 00:07:51)
The Final Assessment
This Blu-ray is top notch reference quality audio and video material even if the film falls a little flat.
---
If you found this review useful please consider clicking the button below and donating to help keep TheaterByte funded and to allow us to continue posting great content.
---
Vanguard is out on Blu-ray+Digital March 9, 2021 from Lionsgate
---
Studios & Distributors: China Film (Shanghai) International Media Co. | China Film Group Corporation (CFGC) | Epitome Capital | Shanghai Lix Entertainment | Shanghai Tencent Pictures Culture Media | Shenzhen Media Film & Television | Tencent Pictures | Lionsgate
Director: Stanley Tong
Written By: Stanley Tong (screenplay by) | Tiffany Alycia Tong (English dialogue)
Run Time: 107 Mins.
Street Date: 9 March 2020
Aspect Ratio: 2.39:1
Video Format: AVC 1080p
Primary Audio: Mandarin & English DTS-HD MA 5.1
Secondary Audio: English DTS-HD MA 5.1
Subtitles: English SDH | Spanish