Rotel RC-1590 Stereo Preamplifier
During its more than half-century existence, the basic function of a stereo preamplifier has largely remained the same: transfer signals from traditional analog audio sources. But we have been living in the digital age for more than three decades, so shouldn't you expect much more from 21st century preamplifiers? Will the new Rotel RC-1590 stereo preamplifier satisfy such lofty expectations? Follow me and together we will find out.


Getting going
The RC-1590 bears a strong family resemblance to its other Rotel siblings. The façade comes in silver or black and is cleanly laid out with a power on/off button (the illuminated blue ring can be concealed if so desired), inputs for headphones and i-devices and manual tone controls on the left and a large volume control and menu buttons on the right. Below the vacuum fluorescent display is a generous bank of input selectors.


The rear panel has a bevy of inputs and outputs. An aptX Bluetooth antenna neighbors three Toslink and three coaxial digital inputs, followed by single coaxial and Toslink digital outputs. There follow Ethernet and PC-USB ports, Rotel equipment links, 12V trigger ports and the ubiquitous RS232 connector.  Below are inputs for the phono stage input and other inputs labeled CD and tuner. An Aux line output to another device or powered subwoofer follows, flanked by a pair of unbalanced and balanced outputs. At the far right is the power cord receptacle that, surprisingly, lacks a ground prong input.
A well laid out remote control unit duplicates most of the front panel functions and can control other compatible Rotel devices so today's armchair audio jockeys can heave a sigh of relief. The RC-1590 software is upgradable via the Internet. About halfway through this review, I easily downloaded the latest version (V1.31) that enabled IP control on TCP port 9590 (a feature that I did not use), modified volume ramping, and fixed a couple of minor bugs. As this preamp is quite sophisticated, so you should thoroughly review the clearly written, if somewhat terse, owner's manual before putting its wheels into motion.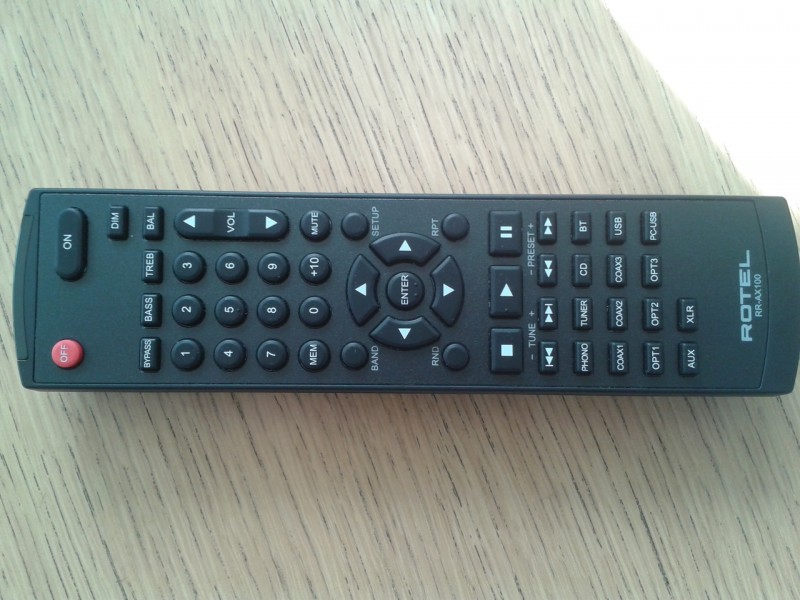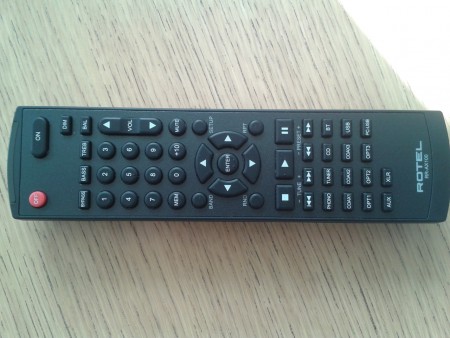 Putting it together
For all listening sessions, I mated the RC-1590 with a brute of a stereo amplifier (and the subject of a separate review), the Rotel RB-1590. An Esoteric K-01 SACD/CD player, and an Oppo BDP-105 universal player fed disc-based material via the balanced inputs. High-resolution files on a Bryston BDP-1 digital player were played through a coaxial digital port and also from a MacBook Air, connected to the PC-USB port, configured to 2.0 to enable playback of files up to 192kHz/24-bit resolution. An Astell & Kern 240 portable digital player delivered music files via Bluetooth. An iPod Classic (latest version) containing mp3 and AIFF files was plugged into the dedicated i-device front panel USB port.  [Note: Lacking a high output moving magnet phono cartridge, I did not evaluate the RC-1590's phono stage] Loudspeakers were Totem Mani-2 Signatures, mounted securely on Sound Anchor stands.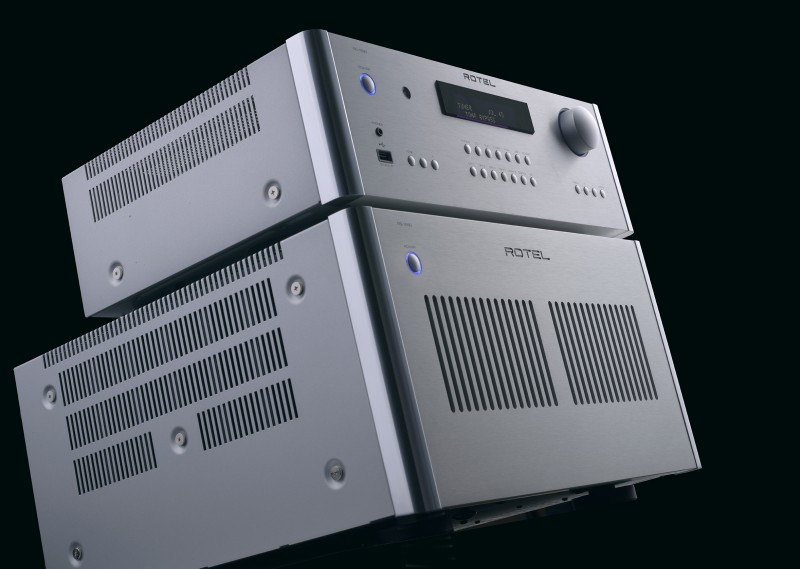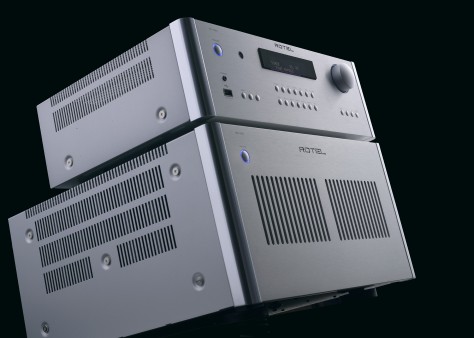 Let the music play
I selected the tone control bypass (the factory default setting) for the entire review period. Starting with .mp3 files on my iPod Classic like Motown Remixed's Z-trip remix of the Jackson 5's "I Want You Back, "definitely not the last word in high fidelity, the RC-1590 clearly teased out the multiple tracks on this cut. Matters improved significantly when Ann Savoy and her Sleepless Knights churned out "If Dreams Come True" (a lossless AIFF file).
Moving up the audio food chain, my AK 240 mated successfully with the aptX Bluetooth receiver in the RC-1590.  For those unfamiliar with recent developments in the Bluetooth world, aptX is a codec that enables compatible devices to transmit and receive CD-quality files. A favorite cut is The Eagles' live "Hotel California" from their Hell Freezes Over album (a 44.1kHz/16-bit FLAC download). While a smidge of compression was evident, the intro's pulsating drumbeats were still quite palpable.
A bunch of CDs, SACDs, and WAV-formatted DVD-Rs followed.  Among those were the Mark Levinson Red Rose Music SACD and Eiji Oue and the Minnesota Orchestra's all-Stravinsky HRx disc (176.4kHz/24-bit). Both recordings yielded some pretty spectacular musical moments, highlighting the ability of this preamp to resolve complex musical passages without overemphasizing any aspect of the sound spectrum. In other words, blessedly neutral.
I explored the high-resolution download libraries on the Bryston player and Mac laptop. The RC-1590's internal DAC is capable of handing sampling frequencies up to 768kHz and word lengths to 32-bits. High-resolution formats up to 192kHz/24-bit can enter through the coaxial inputs while the PC-USB port can handle most current high-resolution formats including DSD64 and DSD128 (It does not handle DSD264 AKA Quad DSD). The Modern Jazz Quartet's Blues on Bach (192kHz/24-bit) is a crystalline recital in which John Lewis's harpsichord literally sings over Milt Jackson's cheery vibes, Percy Heath's sonorous bass and Connie Kay's persistent tympani. Aussie pianist Fiona Joy's Signature Solo, a DSD128 download and a truly magnificent piano recording, sounded as good as I have ever heard it.  Of the many other high-res files submitted to the Rotel, old favorites like Ella and Louis (a brilliant mono 96kHz/24-bit program by Ms. Fitzgerald and Mr. Armstrong) and blues legend Honey Boy Edwards's Shake 'Em On Down (176kHz/24-bit) reminded me of just how pleasurable music can be when delivered by such fine equipment.
A stereo preamplifier done right
The late J. Gordon Holt, long-time editor of Stereophile, once described the ideal link in a sound system as a "straight wire with gain," neither adding to nor subtracting from the original audio signal. Few components reach that exalted status although some of today's better equipment come close. Having lived with the Rotel RC-1590 for the better part of two months, I can state unequivocally that it delivered some of the most uncolored sound that I have ever heard. There was refreshing honesty in the way the RC-1590 passed music forward through the audio chain: great recordings were given their due while lower resolution material was treated kindly.
The Good
Smooth operation
Very versatile
Sufficient analog and digital inputs
Additional balanced input
Compatible with Rotel link sources
Excellent internal DAC
Great USB audio performance
Flawless Bluetooth audio operation
iPod compatible
Defeatable tone controls
Software upgradable via Ethernet
Legible display panel
The Bad
Phono stage limited to moving magnet cartridges
Power cord receptacle lacks ground plug
The Scorecard:
Design/Ergonomics:
[Rating:4.5/5]
Performance:
[Rating:4.5/5]
Value:
[Rating:4.5/5]
Overall:
[Rating:4.5/5]
The Definitive Word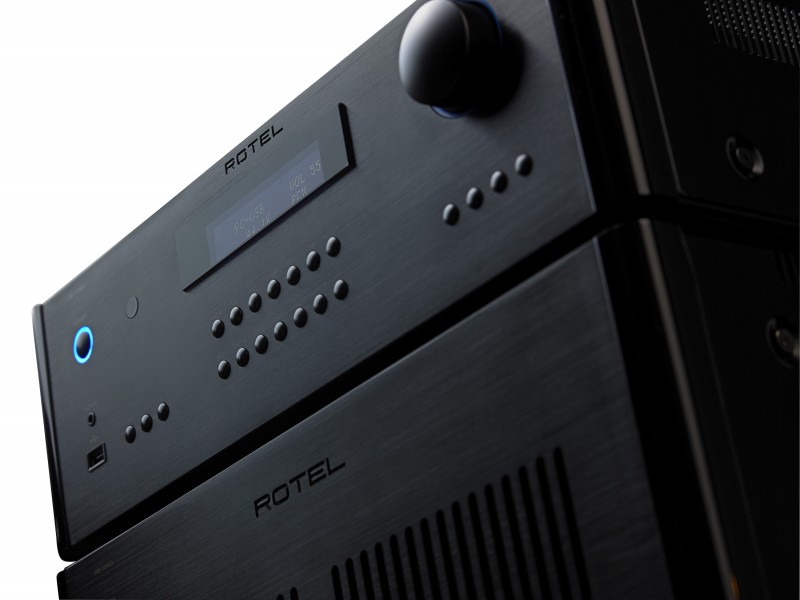 Rotel has triumphed again! The RC 1590 stereo preamplifier makes a very strong case for not spending more than its $1750.00 asking price to get a 21st century audio control center. Given its excellent build quality and a very handy remote control, this is one heckuva preamp that earns my highest recommendation.
Specifications:
Total Harmonic Distortion <0.004% ((20-20kHz)
Frequency Response
Phono Input     20Hz-20kHz + 0.2 dB
Line Level Inputs 10Hz-100kHz +0.1 dB
Input Sensitivity/Impedance
Line Level     200 mV/100 kOhms
Phono Input (MM)     2.5mV/47 k Ohms
Line Level Input (RCA)   150 mV/100k Ohms
Line Level Input (XLR)     250 mV/100k Ohms
Input Overload
Phono Input    30 mV
Line Level Inputs   4V
Preamp Output Level/Output Impedance   1.5V/ 470 Ohms
S/N Ratio (IHF "A" weighted)
Phono Input       >80 dB
Line Level Inputs     >110 dB
Channel Separation
Phono Input       >75 dB
Line Level Inputs      >75 dB
Digital Section
Frequency Response   20Hz-20kHz (+0.5 dB,, Max)
S/N Ratio (IHF "A" weighted)   90 dB
Input Sensitivity/Impedance    0 dBfs/ 75 Ohms
Coaxial/Optical Digital Signals  SPDIF LPCM (up to 192kHz/24-bit)
PC-USB   USB 1.0 (up to 96 kHz/24-bit)
USB 2.0 (up to 192 kH/24-bit)
General
Power Consumption   23 watts (<0.5 watts, standby)
Power Requirements  120 volts, 60 Hz (USA version)/230 volts, 50 Hz (EC version)
Weight   9.2 kg (20.28 lbs)
Dimensions (W x H x D) 431 x 144 x 348 mm/17 x 5.875 x 13.75 in
More Information:
Rotel RC 1590 Stereo Preamplifier (SRP $1750)