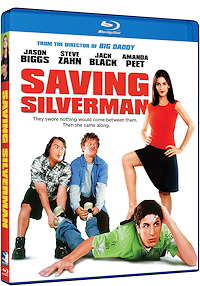 In the 2001 romantic comedy from actor turned director Dennis Dugan, Saving Silverman, the relationship between three longtime friends who are in a Neil Diamond cover band is threatened when one friend, Darren Silverman (Jason Biggs), ends up in a serious relationship with the dream girl they set him up with, Judith (Amanda Peet). But Judith turns out to be quite a domineering woman and Darren's friends J.D. (Jack Black) and Wayne (Steve Zahn) decide to try to break them up by kidnapping Judith and getting Darren back together with his high school sweetheart Sandy (Amanda Detmer), but Judith seems a few steps ahead of Darren's witless friends all along the way.
Saving Silverman is not a film to be taken seriously in any way. It's dumb, it's misogynistic, and it pushed the suspension of disbelief beyond the ability to suspend disbelief. All the stars seem along for the ride and are having fun, which about all one can ask for in a film like the. Jack Black does is usual over-the-top thing and Jason Biggs is still caught in American Pie neurotic mode, which works for this role. For Amanda Peet it's yet another tragic role that doesn't take advantage of her capabilities.

The Video
Saving Silverman comes in an AVC 1080p encodement framed at 1.85:1 from Mill Creek Entertainment. This 2001 comedy was originally shot on 35mm and this transfer from Mill Creek is middling at best. There is some slight visible source damage that can be seen throughout, detail is a little on the softer side, and I saw some definite signs of edge enhancement on the sides of faces in some scenes. Most egregious is some posterization that appears on flat backgrounds like walls.
The Audio
The audio for Saving Silverman is provided in DTS-HD Master Audio 2.0 stereo. It's the sole audio mix provided on the disc. It is adequate for this program material with clean dialogue and the Neil Diamond numbers sound spiffy. Stereo panning sounds a little bit narrow at times.
The Supplements
There are no supplements on this barebones release.
The Final Assessment
This comedy on Blu-ray is only for those who really love the cast and the few chuckles that the movie provides here and there. Otherwise the middling quality of the transfer and the film make more rental or streaming material.
Saving Silverman is out on Blu-ray July 13, 2021 from Mill Creek Entertainment
---
Rating Certificate: PG-13 (for crude and sexual humor, language, and thematic material)
Studios & Distributors: Columbia Pictures | Village Roadshow Pictures | NPV Entertainment | Original Film | Province of British Columbia Production Services Tax Credit | Mill Creek Entertainment
Director: Dennis Dugan
Written By: Hank Nelken | Greg DePaul
Run Time: 96 Mins.
Street Date: 13 July 2021
Aspect Ratio: 1.85:1
Video Format: AVC 1080p
Primary Audio: English DTS-HD MA 2.0 Stereo
Subtitles: English SDH