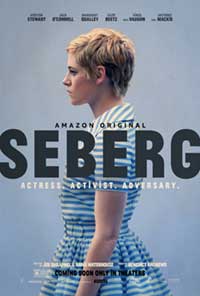 Younger viewers may be unfamiliar with American actress Jean Seberg but in the 1960s and early 1970s, she starred opposite some of the top leading men of the era like Sean Connery, David Niven, Peter Sellers, Warren Beatty, Clint Eastwood, and Burt Lancaster. After a brief theatrical release in December 2019, Amazon Studios is now streaming Seberg, an account of some of the last years in this iconic film star's brief life.
Ten years after we see Seberg (Kristen Stewart) burning at the stake in her screen debut, Saint Joan, she is flying to Los Angeles to start filming the musical Paint Your Wagon.  This flight turns out to be a life-changing event when she meets civil rights activist Hakim Jamal (Anthony Mackie) who had ties to the militant Black Panthers. Jean enters into an affair with Hakim and starts donating large sums of money to his neighborhood association. This relationship brings her considerable attention from the FBI's COINTELPRO surveillance program and from this point onward, her every phone conversation is recorded by wiretap experts Jack Solomon (Jack O'Connell) and Carl Kowalski (Vince Vaughn).  After Jamal's wife Dorothy (Zazie Beetz) receives a phone call with a tape of her husband and Seberg getting it on, she confronts the actress and the affair ends.
Seberg's husband French novelist Romain Gary (Yvan Attal) and her son Diego (Gabriel Sky) fly out to visit her but it is clear that their open marriage has hit the rocks. As a parting goodwill gesture, Romain agrees to accompany Jean to the new film's premiere. Jack is beginning to regret his surveillance mission and anonymously calls Seberg to tell her that she is being photographed, wiretapped, and reported to FBI COINTELPRO director Frank Elroy (Colm Meany) on a regular basis but she rebuffs his warning.
[envira-album id="123325″]
Jean's life finally goes off the rails when she becomes pregnant during the shooting of another film and an FBI-generated "tip" to the press suggests (erroneously as it turns out) that Jamal is the father.  After her baby's death at only two days of age, Jean starts drinking heavily and later attempts suicide. As the film winds down, Jack enters the Paris bar where Jean is "enjoying" another martini and apologetically shows her the thick FBI file that he helped to amass for COINTELPRO. While Seberg will survive for a few more years and make a few forgettable foreign films,  her life is effectively over.
Jean Seberg's tragic story is yet another example of how celebrities cannot always be shielded from the unwanted attention of the press or, in this case, from that of an FBI led by J. Edgar Hoover.  Veteran casting director John Papsidera obviously saw how closely Stewart and Attay resembled Seberg and Gary, respectively. The pair make the most out of the less than stellar script handed to Aussie director Benedict Andrews by writers Joe Shrapnel and Anna Waterhouse–a storyline that fails to delve much below the surface of this troubled young woman who championed civil rights causes and was hounded to death by the FBI.
If there is any reason for taking in this bland biopic, it is to encourage viewers to explore this actress's extensive filmography in French New Wave cinema that includes Bonjour Tristesse and Breathless. They can then see for themselves the significant talent that this brief candle actually possessed rather the pitiful shell of the woman portrayed in this film.
Seberg is now available for viewing on Amazon Prime Video
[youtube https://www.youtube.com/watch?v=Tck5EBUTeoc&w=850&h=478]
---
The Film: 3.0/5
Studios & Distributors: Phreaker Films | Bradley Pilz Productions | Automatik Entertainment | Ingenious Media | Nelly Films | Amazon Studios
Rating Certificate: R (language, sexual content, nudity, drug use)
Country: USA | UK
Language: English | French
Run Time: 102 Mins.
Aspect Ratio: 2.35:1
Director: Benedict Andrews
Writers: Joe Shrapnel | Anna Waterhouse
Release Date: 15 May 2020