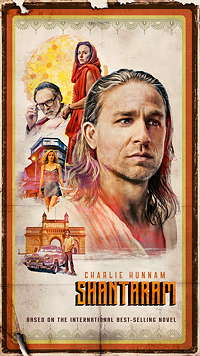 Based on the internationally best-selling novel by Gregory David Roberts, Shantaram, which premieres today on Apple TV+ with its first three episodes stars Charlie Hunnam at first seems like it could be just another in a long history of productions about Anglos running to India to either lose themselves or find themselves.
Set in the 1980s, Hunnam plays a fugitive from Australia named Lin Ford. Through a series of flashbacks, which the series uses well throughout its episodes to offer backstory for Lin, we eventually find out the violent, drug-fueled episode that landed Lin in prison and how he managed to escape. A falsified passport from New Zealand and airplane tickets sends Lin to Bombay where he tries to escape into the bustling, colorful, and strange new world of India. It does not take long, however, before Lin finds himself involved with a group of international expatriates, including the beautiful and enigmatic Karla (Antonia Desplat) and falling into his old bad habits. Eventually, inveigled into helping Karla rescue a strung-out friend of hers being held captive by a powerful woman with ties to a nefarious Indian crime lord Khader Khan (Alexander Siddig), Lin finds himself the target of violent a retribution and without his false identification – a dangerous situation for anyone in Bombay, especially a foreign fugitive. He has no choice but to go stay with his newfound friend Prabhu (Shubham Saraf) in his shanty town hut on the outskirts of the bustling city. He begins to become a legend of sorts using his clear medical skills to help the local poor population after a tragic fire burns through the community, but this also leads to an unexpected meeting with the powerful and dangerous Khader Khan.
Over the course of the first three episodes – the only ones I am allowed to speak of at this time – the series does redeem itself as more than a cliché "White guy runs away to India" series and becomes much more involving, although it does still fall into some of the same pitfalls, such as Lin managing to find the only group of White people in all of Bombay and become romantically entangled with the first White woman he sees in a country filled with over one billion Indians. Nevertheless, the intrigue and atmospheric cinematography make it an interesting watch and Hunnam is on point with his performance. The series does begin to turn in a deeper direction, but I can't say much more beyond that. This is one worth watching.
This review of Shantaram is based on episodes 1-3. There are 12 episodes total for this series with the remaining 9 episodes to be released weekly.
---
Rating Certificate: TV-MA
Show Creators: Steve Lightfoot | Eric Warren Singer
Original Release Date: 14 October 2022
Streaming Service: Apple TV+
Episode Run Time: 45 Mins. (Approx.)
Num. Eps.: 12
Studios & Distributors: Anonymous Content | Paramount Television | Apple TV+