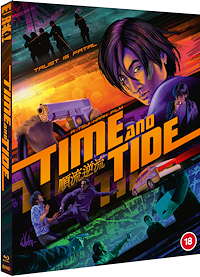 Tsui Hark (Zu: Warriors from the Magic Mountain; Once Upon a Time in China), one of the leaders of the Hong Kong New Wave, directed this Hong Kong crime noir dripping with style, Time and Tide.
The story follows young street tough Tyler (Nicholas Tse) who finds he has much in common with a mercenary named Jack (Wu Bai), whose wife is pregnant. After a night out of hard drinking, Tyler hooks up with off-duty undercover cop Ah Jo (Cathy Chui) who usually prefers women but is having a rough patch with her girlfriend. Their one-night stand results in Ah Jo's pregnancy and Tyler needing to make quick cash so he can do the right thing even though Ah Jo wants nothing more to do with him. He joins up with low-level gangster Uncle Ji (Anthony Wong) who is starting an unlicensed bodyguard agency and he sends Ah Jo his money. Meanwhile Jack who once lived in Brazil, is back in Hong Kong with his pregnant wife Ah Hui (Candy Lo), the daughter of a triad leader and they are being targeted by Brazilian gangsters. Uncle Ji's bodyguard agency is in charge of protecting the Brazilian gangster and Tyler is in charge, but Jack has a plan to kill the gangster and steal the money he is carrying. This puts suspicion on Tyler and pits the two friends against each other in a dangerous, high stakes gangland war.
Tsui Hark's film is visually breathtaking. This is an urban noir that is lush with shadows, colors, unusual camera angles, and kinetic energy that is built-up by use of Steadicams. The shootouts are choreographed like ballets. One can tell Hark spent half his time in martial arts films and half in these modern action films. This is a film that relishes the quick pace, the stunts, the half-rendered characters, the insane scenarios like escaping from an explosion inside a refrigerator. Hark keeps this film entertaining and surprising at every moment even if the narrative gets lost a little along the way.

The Video
Time and Tide arrives in a 2.35:1 AVC 1080p encodement on Blu-ray from Eureka Entertainment's Eureka Classics imprint. The film was shot on Super 35 on various Arriflex cameras. While it looks quite natural it also looks a little bit rough, soft, and grainy, definitely tipping over into looking noisy in dark scenes. It doesn't look dirty, but there is some slight haloing and middling extension of depth.  That said, the colors look awesome and there is still strong nuance in the shading and shadows here making this satisfying if not perfect to watch.
The Audio
The lossless Cantonese DTS-HD Master Audio 5.1 mix is the way to for this film although there is also a lossless English dub included. While the mix is very aggressive it sounds a little too aggressive, too artificial to my ears. There's an overabundance of reverberation in the surround channels, almost every sound effect seems to be coming out of the front and surround channels. Lots of big sounds coming from everywhere and a wide dynamic range. The dialogue is clean, but the musical soundtrack can sound just a bit tizzy.
The Supplements
The on-disc extras include two superb audio commentaries, one with the director himself. There's also a very informative essay included in the collector's booklet that accompanies the initial 2000 copies.
Audio commentary with director Tsui Hark
Audio commentary with Asian film expert Frank Djeng
Trailer (1080p)
Limited Edition O-Card Slipcase featuring new artwork by Darren Wheeling (First Print Run of 2000 copies only)
Limited Edition Collector's Booklet (2000 copies) featuring new writing by Chinese-language film expert and author Stephen Teo
The Final Assessment
Bullets and mayhem rule in this visually stylish Hong Kong classic that is a must watch. Highly recommended.
---
If you found this article useful please consider clicking the button below and donating to help keep TheaterByte funded, which will allow us to continue posting great content.
---
Time and Tide is out on Blu-ray in the UK 24 May 2021 from Eureka Entertainment
---
Rating Certificate: UK:18
Studios & Distributors: Columbia Pictures Film Production Asia | Film Workshop | Edko Films | Eureka Entertainment
Director: Tsui Hark
Written By: Hui Koan | Tsui Hark
Run Time: 114 Mins.
Original MSRP: £21.99
Street Date: 24 May 2021
Aspect Ratio: 2.35:1
Video Format: AVC 1080p
Primary Audio: Cantonese DTS-HD MA 5.1
Secondary Audio: English DTS-HD MA 5.1
Subtitles: English (for Cantonese audio) | English SDH (for English Audio)