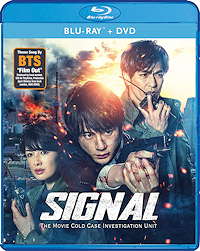 Signal: The Movie Cold Case Investigation Unit is a feature-length film based on the Japanese Signal drama series, which itself is based on the acclaimed South Korean crime drama of the same name. The story continues from where the series left off. One detective from the past, Oyama Takeshi (Kitamura Kazuki) and one from the present, Saegusa Kento (Sakaguchi Kento), a brought together across the ages via an old walkie-talkie to help solve cases. This time, in 2021 Tokyo, a high-ranking government official is killed when his chauffeur loses control and crashes on a highway. Saegusa suspects something other than an accident. Meanwhile, back in 2010, politicians are dying in a similar fashion in crashes and investigations uncover a level of corruption and possible poisonings that link the past and the future.
There was a lot of potential in this film, but the narrative becomes so labyrinthine it's almost impossible to put together and track what's going on. Add to this the lackluster production that feels more like big budget made-for-TV than a full-on feature film, and we have a very disappointing and somewhat forgettable thriller. I have seen the original South Korean series, and this film doesn't deliver for fans of that. They also don't do a good job at all explaining for those uninitiated what is going on with the investigators communicating across time.
The Video
Signal comes to Blu-ray in a 1080p AVC encodement framed t 1.85:1. There isn't much to complain about with this transfer. There is a lot of detail, no noise, or artifacts, but the production leaves something to be desired. The color palette is quite cool much of the time and has no 'pop' and the overall look is more digital production than cinematic.
The Audio
Signal comes with a Japanese DTS-HD Master Audio 5.1 mix as well as a DTS-HD Master Audio 2.0 stereo mix. The 5.1 mix provided clear dialogue, but the balance and clarity sound a bit too artificial to me. The way sounds and the score get quite loud in the surround channels, even to the point of fatigue, is off putting. While there are some solid moments where the soundscape works, there are an equal amount of moments where it sounds like an overblown television mix masquerading as a big screen spectacular.
The Supplements
Only the original trailer (1080i) and a DVD of the feature are included.
The Final Assessment
I had high hopes for this film, and despite the excellent performances from the cast, and for those K-Pop stans out there, a theme song from BTS, this one misses the mark even if it does work as some forgettable afternoon or late night distraction.
Signal: The Move Cold Case Investigation Unit is out on Blu-ray Combo March 15, 2022 from Shout! Factory

---
Studios & Distributors: Eleven Arts | Shout! Factory
Director: Hashimoto Hajime
Written By: Nishi Kôsuke
Run Time: 122 Mins.
Street Date: 15 March 2022
Aspect Ratio: 1.85:1
Video Format: AVC 1080p
Primary Audio: Japanese DTS-HD MA 5.1
Secondary Audio: Japanese DTS-HD MA 2.0 stero
Subtitles: English