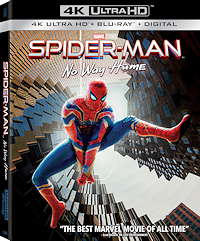 Jon Watts returns to direct this entry in the Marvel Cinematic Universe, Spider-Man: No Way Home. The film finds an unmasked Peter Parker (Tom Holland) initially relieved that all the people he cares about in his life — MJ (Zendaya), Aunt May (Marisa Tomei), and his best friend Ned (Jacob Batalon) — finally know his identity as Spider-Man. However, problems begin to arise from the world knowing Spider-Man's true identity, such as he, MJ, and Ned having issues getting into many of the colleges they applied to, or villains coming after him. So, Peter goes to Doctor Strange (Benedict Cumberbatch) to help him. Doctor Strange uses a spell to allow everyone in the world to forget Peter Parker, but because of last minute changes, it creates an opening to the multiverse and allows supervillains with a beef against Peter Parker from different universes to enter and wreak havoc. Peter must find a way to get these villains back to where they belong, but he also gets help from two unexpected allies.
Spider-Man: No Way Home is arguably the best entry in the Spider-Man franchise at least since the refreshing 2018 animated film, Spider-Man: Into the Spider-Verse, and it's not surprising that both films deal with Spidey and the multiverse. They bring in a multitude of Spider-Mans (Spider-Men?) that share the screen for a spectacular display of eye-popping action and throwbacks to the mythology of the franchise both from the comic books and the feature films. I won't go into specifics for the two folks who still haven't seen this and managed to avoid all spoilers, but in one of the world's worst kept secrets, this film brings back familiar faces from the past and it's a wonderful bit of fanservice.
This film, with its excellent direction from Watts and continued strong performance as Spider-Man from Holland, brings the character forward, now no longer just a kid in high school, Peter Parker is forced to grow up and make tough decisions. It will be interesting to see where the character goes from here.
Spider-Man: No Way Home (2021)
The Video
Spider-Man: No Way Home was shot in 4.5K on the Arri Alexa LF and Arri Alexa Mini LF cameras, uses a 2K DI, and comes to 4K Ultra HD Blu-ray with a HEVC 2160p (4K UHD) Dolby Vision HDR encodement compatible with HDR10. The HDR metadata lists a MaxLL of 9978 nits and a Max FALL of 867 nits. This is from start to finish a pure reference title. The digital production shows exceptional detail in the costumes, on skin, and depth of field. Black levels and contrast is exceptional and when you factor in the Dolby Vision HDR, there is a truly three-dimensional appearance to the elements on screen. Specular highlights really 'pop' from the various portals and spells from Dr. Strange to the spectacular bolts of electricity generated by Max Dillon. The wide color gamut from the Dolby Vision adds to the depth and splendor bringing an array of colors to the palette, a richer red in Spidey's costume, various ambers, oranges and reds in the spells and portals that you don't see on the Blu-ray. In contrast, the Blu-ray looks flat, with these effects, like the portals for example, looking a pale orange or dark yellow. The buildings in the background during the mirror realm scene also seem a bit washed out whereas on the 4K disc they have richer tones.
The Audio
On the 4K Ultra HD disc Spider-Man: No Way Home comes with an English Dolby Atmos (TrueHD 7.1 core) mix; the included Blu-ray only gets a DTS-HD Master Audio 5.1 mix. The Atmos mix is also reference through and through, with just the right amount of low end beefing up the action sequences, exceptional dialogue clarity, and solid height awareness.
The Supplements
Sony packs the included Blu-ray Disc with over 80-minutes of bonus features that include making-ofs, behind-the-scenes, and interviews on nearly every aspect of the film's production. There are even a few 'The Daily Bugle' news reports.
Movies Anywhere Digital Code
Blu-ray with feature film and all bonus features
Bloopers & Gag Reel (1080p; 00:04:01)
Action Choreography Across the Multiverse (1080p; 00:06:25)
A Spectacular Spider-Journey with Tom Holland (1080p; 00:06:16)
Realities Collide, Spiders Unite (1080p; 00:08:09)
Graduation Day (1080p; 00:07:07)
Enter Strange (1080p; 00:05:04)
Weaving Jon Watt' Web (1080p; 00:07:18)
Alternate Reality Easter Eggs (1080p; 00:04:41)
A Multiverse of Miscreants (1080p; 00:06:38)
A Meeting the Spiders – Heroes Panel (1080p; 00:07:23)
The Sinister Summit – Villains Panel (1080p; 00:08:44)
The Daily Bugle (1080p; 00:04:06):

Spider-Menace Strikes Again
Web of Lies
Spider Sycophant

Stunt Scene Pre-Vis (1080p; 00:03:31):

Apartment Fight
Shield Fight

Theatrical Marketing Materials (1080p; 00:04:09):

Tom & Jacob Lie Detector
Tom's Press Tour
Georgia Promo
The Final Assessment
Spider-Man: No Way Home is great fun, with a 4K Ultra HD disc from Sony that provides awesome video and audio. They have done an excellent job, securing their reputation as one of the best studios for 4K releases.
Spider-Man: No Way Home is out on 4K Ultra HD Combo, Blu-ray Combo, and DVD, April 12, 2022 from Sony Pictures Home Entertainment

---
PG-13 (for sequences of action/violence, some language and brief suggestive comments)
Studios & Distributors: Columbia Pictures | Pascal Pictures | Marvel Studios | Sony Pictures Home Entertainment
Director: Jon Watts
Written By: Chris McKenna | Erik Sommers | Stan Lee
Run Time: 148 Mins.
Street Date: 12 April 2022
Aspect Ratio: 2.39:1
Video Format: HEVC 2160p (4K UHD)
HDR Format: Dolby Vision (HDR10 Compatible)
Primary Audio: English Dolby Atmos (Dolby TrueHD 7.1 Core)
Secondary Audio: English Audio Descriptive Service | French DD 5.1 | French Audio Descriptive Service | Portuguese DTS-HD MA 5.1 | Spanish DD 5.1 | Thai DD 5.1
Subtitles: English | English SDH | Cantonese | Chinese Simplified | Chinese Traditional | French | Korean | Portuguese | Spanish | Thai