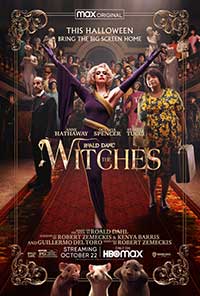 Sometimes I wonder about the rationale behind film remakes, particularly when the original was so well done thirty years ago. Of course, I am referring to the new screen adaptation of Roald Dahl's dark novel about evil women who are determined to rid the world of children—The Witches.
In this 2020 version, the action has been moved from England to the American South of 1968 where a young Black orphan Hero Boy (Jazhir Kadeem Bruno) is sent to live with his Grandma (Octavia Spencer).  Grandma buys him a pet mouse that he names Daisy and in a hardware store he has his first encounter with Zelda, a witch (Josette Simon).  Grandma, a former witch-hunter, scares Zelda off and proceeds to "entertain" Hero Boy with a witch story and then tells him how to recognize witches by their wigged heads, deformed hands and feet, wide mouths and hoarse voices.
To keep Hero Boy away from the witches, Grandma takes him to a luxury hotel, managed by Mr. Stringer (Stanley Tucci).  Little did the two know that the Grand High Witch (Anne Hathaway) is holding a witches' convention there. Hero Boy meets chubby Bruno Jenkins (Codie-Lei Eastick) whose downfall is chocolate bars laced with the Mouse Maker Potion that turns him into a fat mouse. In short order, Hero Boy gets the MMP poured into his ear and also becomes a mouse. He next finds out that his pet mouse Daisy was once a little girl whom the witches had also transformed.  The three "mice" escape but now must stay one step ahead of the witches and, hopefully, with Grandma's help, rid themselves of these evildoers and get turned back into real children.
Having seen and thoroughly enjoyed the 1990 original film version led by Anjelica Huston as the Grand High Witch, deftly directed by Nicholas Roeg, and produced by Jim Henson, this dark PG-rated film captured the essence of Roald Dahl's story and its strong Brothers Grimm flavor.  When one thinks about the state of "special" effects three decades ago, that film's ability to convince audiences about the mouse-transformations was brilliant and still is.
Starting with Chris Rock's folksy narrator who is a much older version of Hero Boy, the new Witches version is a CGI-fest from beginning to end but uses such devices in lieu of clever dialogue to move things along.  Anne Hathaway's pseudo-Russian accent is cartoonish at best and her "mugging for the cameras" impersonation of the Grand High Witch cannot hold a bell, book or candle to that of Anjelica Huston.  I also thought that relocating this story to the segregated South was a dramatic miscalculation as the overt racism that greets Grandma and Hero Boy at the "Whites Mostly" hotel is a gratuitous distraction from Dahl's fantasy.  In spite of writer-director Robert Zemeckis's powerhouse colleague Guillermo del Toro, this script totally failed to draw out the essences of the other witches and, in fact, mostly ignored characterization, period.  I was left wondering who would take their children to see this—it is too graphic—and what adults in their right minds would stay focused for nearly two hours on a production with nothing in it for them.
The pandemic has brought out some of the best and some of the worst in the film world.  You don't have strain your brain to guess which side of the fence I am on with The Witches. Just skip it.
The Witches is streaming now on HBO Max
[youtube https://www.youtube.com/watch?v=9nlhmJF5FNI&w=961&h=541]
---
Studios & Distributors: Warner Bros. Pictures | ImageMovers | Necropia Entertainment | Esperanto Filmoj | Double Dare You Productions | Warner Bros. Pictures | HBO Max
Rating Certificate: PG (scary images/moments, language and thematic elements)
Country: USA
Language: English
Run Time: 105 Mins.
Aspect Ratio: 2.39:1
Director: Robert Zemeckis
Written By: Robert Zemeckis | Guillermo del Toro | Roald Dahl
Release Date: 22 October 2020