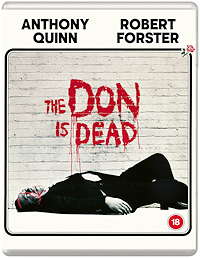 The Don is Dead was filmmaker Richard Fleischer's 1973 follow-up to his sci-fi success Soylent Green. Moving from sci-fi to the world of crime, Don is one of a number of mafia world crime films that followed in the wake of The Godfather. It was also perhaps wrongfully judged rather harshly because of it and still is, having fallen nearly into obscurity despite one of the all-time great casts consisting of multiple Oscar-winner Anthony Quinn, Robert Forster (Jackie Brown, Vigilante), Frederic Forrest (Apocalypse Now), Al Lettieri (The Getaway), Joe Santos (The Friends of Eddie Coyle), Abe Vigoda (The Godfather), Vic Tayback (Alive Doesn't Live Here Anymore), Victor Argo (Taxi Driver) and Sid Haig (House of 1000 Corpses).
Frank Regalbuto (Forster) is a loudmouthed, hot tempered Las Vegas mafioso whose crime family Don father has just died. With the other crime families forcing Frank to split up his father's business interests and work for them, Frank puts his trust in Don Angelo DiMorra (Quinn). But as is often the case in the crime world, someone is always gunning for the top and out to undermine the stability of any deals. Frank is made to believe that Don Angelo has stolen his girlfriend, the beautiful up and coming singer-songwriter Ruby (Prime Cut's Angel Tomkins), which triggers an all-out gangland war.
Often criticized for not having the depth and character development of The Godfather and for twists that are far too obvious, most critics are far too caught up in trying to compare The Don is Dead to Coppola's saga, but since when are all mafia films supposed to be sagas? Does Fleischer miss the mark a bit with this film? He does. His direction seems a bit too removed or highbrow, like he's afraid to get into the mud where this sort of crime drama belongs. He never goes all-in on either a lavish and glitzy mafia affair (just look at the settings where Don Angelo resides, for example) or a gritty, visceral crime drama, such as when Frank goes full lunatic on Ruby and puts her in the hospital or when the film enters its final act, and the violence begins to heat up. Instead, Fleischer offers a number of maneuvers and pullbacks, some that do seem a bit too obvious for any crime boss or mafia street thug worth his salt to fall for, but that are still good enough to keep us entertained.
If you take The Don is Dead for what it is, a crime drama with a group of ruthless thugs all vying for the throne, then it works. And the cast is impeccable. Most reviews of the time singled out Quinn as the standout, but from my modern perspective I see Robert Forster as the standout performer, with Quinn a centering force, for sure. Quinton Tarantino lists this as one of his favorite films and perhaps it is time for it to be reexamined by a wider audience.
The Video
The Don is Dead is brought to Blu-ray in its original 1.85:1 aspect ratio in an AVC 1080p encodement. It doesn't appear to be a new restoration of any kind and it does look just a bit rough around the edges with some places where a little bit of source damage can be spotted. Film grain looks natural but is just a little bit coarse and detail can tip towards softness. Overall, however, this is a workable even if not top-tier transfer. The grittiness adds to the atmosphere of this mafia crime drama.
The Audio
The Don is Dead comes with the original monaural soundtrack in LPCM 2.0. It is surprisingly well done, full, clean, and offers good depth and range.
The Supplements
The bonus features are few, but of high quality. Scott Harrison provides a very interesting if somewhat meta audio commentary that provides a lot of information on the history of the era.
Audio Commentary with author Scott Harrison
Theatrical Trailer
Collector's booklet featuring extensive essay on the crime films of director Richard Fleischer by film writer and journalist Barry Forshaw
The Final Assessment
Eureka Entertainment brings this early-1970s, Watergate-era, post-The Godfather mafia crime drama to Blu-ray and gives us all a chance to re-examine its pulpy pleasures and value after so many decades in relative obscurity. Recommended for genre fans.
---
If you found this review useful please consider clicking the button below and donating to help keep TheaterByte funded and to allow us to continue posting great content.
---
The Don is Dead is out on Blu-ray in the UK 18 January 2021 from Eureka Entertainment
---
Rating Certificate: UK:18
Studios & Distributors: Hal Wallis Productions | Universal | Eureka Entertainment
Director: Richard Fleischer
Written By: Marvin H. Albert (novel & screenplay) | Christopher Trumbo (adaptation) | Michael Butler (adaptation)
Run Time: 115 Mins.
Street Date: 18 January 2021
Aspect Ratio: 1.85:1
Video Format: AVC 1080p
Primary Audio: English LPCM 2.0 Mono
Subtitles: English SDH