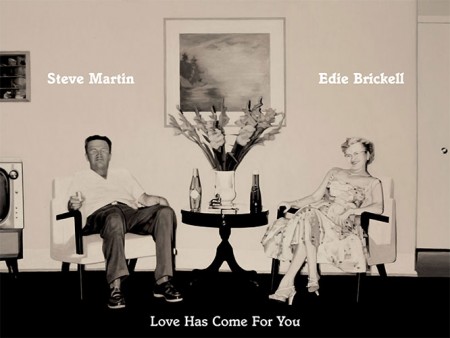 –
The Album
[Rating:4/5]
Comedian, writer, and musician Steve Martin (that's right, Steve Martin of SNL fame) and singer/songwriter Edie Brickell of New Bohemians ("What I Am") fame have come together for this musical effort that sees both artists exploring new territories. For Martin, Love has Come for You, takes him further into the world of the banjo music that has long been a staple of his stand-up shows and comedy recordings. In fact, Steve Martin has been growing ever more involved with the strict musical scene over the years, and is more than a competent player on his instrument. For Brickell, it takes her on journey through her musical roots (both musicians are Texas natives), not far from the Americana rock of her New Bohemian origins, but far more folksy.
This folksy offering of acoustic/bluegrass numbers borrows from the some of the best the genre has to offer – Alison Krauss, Gillian Welch, Nickel Creek – with all music by Martin and Brickell, and all lyrics by Brickell in her usually enigmatic style, though she has grown a bit more straightforward over the years.
The opening track, "When You Get to Asheville", arguably one of the catchiest of the collection, finds Brickell simply pining to a lover who's left "When you get to Asheville/send me an email/tell me how you're doing/how it's treating you" In "Sarah Jane and the Iron Mountain Baby", a song about an abandoned baby thrown from a train that is deceptively cheery musically, Brickell sings in the chorus, in her usual, detached drawl, "Sarah Jane, Sarah Jane, be a mama to the boy from the train" before letting out a "woo ooo" that mimics a train whistle howling.
Supporting each of the tracks on the album is Steve Martin's fantastic banjo picking that puts him in league with some of the best of the contemporary players I have heard to date, and I'm a big fan of Americana music. He's rhythmic and melodic. The album is also dotted with appearances by the likes of Sara Watkins (Nickel Creek) on fiddle, Sean Watkins (Nickel Creek) on acoustic guitar, and the incomparable Peter Asher (who produces) on percussion.
Track Listing:
When You Get to Asheville
Get Along Stray Dog
Love Has Come For You
Friend of Mine
Siamese Cat
Yes She Did
Sarah Jane and the Iron Mountain Baby
Fighter
King of Boys
Sun's Gonna Shine
Who You Gonna Take?
Shawnee
Remember Me This Way
Audio Quality
[Rating:4.5/5]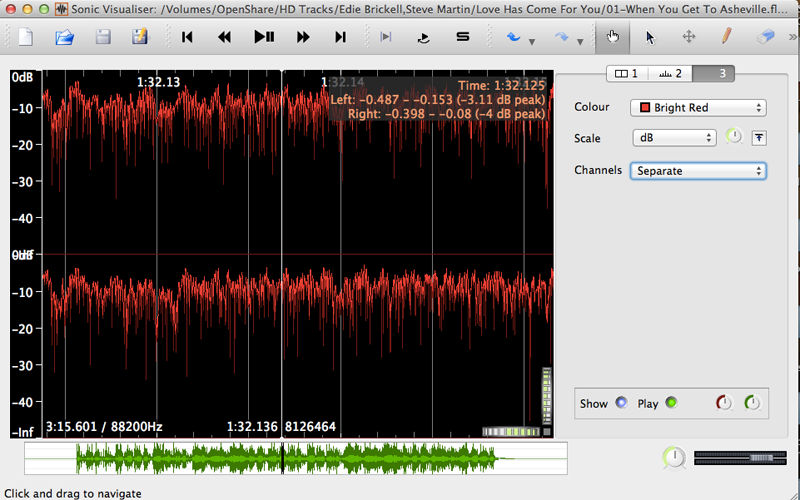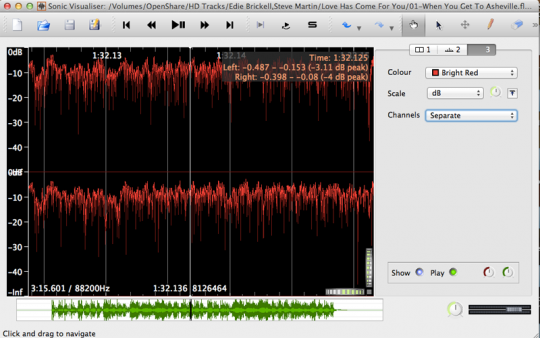 This 88.2kHz/24-bit lossless download from New Rounder Records and HDtracks has but one fault to my ears, and that is only that Ms. Brickell's vocals are often a bit too forward in the mix and sound a little claustrophobic. Apart from that, this is a brilliant sounding offering with lovely dynamics and warmth, a good sense of instrumental separation, and something often lacking from this sort of music – good low frequency extension, though it is hardly boomy.
Supplemental Materials
[Rating:1.5/5]
We get a PDF file with high-resolution cover art, lyrics, and liner notes.
The Definitive Word
Overall:
[Rating:4.5/5]
The surprising and unexpected duo of Steve Martin and Edie Brickell give us a wonderful collection of down home, acoustic numbers that are catchy, melodic, and well played. Produced by the legendary Peter Asher and marvelously recorded, Love Has Come for You is a career statement for both artists involved.
Overall
[Rating:4.5/5]
Audio Quality
[Rating:4.5/5]
Supplemental Materials
[Rating:1.5/5]