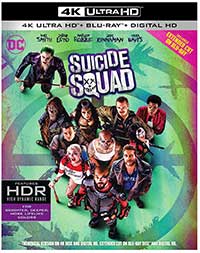 Writer/director David Ayer held the reins for this super villain entry in the DC Extended Universe. Suicide Squad, based on the DC comic book franchise, assembles some of DC's notorious villains, including Deadshot (Will Smith), a guy with an uncanny ability to never miss his target when he shoots; Harley Quinn (Margot Robbie), the demented girlfriend of The Joker (Jared Leto); El Diablo (Jay Hernandez), a tattooed gangster who shoots fire from his hands, sometimes uncontrollably; Killer Croc (Adewale Akinnuoye-Agbaje), a crocodile-skinned, super-strong man-beast who likes to live in the sewers; Enchantress (Cara Delevingne), an extra-dimensional being who can inhabit people's bodies; and Captain Boomerang (Jai Courtney), a talented thief out of Australia whose weapon of choice is – you guessed it – a boomerang. The incarcerated worst of the worst are recruited by government agent Amanda Waller (Viola Davis) to form a covert black-ops group to combat threats to national security, the advantage being that if things go awry, they can be cut loose and blamed for everything, but if they succeed, they get reduced sentences.
The setup is a good one that could have worked to be a gritty anti-hero film. What we get in this PG-13 world is an extended first act detailing the backgrounds of each criminal since none of them have been in any DC film before, so unless you are a comic book geek, you may not necessarily know a thing about them. The only familiar character to most will be The Joker who isn't a member of the Squad, but he appears briefly throughout the film as he tries to free his demented soul mate Harley. Leto's Joker is totally gangsta with tats and grill to go along with it, perhaps rivaling Heath Ledger's turn in The Dark Knight, but there isn't enough of him to make much of an impact.
Eventually Enchantress breaks away from the Squad, reunites with her long-lost brother, creates a powerful super weapon to destroy the Earth, and takes control of Amanda Waller's mind to help her break into the databases of the national defenses. It's this existential threat that brings the disparate super villains together in some criminal bonding. Unfortunately, the film shifts its focus to a lot of action and two main villains, Will Smith's Deadhsot and Margot Robbie's Harley Quinn. Smith is actually good as a villain and, as with all the rest of the villains in Suicide Squad, turns out to be less of a villain than he seems on the outside. It's Robbie who really steals the film, however. Her Harley Quinn is wacky, sexy, and vicious while maintaining a level of believability. She never tips the scale toward camp.
Unfortunately, with the faceless bad guys the team eventually must contend with, lack of supporting characters (the rest of the Squad might as well just be extras) and the paper-thin plot in Suicide Squad, it doesn't look like DC's Extended Universe is going to catch up to the colossal Marvel Cinematic Universe anytime soon, at least not with this film.
The Extended Version of the film is marginally better, but still doesn't overcome the major flaws. With only an additional 13-minutes, there is still a lot of time devoted to explaining each villain, then they simply vanish during the heart of the film. The flawed "real villain" as I like to call Enchantress, is still a big problem with the film as well.
(Editor's Note: For a different take on this film, read our theatrical review of Suicide Squad by our very own Gerard Iribe)
[envira-album id="90338″]
The Video
Suicide Squad was shot on 35mm Kodak Vision3 500T 5219 film stock, which is becoming increasingly rare for films such as this today. While there is nothing wrong with that and a 35mm source could easily yield a magnificent 4K transfer, there was a 2K digital intermediate used, so this 4K Ultra HD Blu-ray Disc is upscaled to 4K from a 2K master. It arrives here on UHD in a HEVC (H.265) 2160p encodement framed at 2.40:1 from Warner Bros. A very dark film to begin with, the HDR (High Dynamic Range) processing should have helped with shadow detail, but there is some noticeable black crush, particularly in the scene where Viola Davis' Amanda Waller first meets with the military brass – their lapels just meld into their uniforms. That said, the brighter end of the spectrum does 'pop' wonderfully and the colors look vibrant, this is not in the upper tier of the current crop of 4K UHD BD's available, however.
The Audio
An English Dolby Atmos mix backwards compatible with Dolby TrueHD 7.1 is the main audio mix (the included standard Blu-ray Disc w/ the Extended version of the film only has the Atmos track). It's a very good Atmos sound mix as to be expected for an action film like Suicide Squad. The Atmos height channels are very active with atmospherics and solid sound effects, the surround and back channels get their fair share of activity as well, but even though this is an aggressive mix, it does have good balance. The dialogue is always clean and clear above the foley effects and low end is big.
The Supplements
Warner fills this set up with a decent bit of making of and behind-the-scenes featurettes, all of them residing on the standard Blu-ray Disc. Additionally, the VUDU Digital HD copy provides exclusive interactive extras via the VUDU mobile app.
The Theatrical and Extended versions are included in Digital HD UltraViolet. The UltraViolet version on VUDU also contains exclusive extras with the VUDU mobile app available for iOS and Android devices.
Blu-ray Disc contains the Extended version of the film
Task Force X: One Team, One Mission (1.78:1; 1080p/24; 00:23:08) – Face off with DC's worst as the rich legacy behind Deadshot, Joker, Harley Quinn, Rick Flag and the rest of Task Force X is revealed.
Chasing the Real (1.78:1; 1080p/24; 00:09:37) – Writer/director David Ayer brings a heightened sense of reality to Suicide Squad's cinematic world, focusing on authentic street-level grittiness and emphasizing each character's unique style and abilities.
Joker & Harley: "It" Couple of the Underworld (1.78:1; 1080p/24; 00:14:29) – She's rotten. He's damaged. And when these two come together – true love becomes treacherous! Discover why hearts pound for the disturbing and dangerous power couple of pain.
Squad Strength and Skills (1.78;1; 1080p/24; 00:09:00) – Before they could become the Worst. Heroes. Ever. – cast members had to shape up! Get the inside story straight from the Squad as hardcore trainers mold their minds, amp their skills and whip their bodies into peak condition.
Armed to the Teeth (1.78:1; 1080p/24; 00:11:48) — No Super Villain would be caught dead without their weapon. Check out Deadhsot's wrist-mounted magnums, Katana's soul-sucking sword, Captain Boomerang's badass boomerangs and Harley's beloved bat and revolver.
This is Gonna Get Loud: The Epic Battles of Suicide Squad (1.78:1; 1080p/24; 00:10:54) – Yu Know the fight is right when it feels real. See how hard-hitting physical techniques plus high-tech CGI enhancements create explosive action that grabs you by the throat and won't let go.
The Squad Declassified (1.78:1; 1080p/24; 00:04:19) – The killer instincts, skills and firepower of the world's most dangerous Super Villains are put to the test in the battle for Midway City. See how Task Force X measures up against their unearthly, lethal opponents in this searing blow-by-blow.
Gag Reel (2.40:1; 1080p/24; 00:02:04)
The Final Assessment
Suicide Squad had so much potential, but David Ayer dropped the ball with this one. He tried to make a gritty film, but in reality turned in a bloodless PG-13 film filled with tame super villains. The plot is almost non-existent, but the action is pretty good. As for the quality of the 4K disc, it is a little disappointing, but certainly not terrible, so all around this one is definitely a vexing mixed bag.
Suicide Squad (TheaterByte 4K Ultra HD Blu-ray Review)
3.8 / 5
TheaterByte Rating
PG-13 (for sequences of violence and action throughout, disturbing behavior, suggestive content and language)
Rating Certificate
Atlas Entertainment | DC Comics | DC Entertainment | Dune Entertainment | Lin Pictures | Warner Bros. Pictures | Warner Bros. Home Entertainment
Studios & Distributors
123 Mins. (Theatrical) | 136 Mins. (Extended)
Run Time
$44.95
MSRP
HEVC (H.265) 2160p (UHD) | AVC 1080p (BD)
Video
English SDH | French | Portuguese| Spanish (Latino)
Subtitles
French DD 5.1 | Spanish (Castilian) DD 5.1 | Spanish (Latino) DD 5.1
Secondary Audio
Summary
A missed opportunity for the DC Extended Universe to really make a mark, this underwhelming but still enjoyable film also fails to reach the upper echelons of picture quality in the limited library of currently available 4K Ultra HD Blu-ray releases.