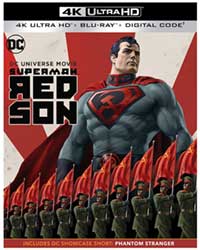 Superman: Red Son is a DC Elseworlds tale that ponders what would have happened if Superman had crash-landed in Soviet-era Russia rather than in Kansas. An alternate reality unfolds wherein Superman is an agent of the Soviet communist regime helping to spearhead the spread of the ideology globally, in the West Lois Lane is now married to technological genius Lex Luthor who is leading the campaign in America to develop their own American Superman in order to counter the Super Red Menace. This DC Universe original is one of the better original films they have done. In the vein of series like The Man in the High Castle, this one does offer some thoughtful possibilities even if this is a fictional character, but Superman is so ubiquitous in popular culture that taking the American icon to the Soviet side during the Cold War era has major psychological implications that could probably never be measured. The film is, of course, action-packed, well animated in a classic American animation style with hints of Russian avant-garde art and lots of detail artwork in the backgrounds.
The Video
Superman: Red Son arrives on 4K Ultra HD Blu-ray with a 1.78:1 HEVC 2160p (4K) transfer with HDR10. The animation looks vibrant, with rich primary colors, particularly the reds which really standout. The WCG really brings out the color fills in the animation even more so than on the Blu-ray, where the colors look strong but less nuanced and less vivid. Highlights also 'pop' nicely. Just check out the heat vision from Superman's eyes or lights and fires. There's also a filmic quality imparted to the image so it doesn't look absolutely digital and a bit more organic.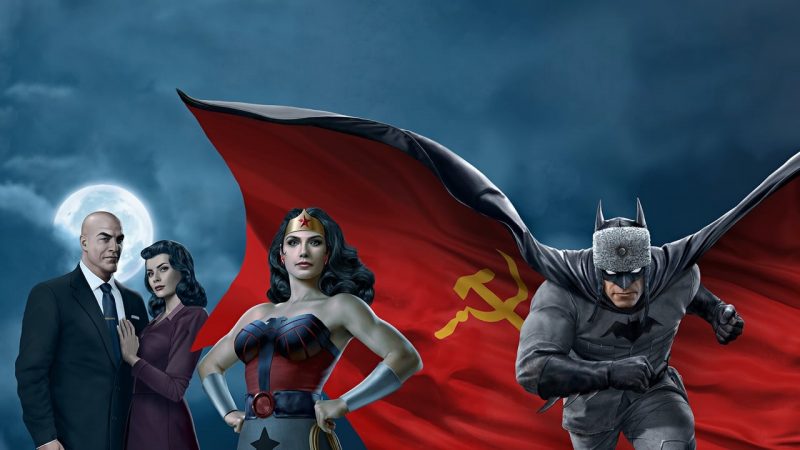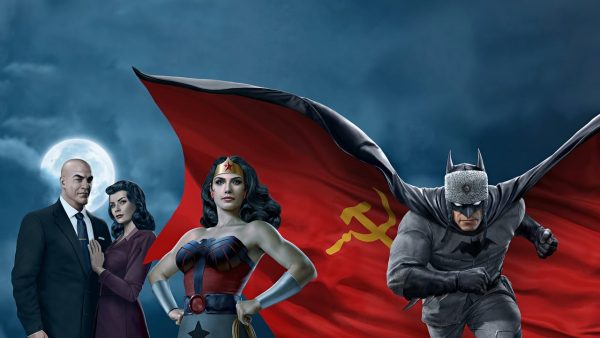 The Audio
Superman: Red Son comes with an English DTS-HD Master Audio 5.1 lossless audio mix that has deep, extended low frequencies and plenty of solid panning of solid sound effects through the surround channels while maintaining good balance and clear dialogue.
The Supplements
The on-disc bonus features for Superman: Red Son are all on the included Blu-ray, which also includes the feature in high definition. A Movies Anywhere digital movie code is also included.
DC Showcase: Phantom Stranger (1.78:1; 1080p; 00:15:07)
Cold Red War (1.78:1; 1080p; 00:16:57)
Superman Red Son: Motion Comics (1.78:1; 1080p; 00:06:03)
A Sneak Peek at DC Universe's Next Animated Movie, Justice League Dark: Apokolips War (1.78:1; 1080p; 00:10:23)
A Preview of The Death of Superman
A Preview of Batman: Gotham by Gaslight
From the DC Comics Vault (1.78:1; 1080p):

Justice League: "A Better World Part 1"
Justice League: "A Better World Part 2"
The Final Assessment
The Elseworlds line is a great way to experience the tried and true DC characters from a different perspective without needing to worry about DC canon. Superman: Red Son comes close to Batman: Gotham by Gaslight in quality and originality and the 4K Ultra HD is one of the best releases on the format from DC Universe.
Superman: Red Son is out on 4K Ultra HD Combo & Blu-ray March 17, 2020 from Warner Bros.
[amazon box= "B07Y98NXX8,B07Y99XLMQ" ]
---
The Creative Content: 4.0/5
The Video (Overall): 5/5
HDR Effect: 5/5
The Audio: 4.5/5
The Supplements: 3.5/5
Rating Certificate: PG-13 (for violent content, bloody images, suggestive material, language, thematic elements and some smoking.)
Studios & Distributors: Warner Bros. Animation | Warner Bros. Home Entertainment
Director: Sam Liu
Writers: J.M. DeMatteis (screenplay) | Mark Millar (graphic novel) | Dave Johnson (graphic novel) | Kilian Plunkett (graphic novel)
Run Time: 84 Mins.
Original MSRP: $24.99
Street Date: 17 March 2020
Aspect Ratio: 1.78:1
Video Format: HEVC (H.265) 2160p (4K) | AVC 1080p (Blu-ray)
HDR Format: HDR10
Primary Audio: English DTS-HD MA 5.1
Subtitles: English SDH | French | German SDH | Spanish