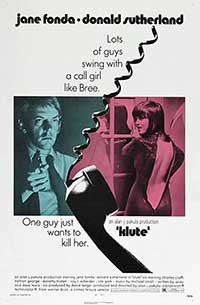 Klute has to do with the investigation about Tom Gruneman, who is missing and his connection with the call girl Bree Daniels.
PLOT
John Klute starts an investigation related to Tom Gruneman's disappearance. He rents an apartment at the same block with Bree Daniels, a prostitute with whom the missing person seemed to have an obsession. At first she is reluctant to cooperate with him, but later her suspicion of being stalked by Gruneman makes her resort to Klute for protection. Although she appears to remember a specific client that was abusive to her, named John, she cannot identify Gruneman from the picture, and for this reason, they try to find answers from the other prostitutes that knew this client. Meanwhile, Klute and Bree get involved in a romantic relationship, with her trying to deal with her demons.
In terms of plot, the movie is very intriguing and our interest remains till the very end. The viewer is on the alert, because of the constant twists and interchanges.
In the beginning, I was a bit annoyed about the fact that the villain gets revealed firstly to the audience and at the end to the film's protagonists because I felt like it would be better if the viewers had the chance to make assumptions and then test them. However, in that case, there would be not that much suspense, at least in one of the pre-ending sequences.
CHARACTERS
John Klute is a private investigator hired by Tom Gruneman's colleague Peter Cable. He is about to search for clues concerning his life and reasons leading to his missing.
Bree Daniels is a prostitute that allegedly received some obscene letters from Tom Gruneman. She visits a psychologist, where she explains the emptiness of her life and the power she feels by manipulating men through her job.
Peter Cable is an executive of Gruneman's company, who assigns to Klute the research about Gruneman.
[envira-album id="122383″]
ACTING
Donald Sutherland was very good in his role as Klute, being convincing as a detective in a very demanding case.
 Jane Fonda was iconic as Bree, and I loved the scenes where she opens up about herself with the psychologist. Generally, she was tailored to this role, she showed much passion, and for that reason, I believe she deserved the Oscar for Best Actress.
Charles Cioffi was also amazing as Peter Cable and his performance is something unforgettable.
DIRECTION
The sound direction was well done, thanks to Alan J. Pakula, as he managed to transmit to the viewer the suspense and the mystery of the atmosphere, which is evident through the music selection as well, which is exceptional.
CINEMATOGRAPHY
In relation to cinematography, it consists of scenes that highlight the contrast between light and darkness, with many of them being extremely dark with low lighting or light coming from candles.
THE END
I found the end really satisfying, in a sense that the future of the two protagonists is open to question and I think this was realistic enough and down to earth.
Klute Was originally released in theaters 25 June 1971 (USA)
---
The Film: 4.0/5
Plot: 4.5/5
Character — Lead: 4.0/5
Character — Supporting: 5/5
Directing: 4.5/5
Cinematography: 4.5/5
Studios & Distributors: Warner Bros. | Gus Productions
Rating Certificate: R
Country: USA
Language: English
Run Time: 114 Mins.
Aspect Ratio: 2.39:1
Director: Alan J. Pakula
Writers: Andy Lewis | David E. Lewis
Original Release Date: 25 June 1971 (USA)