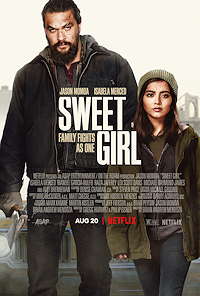 Sweet Girl is the new film premiering on Netflix starring Jason Momoa and Isabela Merced. Ray Cooper (Momoa) and his daughter Rachel (Merced) are grieving the loss of their wife and mother, who passed away from cancer. Ray harbors a deep hatred and resent towards the pharmaceutical company that pulled her life saving medicine off the market at the last minute.
With the bills piling up and their options running low, Ray takes the law into his own hands by trying to exact his own form of justice against the pharmaceutical company, BioPrime, and its CEO Simon Keeley (Justin Bartha). Rachel is against this at first but comes to grips with it once the wheels start to turn.
On the surface, and from what was shown in the trailers, Sweet Girl had the potential to be a pretty cool film. I dig Jason Momoa and Isabela Merced but the material betrays their talents, contrivance after contrivance after contrivance. You have this giant of a man with his petite daughter going after, essentially, a billionaire who has some of the worst security of all time in addition to some of the most clueless law enforcement I have ever seen. It's not like Ray and Rachel are invisible, but it seems that whenever they are in peril, there are no witnesses or even CCTV security cameras in the vicinity.
As far as the fights go, well, Ray is supposed to have some skills, but they are rarely on display. He may get the upper hand here and there just due to his size, but tends to get whooped on regularly. Once the company employs their hitman, Amos (Manuel Garcia-Rulfo), then things really escalate into the unbelievable. You have scenes that try to showcase Rachel fighting and getting the upper hand on a highly trained assassin. By the time we get to the final act of the film, I had already tuned out. The big reveal felt like it was being shoehorned in at the last minute.
I think that if the film lost the action component and had gone with a more cerebral or even thriller aspect, it would have worked out better. I don't buy 5-foot, 100lbs Rachel as a kick ass fighter. Again, I understand why it's showcased in the film, but it's just not congruent. Now if Rachel's specialties were in espionage or deception, etc., then that would be a better fit for her character. Another thing that bothered me is the over utilization of the handheld "shaky-cam" during non-action scenes. There will be scenes of people sitting and talking and the camera can't seem to stop moving around.
In any event, Sweet Girl is "for fans only," but I was severely disappointed. It does have a stellar 4K Dolby Vision / Dolby Atmos presentation via Netflix, so at least it looks and sounds great.
---
Rating Certificate: R (for some strong violence, and language)
Studios & Distributors: ASAP Entertainment | On The Roam | Pride of Gypsies | Netflix
Country: USA
Language: English
Run Time: 109 Mins.
Aspect Ratio: 2.39:1
Director: Brian Andrew Mendoza
Written By: Gregg Hurwitz | Philip Eisner
Release Date: 20 August 2021