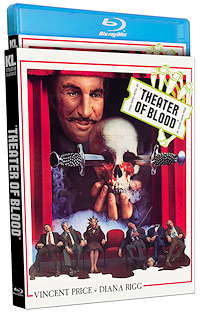 1973's dark comedy/horror film Theater of Blood is a vehicle tailor made for Vincent Price, using his reputation as a period horror star in films based on literary sources – most notably those of Edgar Allen Poe – to craft this revenge tale of Shakespearean actor Edward Lionheart (Price). Feeling wronged by a circle of eight theater critics who denied him a reward for his performances and instead granted it to a new upstart stage actor, Lionheart interrupts the critics' after show gather where he jumps from the balcony, plunging to the water below and killing himself. Unbeknownst to everyone, however, Lionheart survived his fall and seeks revenge on the circle, staging elaborate, Shakespearean murder scenes and reciting the works of the Bard as he uses them as a guide for each killing. Price throws himself into the role completely and is brilliant in his recitations of the Shakespeare soliloquies, both self-consciously played as a 'bad actor' reciting them and shifting into more natural modes as he doles out various and sundry methods of punishment and killings upon his enemies. Diana Rigg also stars alongside Price and puts in a brilliant supporting role. The film is equally gory as it darkly comedic, but it is also one of Price's crowning achievements in a long career, showing his versatility as an actor.
The Video
As far as I can tell, this is not a new remaster or restoration of Theater of Blood, and it looks just average on this Blu-ray. To be fair, it is as good as what was provided to Kino Lorber, so I hardly blame them, but there are plenty of frames where there is visible source damage remaining and coarse, almost noisy grain. There is also lots of film softness. That said, the colors look natural and there are plenty of frames where detail and contrast also look quite strong and much cleaner, so it's uneven, but watchable.
The Audio
The original monaural mix for Theater of Blood is provided in lossless DTS-HD Master Audio 2.0. It's not the best aural presentation I have ever heard of a catalogue mono mix, requiring me to raise the listening level a full 12 db and higher over my usual listening level to get a comfortable sound, and due to the way the sound was initially recorded some of the dialogue can often times be a bit muddled, kind of like a Robert Altman mix.
The Supplements
I really appreciated the two audio commentaries included on this release, both of which I sampled. I prefer the new commentary by Alan Spencer who brings a great sense of humor to his commentary as well as an obvious knowledge about Price and the film.  Also included are Trailers from Hell, also with Spencer numerous trailers and TV spots both for the feature and related films.
NEW Audio Commentary by Screenwriter/Producer Alan Spencer
Audio Commentary by Film Historians David Del Valle and Nick Redman
Trailers from Hell with Alan Spencer (1080p; 00:03:33)
Theater of Blood – TV Spots (1080p; 00:01:28)
Theater of Blood – Radio Spots (1080p; 00:03:01)
Theater of Blood – Trailer (SD; 00:02:31)
The Raven – Trailer
The Comedy of Terrors – Trailer
Master of the World – Trailer
The Last Man on Earth – Trailer
The Tomb of Ligeia – Trailer
Scream and Scream Again – Trailer
House of the Long Shadows — Trailer
The Final Assessment
A cult horror classic starring two legends – Vincent Price and Diana Rigg – one title most worthy of sitting in a collector or cinephile's collection, particularly for those who enjoy classic horror. Truly worthy of the moniker KL Studio Classics.
Theater of Blood (Special Edition) is out on Blu-ray September 7, 2021 from Kino Lorber

---
Rating Certificate: R
Studios & Distributors: Harbour Productions Limited (presents) | Cineman Productions | Kino Lorber
Director: Douglas Hickox
Written By: Anthony Greville-Bell (screenplay) | Stanley Mann (idea) | John Kohn (idea) | William Shakespeare (plays) (uncredited)
Run Time: 104 Mins.
Street Date: 7 September 2021
Aspect Ratio: 1.66:1
Video Format: AVC 1080p
Primary Audio: English DTS-HD MA 2.0 Stereo
Subtitles: English SDH