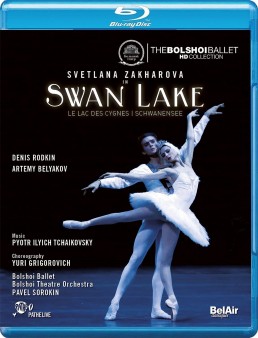 –
The Performance
[Rating:4.5/5]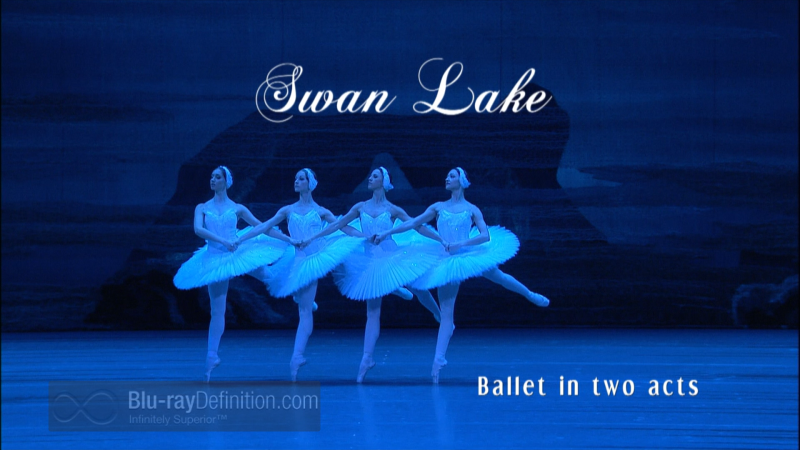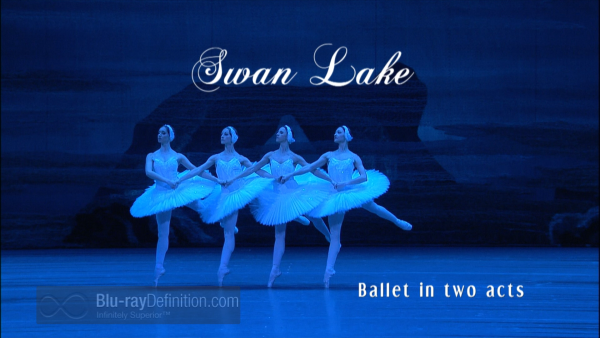 A few short months ago, I reviewed a stunning Swan Lake from the Royal Ballet and now I have just received a January 2015 performance from the Bolshoi Ballet. The choreography by Yuri Grigorovich borrows from the original version by Marius Petipa and subsequent revisions by Lev Ivanov and Alexander Gorsky. The original four-act format has been converted to two acts each containing two scenes and with one of the numerous alternative endings. In addition, the villainous von Rothbart is now the Evil Genius and an additional character, the acrobatic Fool (Igor Tsyvirko), makes his appearances in the Royal Court scenes.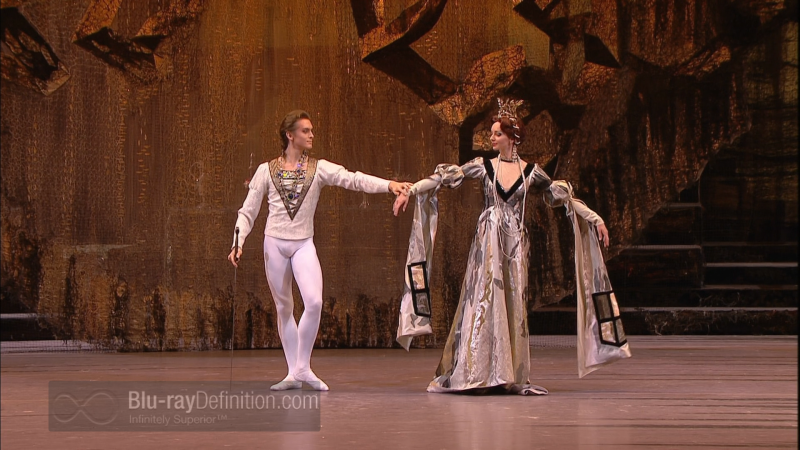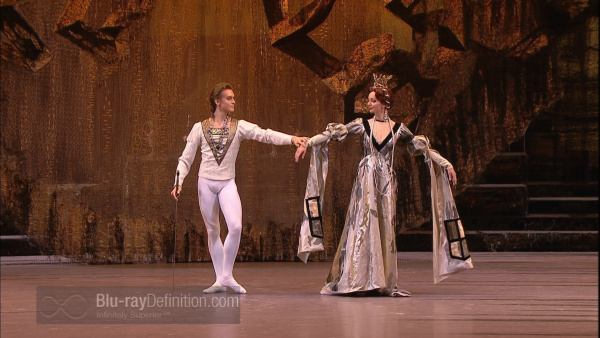 Prince Siegfried (Denis Rodkin) is enjoying a party for his birthday, his coming of age, and his knighthood. Also celebrating are his tutor (Alexei Loparevich) and his Princess mother (Yekaterina Barykina). As the festivities wind down and Siegfried muses about his future, a strange force, unleashed by the Evil Genius (Artemy Belyakov), beckons him to a dream world.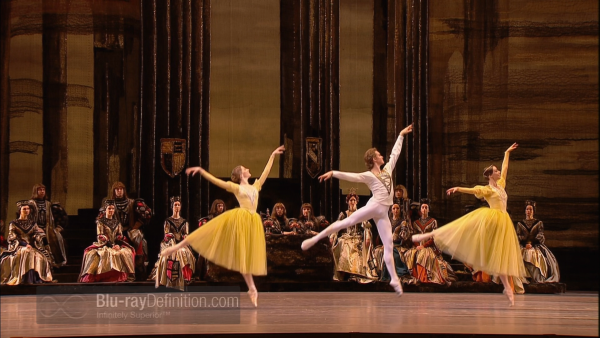 Following the Evil Genius's power of suggestion, Siegfried is drawn at a mysterious lake inhabited by swan maidens who are really humans that have been enchanted. The Prince sees Odette (Svetlana Zakharova) among them, is immediately smitten, and pledges his undying love and fidelity.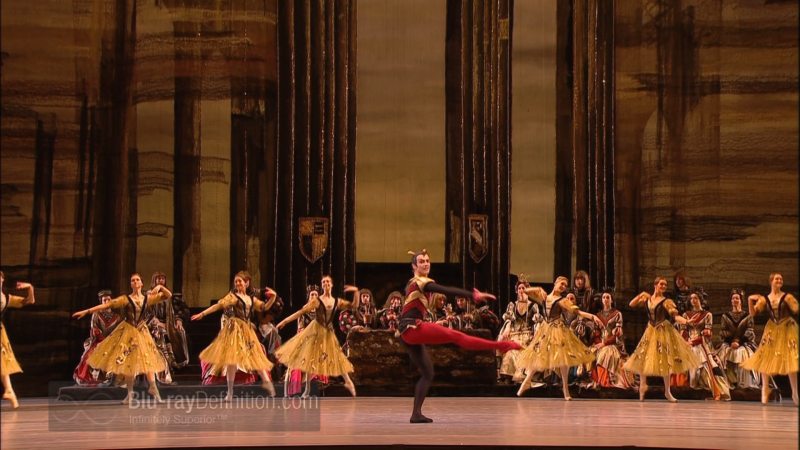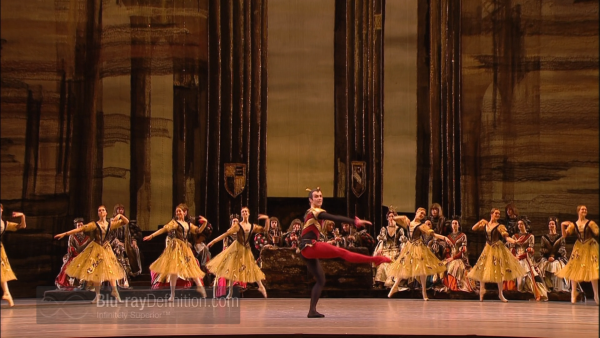 The Princess Mother has invited a group of prospective brides to a ball at the castle and Siegfried must choose from among them. The Prince dances with each young woman but none can compare with Odette.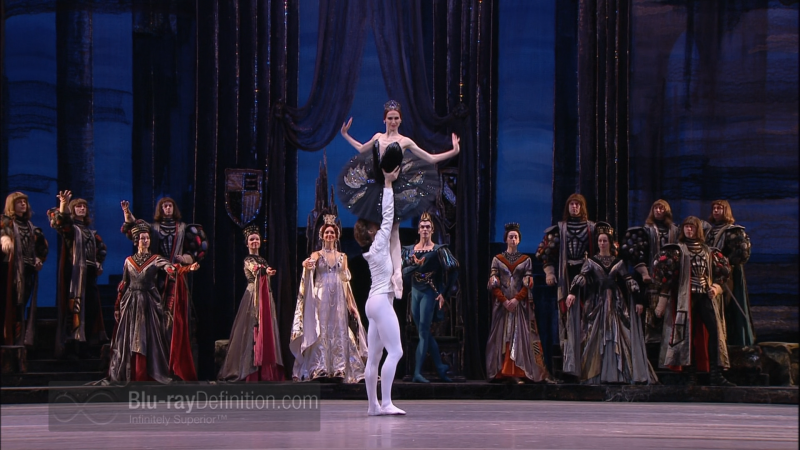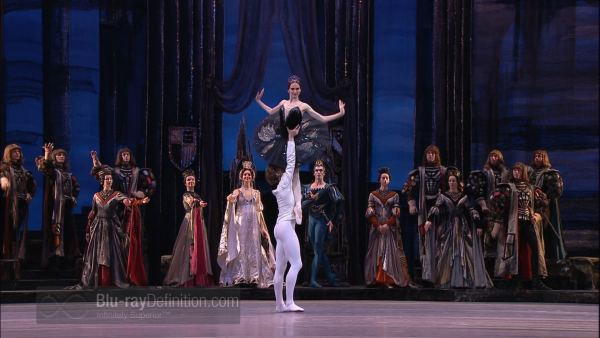 A dark knight arrives, accompanied by a beautiful young girl dressed in black. It is the Evil Genius and Odile (Odette's double) who manages to win Siegfried's affections.  When he chooses her as his bride, the throne room becomes dark and a vision of Odette appears. Siegfried realizes that he has been deceived and chases after her fading image.
At the lake, it is now night and Odette reveals that Siegfried has been unfaithful. The Prince appears and seeks her forgiveness but it is too late. The Evil Genius has stirred up a storm that prevents the young lovers from uniting. At daybreak, Siegfried sits on the lakeshore, alone and in profound despair.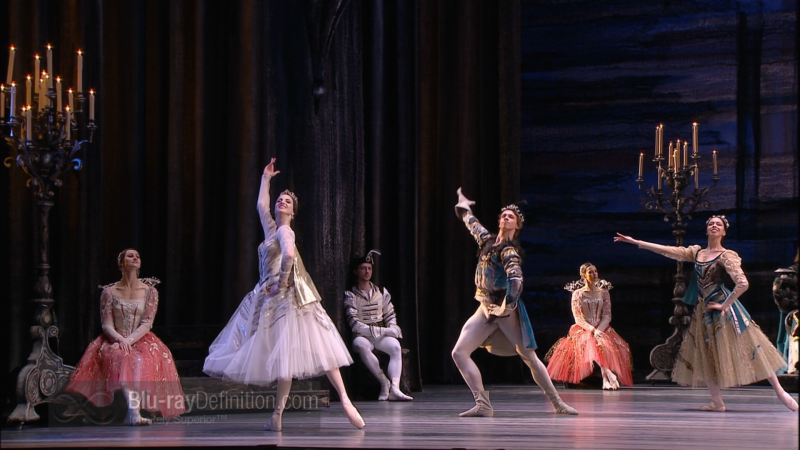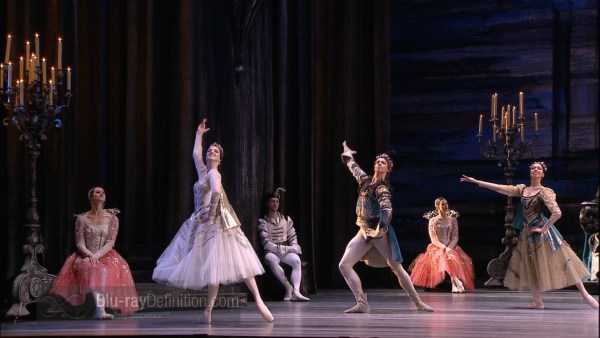 Moscow's Bolshoi Theater was the site of this ballet's premiere in 1877 so the company would have tradition very much on its side. Bolshoi means "grand" and this production reflects that concept in every sense of the word. The huge stage is filled with larger-than-life sets and costumes that are drop-dead gorgeous. Pavel Sorokin presides over his orchestra with a taut control of the tempos so critical to dance. Speaking of the dance, this iconic ballet must have two superb principal dancers, Siegfried and Odette/Odile and here Zakharova and Rodkin turn in two of the very best performances that I have witnessed in some time.  But, like all of Tchaikovsky's ballets, Swan Lake also requires topnotch supporting dancers and a peerless corps de ballet. Once again, we are in luck as Belyakov and Tsyvirko turn in breathtaking performances and the corps dance with astonishing precision.

Video Quality
 [Rating:4.5/5]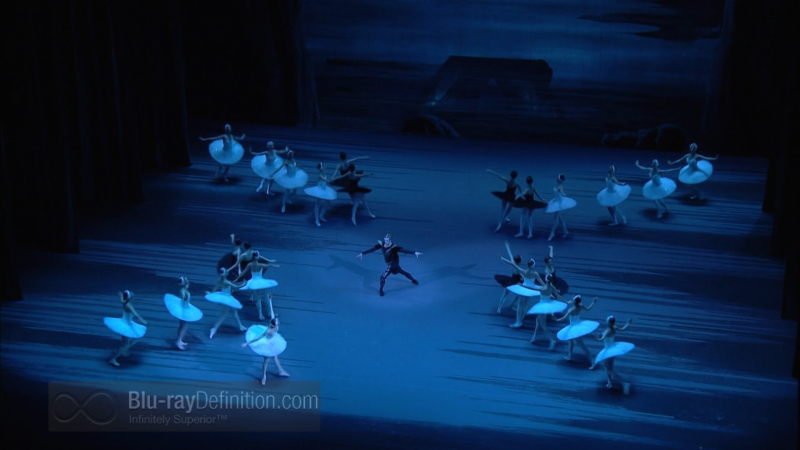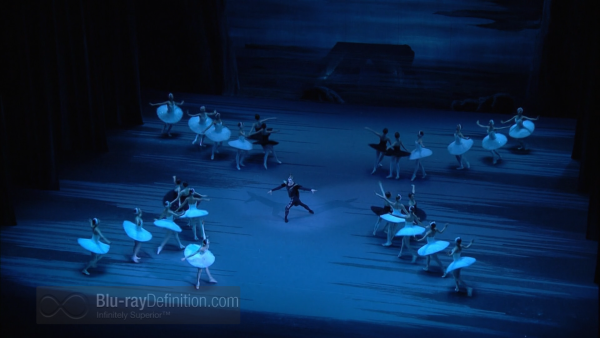 Phillipe Vrolland's videography is sensational, delivering a watch that is often beyond belief with a great mix of straight-aheads and overshots. Colors and details are as good as I have seen them in spite of the darkness of the lake scenes.

Audio Quality
[Rating:4/5]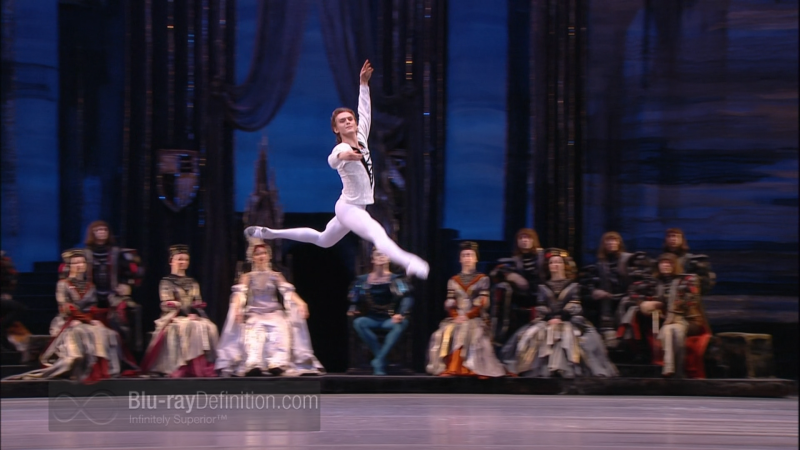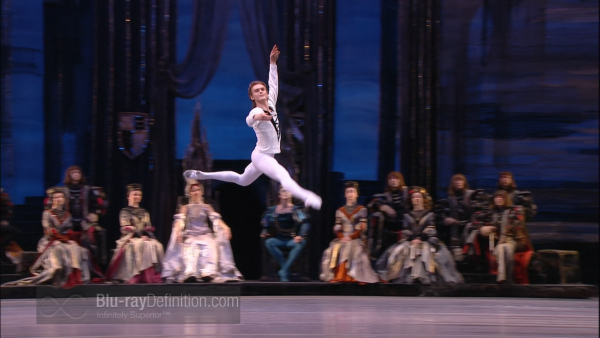 There is excellent coverage of the orchestra and I have never heard better reproduction of this sumptuous score in any of the previous Blu-ray releases to come my way. Be aware that there is copious (and extended) applause that follows each of the more popular numbers.

Supplemental Materials
[Rating:1/5]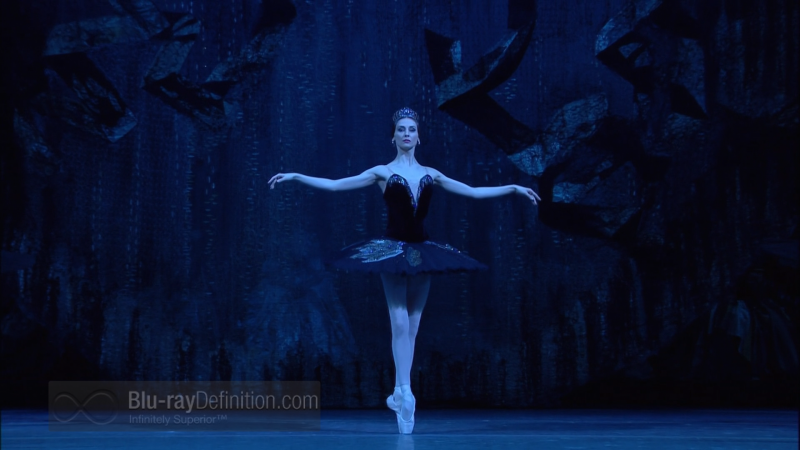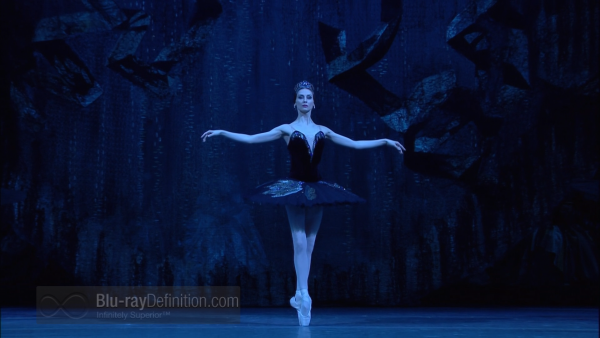 BelAir Classiques is not a generous provider of bonus material. In this instance, we get a program booklet with performance photos, cast and production credits, track listings, and a synopsis.

The Definitive Word
Overall:
[Rating:4.5/5]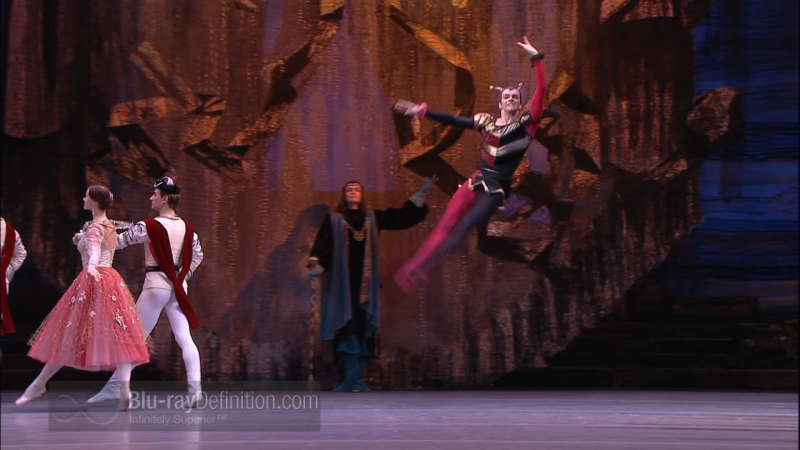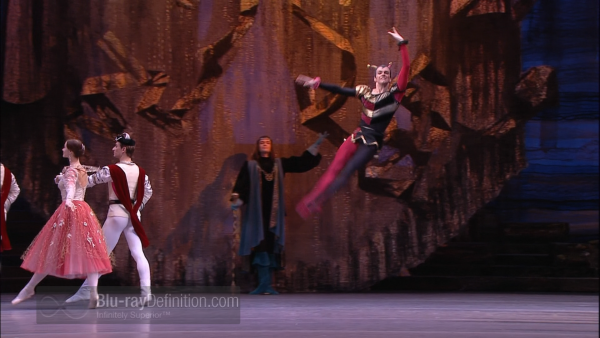 The virtue of the Boshoi Ballet's being the company for which this ballet was created comes out repeatedly in this completely beautiful realization of a classic that is as good as any out there. Grigorovich's redo of the original choreography works well for me and given dancers of this caliber should work well for all potential viewers. If you love Swan Lake, and who doesn't, this now becomes the version to go after.

Additional Screen Captures