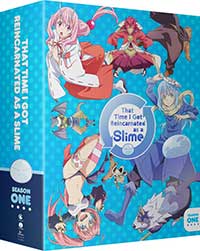 That Time I Got Reincarnated as a Slime is the 2018 television anime series based on the light novel series written by Fuse. It follows the story of Mikami Satoru, an ordinary, single, 37-year-old salary man who was going along through life just getting buy until one day he was stabbed to death and his final thoughts led to him being reincarnated in an alternate world as a slime named Rimuru with magical abilities.
This collection from Funimation is "part two" of Season One, covering episodes 13-24. The perfect series for those who love role playing games, this series and these episodes see Rimuru end the orc wars, help form a new nation, and take on the Demon Lords. Anyone dipping into this series in these episodes will already know what happened in Part One and giving away much more of the plot would mean major spoilers. Let's say that this series is a fun combo of the best of League of Legends, Game of Thrones, and Dungeons & Dragons – in other words, every geek's wet dream. The animation is solid and the premise of a slime who can transform into human form and back again is absurd and completely believable at once.
The collection of characters, a major characteristic of this subgenre, is one of the things that keeps this series interesting at every turn Rimuru is a fine character, but it is the varied characters and factions around him that make the show quite fun to watch.


The Video
Funimation provides That Time I Got Reincarnated as a Slime in AVC 1080p encodements framed at 1.78:1 on Blu-ray. I see the slightest hint of softness and the occasional frame where some color banding can be spotted in some of the color fills, but apart from that this is a satisfying transfer to Blu-ray that is detailed with vibrant colors and free from video and compression noise and way better in quality than digital streams.
The Audio
The collection comes with the original Japanese audio mix in Dolby TrueHD 2.0 stereo and the English dub from Funimation in Dolby TrueHD 5.1. The stereo mix and 5.1 both sound like they have been mastered rather low with some constrained dynamic range, but the stereo sounds like it has the narrowest dynamics. Voice acting performance is excellent for the Japanese track and okay for the English dub but lacking in some of the charisma of the Japanese cast.
The Supplements
The Limited Edition is an excellent set for the otaku out there, packed with extras and collectible items.
Limited Edition Extras:

Housed in a rigid chipboard slipcover with room for Season One, Part 1
100-page Art Book
Acrylic Keychain
Vinyl Sticker & 8 Art Cards

Episode 16 Commentary
5 – Tales: Veldora's Journal (1080p; 00:23:46)
Episode 14 Video Commentary
Episode 21 Commentary
Promo Video
Commercial
Textless Opening Song "Nameless Story"
Textless Opening Song "Meguru Mono"
Textless Closing Song "Another Colony"
Textless Closing Song "Little Soldier" Ver. 1
Textless Closing Song "Little Soldier" Ver. 2
The Final Assessment
Something tells me this series will inspire lots of re-watching, and this Limited Edition set from Funimation is well worth owning.
That Time I Got Reincarnated as a Slime: Season One, Part 2 (Limited Edition) is out now from Funimation
---
The Story: 4.0/5
The Animation: 4.5/5
The Video: 4.5/5
The Audio: 3.5/5
The Dub: 3.5/5
The Supplements: 4.0/5
TV Rating: TV-14
Animation Studio: Eight Bit
Distributor: Funimation Entertainment
Director: Kikuchi Yasuhito
Written By: Fudeyasu Kazuyuki
Run Time: 300 Mins.
Original Street Date: 4 February 2020
Aspect Ratio: 1.78:1
Primary Audio: Japanese Dolby TrueHD 2.0 Stereo
Secondary Audio: English Dolby TrueHD 5.1
Subtitles: English