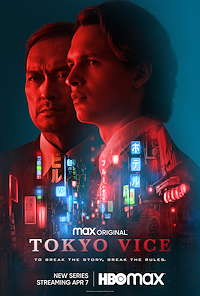 Ansel Elgort has already had a pretty good past year by starring in West Side Story and now assuming the role of Jake Adelstein, an American expat living in Japan who aspires to become an investigative journalist on the biggest newspaper in Japan. Based on the real Adelstein's 2009 memoir Tokyo Vice: An American Reporter on the Beat in Japan, this 8-episode limited series finds the young man living in a cheap apartment and working on mastering the Japanese language.  When Adelstein lands his dream job at the newspaper, Meicho Shimbun (a stand-in for the real Yomiuri Shimbun), as the first gaijin or foreigner to  make the staff, he also gets introduced to the seamier side of the Tokyo underworld which presents potential risks to his life and health.
The various yakuza gangs have divided up Tokyo with each territory run by onyabuns or bosses like Hitoshi Ishida (Shun Sugata) and Shinzo Tozawa (Ayumi Tanida).  When Tozawa makes an incursion into Ishida's turf, he is eventually forced to humiliate himself in front of a council of onyabuns and make a large financial reparation. It is also clear that Tozawa has some serious illness for which he gets special treatments from a private physician.  Ishida is grooming the young Yakuza enforcer Sato (Show Kasamatsu) for a more important role in his group.  Sato is the boyfriend of beautiful Samantha Porter (Rachel Keller) another American who works as a hostess aka geisha at the Kabukicho district's Onyx Club. Samantha has stolen a large sum of money from her American missionary organization and is being pursued by a private detective hired by the group. She also trying to help Polina (Ella Rumpf), a displaced European woman, learn the ropes at Onyx.
Adelstein becomes acquainted with Detective Hiroto Katagiri (Ken Watanabe) and hopes this connection will get him crime scoops to advance his career. However, his first "tip" about a Tozawa meth shipment finds him at the airport with Tokyo police and no drugs in sight. Adelstein's research about Tozawa leads him to yakuza fanzine writer Ukai Haruki (Motoki Kobayashi) who gives him plenty of info about the crime boss. He also follows Tozawa's mistress Misaki (Ayumi) for even more secrets but this move backfires and he is severely beaten by Tozawa's thugs.
As Jake considers returning home, he is joined by Samantha who has been rendered penniless by Akira (Tomohisa Yamashita), Polina's boyfriend, after he sends her on a wild goose chase for the now-missing woman believed to be hidden on Tozawa's yacht. Numerous twists and turns remain in this dark tale of life and death in the Tokyo underworld as the final episode leaves nearly all of its main characters' storylines dangling by a skein of figurative threads.
Tokyo Vice is a well-crafted neo-noir crime series that is strongly cast from top to bottom. Both Elgort and Keller became quite fluent in Japanese by the time the pandemic-delayed shooting of this show began. Since most of the other characters speak only Japanese, there are plenty of subtitles to help viewers out.  There is also credible chemistry between Elgort and his police mentor Watanabe as well as that between him and Keller. Show creator and noted playwright J.T. Rogers (Oslo) has done a masterful job in adapting the original book for the small screen.  The team of four directors—Michael Mann, Josef Kubota Wladyka, Hikari, and Alan Poul—infuses this drama with unflaggingly taut dramatic tension in each episode, rendering it as a binge-worthy series.  The home audience will surely come away with a detailed and in-depth view of what the world of the yakuza looks like and how crime bosses in Japan are ruthless like their American counterparts.  This HBO Max show is one of the best things to come my way during the pandemic and truly deserves a second season to let us know what happens to the large cast of characters that we have come to know and care about during its initial 8-episode run. Highest recommendation.
---
Rating Certificate: TV-MA
Show Creator: J.T. Rogers
Original Release Date: 7 April 2022
Streaming Service: HBO Max
Ep. Run Times: 54-63 Mins.
Num. Eps.: 8
Studios & Distributors: Gerson Saines Productions | Grisbi | SRO Productions | Boku Films | Forward Pass | Wowow | Endeavor Content | Warner Media Direct