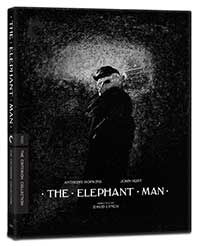 With his roots in art, writer/director made his leap into filmmaking with the surreal horror film Eraserhead. In 1980, however, after penning a screenplay entitled Bonnie Rocket, about an alien scientist, which no studio would back, he was approached with the script for The Elephant Man, which, again, could find no backing until Mel Brooks stepped in. Enthralled with Lynch after a viewing of Eraserhead, Brooks signed on to produce the film with Lynch at the helm.
Lynch's Elephant Man tells of the historical figure, John Merrick (real name, Joseph Merrick, played here by John Hurt) whose physical deformities included an enlarged skull, twisted spine, and an unusable right arm. These grotesque deformities found Merrick on display in a circus freak show and mistreated. Doctor Frederick Treves (Anthony Hopkins) and the actress Mrs. Kendall (Anne Bancroft) would eventually champion Merrick, and the once maligned figure would become lionized in Victorian society.
Lynch's film is a dreamlike commentary on Victorian society, filmed in beautiful black and white. He uses imagery, often surreal, to draw viewers into the quiet suffering of John Merrick and to reveal that, though Merrick may be hideous on the outside, he as gentle as a lamb on the inside.
The Elephant Man was nominated for eight Academy Awards in 1981, including Best Picture, when it lost to Robert Redford's Ordinary People.
[envira-album id="124941″]
The Video
Criterion Collection once again offer up a brand new 4K restoration of a film on Blu-ray only, falling behind other boutique labels such as Arrow and StudioCanal, the latter of which carried out the restoration on this film under the direction of David Lynch and have released it in the UK as a true 4K release with Dolby Vision HDR.
This Criterion Blu-ray comes from that restoration, which was taken from scans of the original 35mm camera negatives made at Silver Salt Restoration in London. The restoration was undertaken at L'Immagine Ritrovata in Bologna and David Lynch himself closely oversaw the new color correction with George Koran at FotoKem in Burbank, California.
On this Blu-ray, the film is presented in its original 2.35:1 aspect ratio in an AVC 1080p encodement. The film grain looks organic, not too overwhelming, but very crisp, and detail is just about flawless. The contrast is good but having seen the 4K disc with Dolby Vision from StudioCanal, there is a big drop in contrast here and the blacks definitely lose a lot of their inkiness and the whites lose their ultra-vividness. The end result is the Blu-ray release doesn't quite have the same noir visual appeal of the 4K and looks more greyish. That said, it does have more detail in the backs and shadows, showing more clearly the lapels and the pinstripes on Anthony Hopkins' suit, for instance, whereas in the 4K DolbyVision some of these finer details crush out a bit, especially in the darkest scenes.
The Audio
The original stereo audio mix of the film is presented in LPCM 2.0. A brand new ingest of the film's original magnetic printmaster was done by StudioCanal in 2019. Digital restoration of the track was done to repair punch-in and clipping artifacts as well as unbalanced channel signal and dropouts. David Lynch reviewed the entire soundtrack at his Asymmetrical Studio and added equalization to extended bass in certain scenes to match the presentation as closely as possible.
The sound is just shy of magical, with incredible stereo imaging, extended low range despite only being 2.0, and excellent midrange punch and clarity.
The Supplements
While this does not reach the level of included bonus materials and packaging of the StudioCanal release from the UK, this Criterion Collection release is nevertheless packed with fantastic bonus materials in a beautiful digipack and slipcase. The interviews and featurettes are not to be missed. Also of interest is the historic letter from 1886.
"Room to Dream" – A seventy-minute audio recording of David Lynch and coauthor Kristine McKenna reading from their 2018 book Room to Dream.
Interviews:

John Hurt, 2009
Frank Connor, 2019
Jonathan Sanger at the BFI, 2018
David Lynch, 2009

Archival:

David Lynch at the AFI, 1981
The Terrible Elephant Man Revealed – A documentary made in 2001 featuring interviews with Mel Brooks and Jonathan Sager, actor John Hurt, director of photography Freddie Francis, and makeup artist Christopher Tucker.
Joseph Merrick: The Real Elephant Man
Mike Figgis and David Lynch, 2006
Clapper Board, John Hurt
Skintricks: Christopher Tucker and John Hurt

Trailer
Radio Spots
Booklet: Excerpts from an interview with David Lynch from the 2005 edition of filmmaker and writer Chris Rodley's book Lynch on Lynch, and an 1886 letter to the editor of the London Times concerning Merrick by Francis Culling Carr Gomm, chairman of the London Hospital.
The Final Assessment
The Elephant Man looks and sounds brilliant in this Criterion Collection release. If you don't have, don't want, or can't obtain the superior 4K release from StudioCanal in the UK – where this release is taken from – then you will be very happy with this feature-rich, reference quality BD. That said, Criterion needs to step it up and start offering 4K. The time has arrived.
The Elephant Man is out on Blu-ray September 29, 2020 from the Criterion Collection
---
The Creative Content: 4.5/5
The Video: 4.5/5
The Audio: 5/5
The Supplements: 4.0/5
Ratings Certificate: PG
Studios & Distributors: Brooksfilms | The Criterion Collection
Director: David Lynch
Written By: Christopher De Vore (screenplay) | Eric Bergren (screenplay) | David Lynch (screenplay) | Frederick Treves (book) (as Sir Frederick Treves) | Ashley Montagu (in part on the book
Run Time: 123 Mins.
Street Date: 29 September 2020
Aspect Ratio: 2.35:1
Video Format: AVC 1080p
Primary Audio: English DTS-HD MA 2.0 Stereo
Subtitles: English SDH