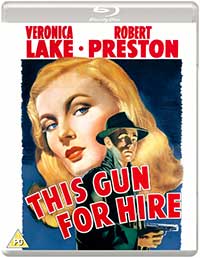 This classic early 1940s film-noir, This Gun for Hire, pairs a sultry Veronica Lake, and Alan Ladd in one of the most complex early Hollywood noirs.
Lake plays nightclub singer Ellen and Ladd is frightening hitman Raven who carries out an assassination for Lake's boss on a scientist who has a coveted formula and his beautiful girlfriend. Lake's boyfriend, meanwhile, a tough as nails police detective Michael (Robert Preston), is hot on the trail of Raven for the killing, and Raven is out for revenge against Ellen's boss Gates (Laird Cregar) for double-crossing him and sending the cops after him.
This Gun for Hire, as directed by Frank Tuttle, plays like two distinct stories. One is the story of Raven seeking revenge and running from the police as he grabs Ellen to use her as leverage. The second story is Michael and the police on the hunt for Raven and working with the criminally minded Gates to find him. The two plots lines never get clumsy, a testament to Tuttle's clever handling of the work, and his ability to handle the visuals to keep a sense of suspense going. While the film doesn't look as stylish as later film-noirs that would come in the 1950s, but some of the elements are there already, such as overhead camera shots, deep framings, and use of lighting for contrast.
This Gun for Hire was adapted from Graham Greene's novel and was in the middle of shooting when the Japanese bombed Pearl Harbor and the U.S. entered the war. Its themes of secret formulas, assignation plots and espionage are very indicative of wartime noir, but it is still a very enjoyable film to watch.
[envira-album id="124979″]
The Video
This Gun for Hire is a restoration taken from a 4K scan of the original film elements and provided to Eureka. The Blu-ray is in 1080p AVC and presented in the original 1.37:1 aspect ratio. It looks pleasing for a 1942 vintage film. It has definitely been cleaned up, but there is still a good amount of grain visible, but it's not overwhelming. Some faint tramlines can be spotted here and there, but soothing distracting and they were probably too difficult to remove without doing more harm than good. There are some rough patches in the presentation, perhaps from the source – I don't know for sure, but some parts look like they may have been taken from different, lower quality sources. Other than that, we get a good, organic, black and white presentation, but it doesn't have the stark, high contrast imagery people may be used to with film-noir, remaining mostly in the grey and white range.
The Audio
We get a very competent LPCM 2.0 mono presentation of the original monaural mix for This Gun for Hire. The dialogue is clean and mostly intelligible, and noise isn't an issue.
The Supplements
There aren't a lot of bonus features, but the two archival radio adaptations are a real treat and the audio commentary is an excellent listen.
Audio commentary by Adrian Martin
Radio Adaptation – Lux Radio Theaters – Featuring Alan Ladd, Joan Blondell; January 25th, 1943.
Radio Adaptation – Screen Guild Theaters – Featuring Alan Ladd, Veronica Lake; April 2nd, 1945.
Stills Gallery – Archival Stills and Promotional Ephemera
A collector's booklet featuring new writing by film writer and journalist Barry Forshaw, and film writer Craig Ian Mann
The Final Assessment
Eureka Entertainment deliver the goods with this highly enjoyable and pleasing release of the classic 1942 film-noir This Gun for Hire.
This Gun for Hire is out on Blu-ray 14 September 2020 from Eureka Entertainment
---
The Creative Content: 3.5/5
The Video: 3.5/5
The Audio: 4.0/5
The Supplements: 3.5/5
Studios & Distributors: Paramount Pictures | Universal Pictures Home Entertainment (UPHE) | Eureka Entertainment
Director: Frank Tuttle
Written By: Albert Maltz | W.R. Burnett | Graham Greene (based on the novel by) | Frank Tuttle (contributing writer)
Run Time: 81 Mins.
Original MSRP: £19.99
Street Date: 14 September 2020
Aspect Ratio: 1.37:1
Video Format: AVC 1080p
Primary Audio: English LPCM 2.0 Mono
Subtitles: English SDH