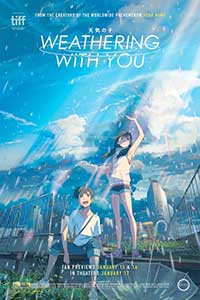 Writer-director Shinkai Makoto's (Your Name) latest film is Weathering with You, another visually stunning, fantasy anime feature film with a moving storyline.
Set in a rainy Tokyo, the story follows the sixteen-year-old high school student Morishima Hodaka who runs away from his quiet island town on Kōzu-shima in the Philippine sea to move to the big city of Tokyo. When he arrives, he finds he is quickly running out of money and unable to get a job because of his lack of a school ID. Then he finds a job working for a shady man named Suga and his niece who run a small, indie occult magazine publishing company. Hodaka also meets an older girl named Amano Hina who works at the local McDonald's restaurant. Hina helps him out one night with a free Big Mac when he is starving for food and Hodaka becomes fascinated with her. After seeing her one night being harassed by a group of men who are trying to force her to work for them in a sleazy, red-light district club, Hodaka comes to Hina's rescue, getting into a physical confrontation with the men. He pulls out a gun he had previously found and pulls the trigger, thinking it was a replica or toy, but when it goes off, it startles everyone. Hodaka and Hina run away and the two become close. He finds out she is living alone with her younger brother due to certain circumstances.
Hina also has a secret – she is the so-called "sunshine girl" possessing an ability to stop the downpour of rain that has been affecting Tokyo. When Hodaka loses his job after the cops come looking for him because he has been designated a runaway and his boss Suga marked as a kidnapper, he and Hina take off together to lay low in a love hotel, and Hodaka finds out a shocking secret behind Hina's superpower.
[envira-album id="124918″]
Just like with his previous film Makoto turns in what seems like an effortless and heartwarming romantic fantasy that involves viewers in the lives of the characters and their predicaments. The backdrop of a rainy Tokyo only serves to underpin the often very serious topics being discussed in this film like teenage runaways, violence, orphaned children, sex trafficking, or poverty. The magical backdrop of glistening buildings, sparkling diamond raindrops and supernatural powers help to offset the harder subject matter as does the budding romance between the two teen Makoto's protagonists.
By the end of this film, you'll be wanting more and hoping to see the next outing from Shinkai Makoto, who, along with directors like Hosoda Mamoru is making a strong stand to carry on the legacy of Miyazaki Hayao.
The English version of the film, which is what I screened for this review courtesy of Shout! Factory, features an all-star voice cast including Lee Pace (Guardians of the Galaxy, The Hobbit Trilogy), Alison Brie ("GLOW", The Lego Movie franchise), and Riz Ahmed (Rogue One: A Star Wars Story, Venom).
Weathering with You is available on Blu-ray™/DVD combo, DVD, SteelBookTM and on EST/VOD September 15, 2020 from Shout! Factory
Blu-ray™ and SteelBook™ Bonus Features:
Talk Show: Makoto Shinkai and Yumiko Udo
"Weather Front" Featurette
Exploring Makoto Shinkai's Filmography
Theatrical Trailers and TV Spots
DVD Bonus Features
"Weather Front" Featurette
Exploring Makoto Shinkai's Filmography
Theatrical Trailers and TV Spots
---
The Story: 4.0/5
The Animation: 5/5
The Dub: 4.0/5
Animation Studio: CoMix Wave Films
Distributor: Shout! Factory | GKIDS
Director: Shinkai Makoto
Written By: Shinkai Makoto
Run Time: 112 Mins.
Aspect Ratio: 1.78:1
Language: Japanese | English
Subtitles: English
Rating Certificate: PG-13 (for suggestive material, some violence and language)