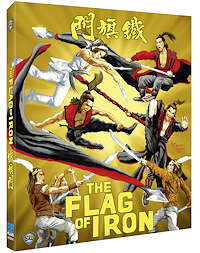 In 1980, influential director Chang Cheh took the new inspiration from the actors he found working with on one of his classics, Five Deadly Venoms, and created this cult classic, The Flag of Iron.
The master of the Iron Flag clan is killed by an enigmatic assassin known only as Spearman. This sets off a series of shocking events that lead to literal back stabbings and betrayals, pitting two brothers from the clan against each other for control over their clan.
Chang Cheh employs classic storytelling techniques along with new visual elements and fighting styles incorporating acrobatics and some of the weirdest weapons and excessive gore to tell this action-packed tale. Though this is a period drama, it can often feel anachronistic given some of the flamboyant costumes, but that aside, it employs concise storytelling and fantastic choreography that is far easier to follow than the companion film being released alongside this by 88 Films, Legendary Weapons of China.
Because everything in this film is executed with such precision, edge of the seat energy, and linearity, this is one that is sure to garner multiple replays and can also work as a good entry for those interested in the genre.
The Video
The Flag of Iron is listed as an "HD remaster from the original 35mm negatives" and it arrives in a 2.35:1 AVC 1080p encodement on Blu-ray from 88 Films. This is relatively clean transfer with good color reproduction. The primary colors such as the abundant amounts of red in clothing and from 'blood' comes across very well. The main flaw is that the detail seems to have been scrubbed a bit too much. I can see only very subtle amounts of film grain and faces look a bit waxy. This is not the worst I have ever seen but given how these Hong Kong films are usually very rich in film grain, this one looks a bit odd.
The Audio
The original Mandarin mono mix is supplied in DTS-HD Master Audio 2.0 with newly translated English subtitles and the English dub is also supplied in DTS-HD Master Audi0 2.0 mono, although the packaging lists the audio as LPCM. The sound is good for what it is. I did notice some 'pumping' and hiss when the action stopped and there were silent passages, but this was not very distracting.
The Supplements
88 Films offers this cult classic in a beautifully packaged set. The on-disc extras are limited to one albeit top notch audio commentary that is fun to listen to, but the additional bonus materials such as the artwork, essay, reversible sleeve, slipcover, and poster make this one a collectible that genre fans will want.
Complete and Uncut
Audio commentary with Asian cinema experts Mike Leeder and Arne Venema
Slipcase with Brand New artwork by Robert 'Kung Fu Bob' O'Brien (First-run pressing)
Reversible sleeve with Brand New original artwork by Robert 'Kung Fu Bob' O'Brien
Booklet with essay by Andrew Graves
Foldout of original Hong Kong poster
The Final Assessment
An essential entry in the Hong Kong kung fu genre from influential director Change Cheh is offered up in a gorgeous collectible release, remastered on Blu-ray. Fans will want to grab this one up!
The Flag of Iron (Special Edition) is out on Blu-ray February 8, 2022 from 88 Films
---
Rating Certificate: R
Studios & Distributors: Shaw Brothers | Celestial Pictures | 88 Films
Director: Chang Cheh
Written By: Cheh Chang | Ni Kuang
Run Time: 113 Mins.
Street Date: 8 February 2022
Aspect Ratio: 2.35:1
Video Format: AVC 1080p
Primary Audio: Mandarin DTS-HD MA 2.0 Mono
Secondary Audio: English DTS-HD MA 2.0 Mono
Subtitles: Newly Translated English