–
The Film
[Rating:3.5/5]
Over a decade after making his first big screen appearance, Nickelodeon's SpongeBob reappears in a follow-up feature film, The SpongeBob Movie: Sponge Out of Water. Now much more global brand guaranteed a wider reach internationally, this perennial audience grabber amongst grade-schoolers and the druggie crowd may be cooling off in ratings, but can still grab big numbers around the world as the box office take for this film showed. Sponge Out of Water's gross came in second all time for a film based on an animated TV series, behind The Simpsons Movie.
To be expected, the movie is just as zany as fans would expect of a SpongeBob movie, fulfilling the wishes of the adolescents and those who may be coming to it in altered states of consciousness. The plot is light, but fun and a wild ride. The story concerns itself with the loss of the secret formula for Mr. Krabs' beloved Krabby Patties. Without it, Bikini Bottom, the home of SpongeBob, his best friend Patrick, and all of the colorful characters at the bottom of the sea, descend into a chaotic, post-apocalyptic world reminiscent of something out of a Mad Max movie. So SpongeBob and his nemesis, the one-eyed Plankton embark on a wild, almost psychedelic journey in a self-built time machine to go back and recover the formula.
The early 2D animation sequences are absolutely brilliant and eye-catching, as are the hyperactive, barely connected series of adventures that SpongeBob and the fellow citizens of Bikini Bottom find themselves in. A number of abbreviated musical sequences interrupt the quick barbs and meta humor that millennials are so fond of, but just about anyone can find funny in the context of this film.
The big deficit in the film, however, is the film's final act which consists of live action/CG-animated sequences that just do not live up to the quality of the previous 2D animation, and also takes the story into 'nuking the refrigerator' territory. The characters look, well, very strange, and the performance by Antonio Banderas as a pirate named Burger Beard is more silly than funny.
Overall, The SpongeBob Movie: Sponge Out of Water is funny and enjoyable and sure to please the crowds of fans, young and old, but will hardly win over folks who don't already have some liking for the oddball crew of Bikini Bottom.
Video Quality
2D HD: [Rating:5/5]
3D Effect: [Rating:4/5]
The SpongeBob Movie: Sponge Out of Water looks beautiful in both its 2D and 3D incarnations in this release from Paramount. The 3D version has good pop-out, although the colors do look a little bit dull in comparison to the 2D counterpart, and the live action/CG animated sequences lack the texture of the 2D version. Otherwise, what we get here is clean, crisp, and gorgeous reference material in AVC/MPEG-4 1080p (2D) and MVC (3D).
Audio Quality
[Rating:5/5]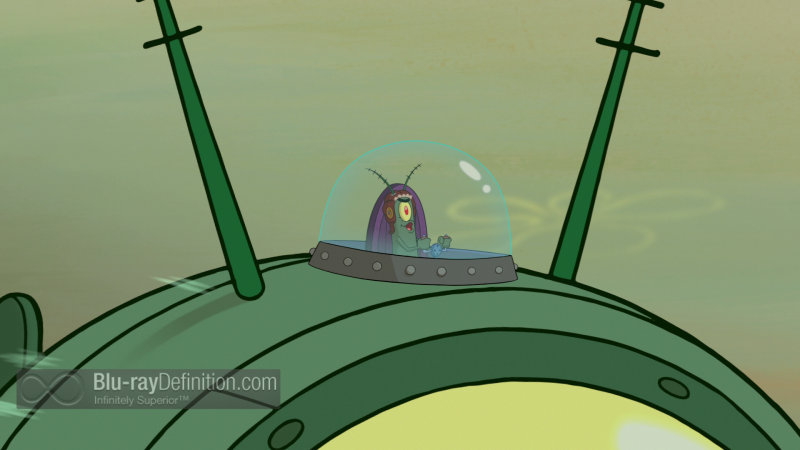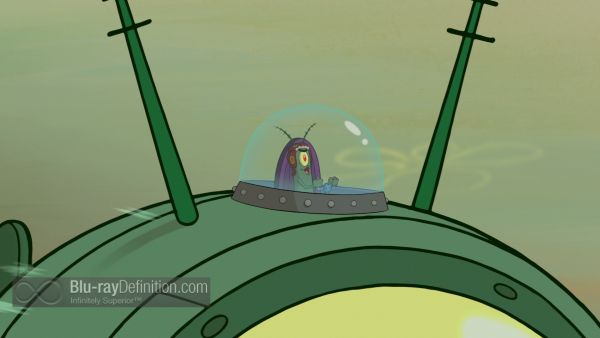 In this brave new world of Atmos, DTS:X and Auro 3D, where even a 7.1 mix now seems quaint, it feels almost strange to be getting a mere DTS-HD Master Audio 5.1 (48kHz/24-bit) mix for The SpongeBob Movie on Blu-ray, but, fear not, this soundtrack does not disappoint. With a tight and well constructed 360-degree soundfield filled with atmospherics, solid sound effects in every channel and a deep low end with clean, airy high frequencies and crystal clear dialogue, this dynamically mixes track is sure to impress and will be a reference.
Supplemental Materials
[Rating:4.5/5]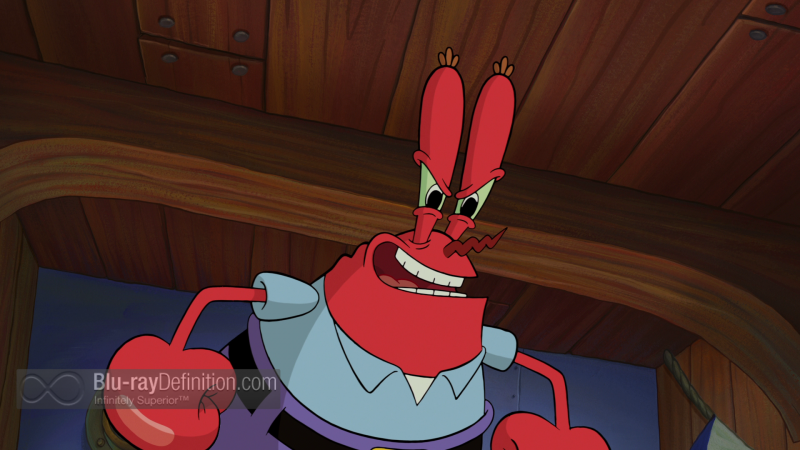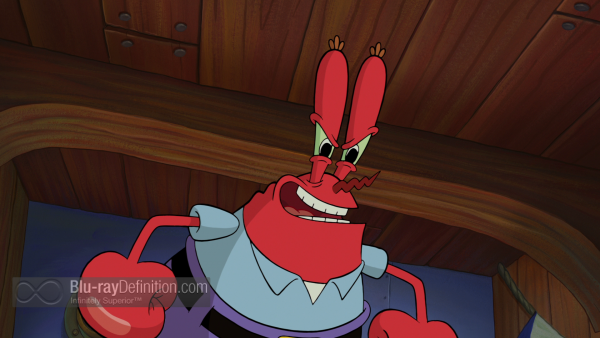 The SpongeBob Movie comes packed to the gills with extras that include featurettes, deleted scenes, and mockumentaries, plus sing-alongs.
iTunes Digital HD Digital Copy & Digital HD UltraViolet
DVD
Blu-ray 3D:
Deleted Scene – Thank Gosh It's Monday (1.78:1; 1080p/24; 3D; 00:02:41)
Blu-ray:
On the Surface:

Spongebob Squarepants: Out of His World (1.78:1; 1080p/24; 00:07:40)
When I Grow Up, I Want to Make Funny Sounds (1.78:1; 1080p/24; 00:09:41)
Becoming Burger Beard (1.78:1; 1080p/24; 00:06:06)
Making the Burger Mobile Chase Sequence (1.78:1; 1080p/24; 00:05:40)
It's Hip to Be Squarepants (1.78:1; 1080p/24; 00:03:31)
A Day in the Life of a Sponge (1.78:1; 1080p/24; 00:02:33)

Underwater Awesomeness:

Plankton Rules the World! (1.78:1; 1080p/24; 00:06:21)
Bikini Bottom Confidential: Rock Stars of the Sea (1.78:1; 1080p/24; 00:09:28)
International Sponge of Mystery:
Meeting Bubbles (1.78:1; 1080p/24; 00:02:58)
The Speech (1.78:1; 1080p/24; 00:01:17)

Bikini Bottom Boogie:

Thank Gosh It's Monday (1.78:1; 1080p/24; 00:02:39)
Spongebob Sing-Alongs:

Thank Gosh It's Monday
Teamwork
Theme Song/Rap Battle

"Squeeze Me" Music Video by N.E.R.D. (1.78:1; 1080p/24; 00:02:35)

Deleted/Extended/Alternate/Test Scenes (1080p/24; 00:25:53)
The Definitive Word
Overall:
[Rating:4/5]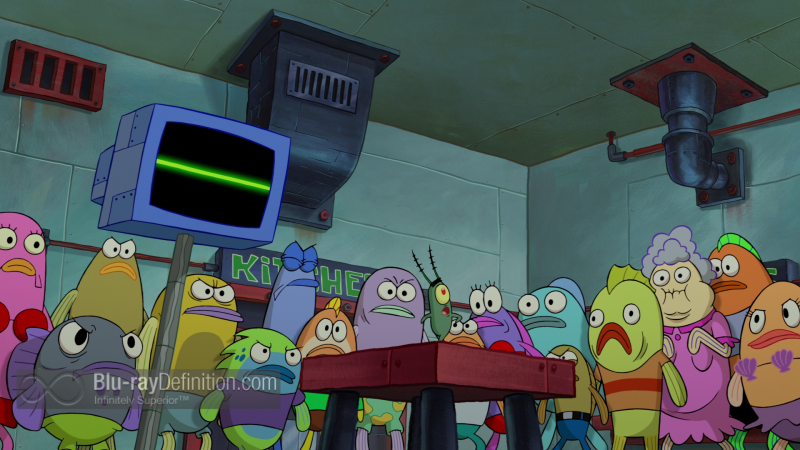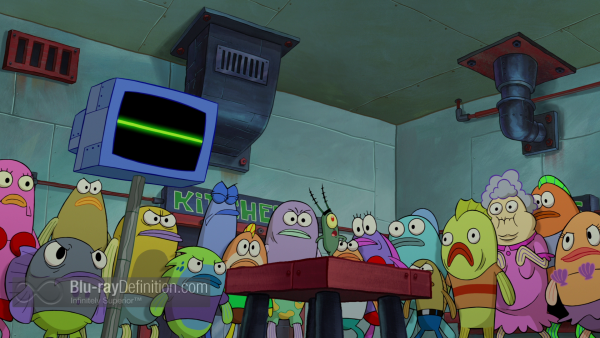 Madcap fun to appeal to the brains of the young and those who like to alter their consciousness, The SpongeBob Movie: Sponge Out of Water is an acid trip of a film that will appeal to many demographics and lock in the fan base. The quality of the Blu-ray and Blu-ray 3D are top notch.
Additional Screen Captures
[amazon-product]B00TA8CRB8[/amazon-product]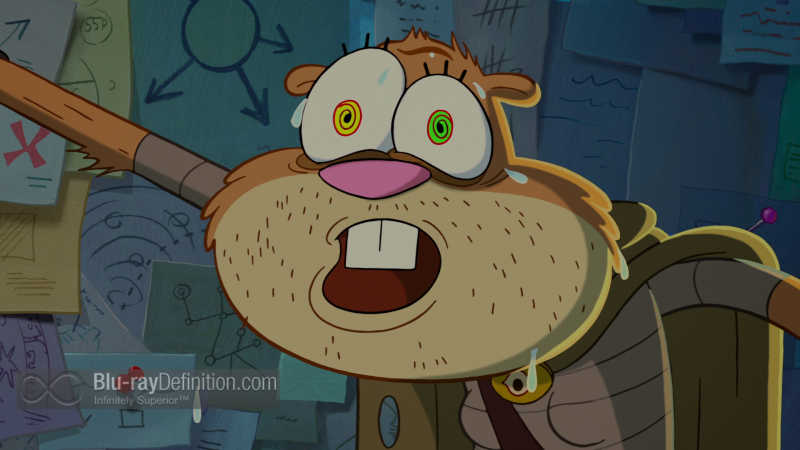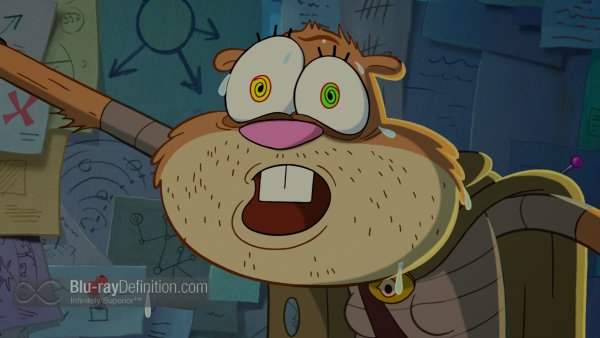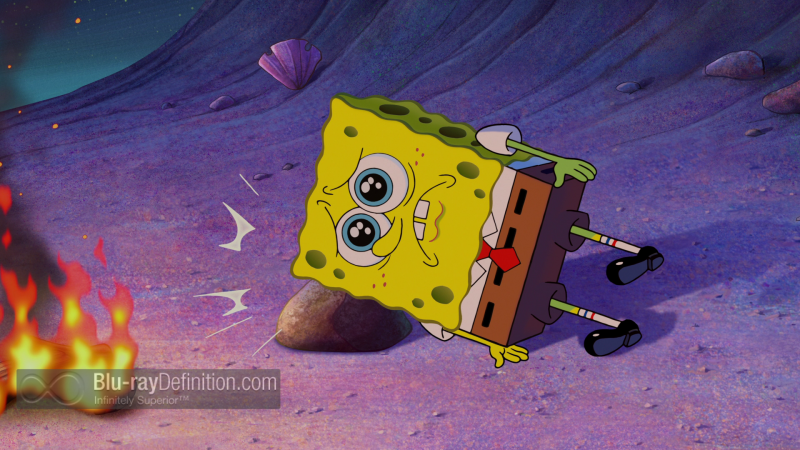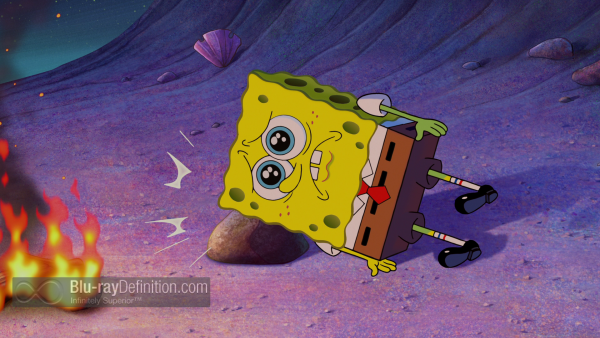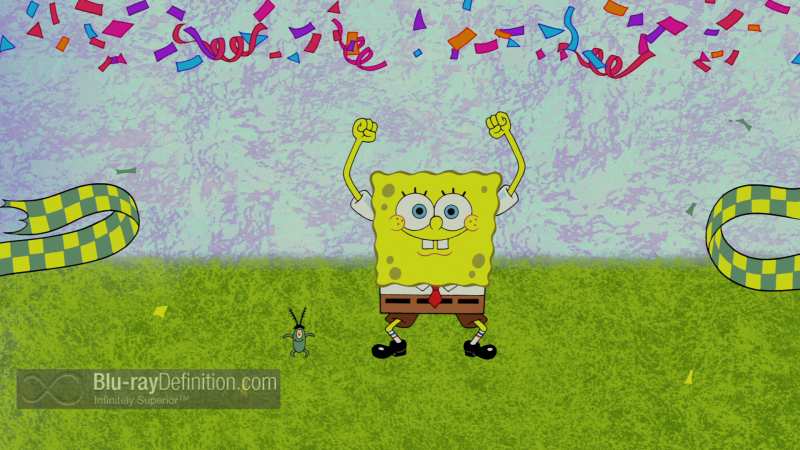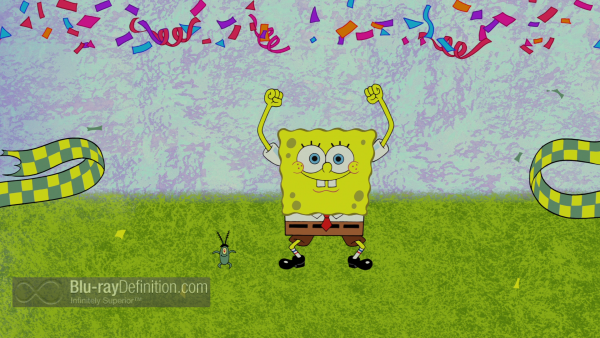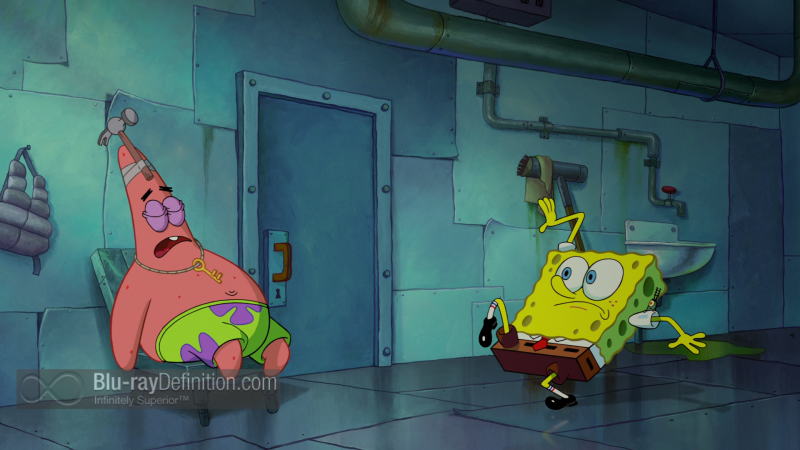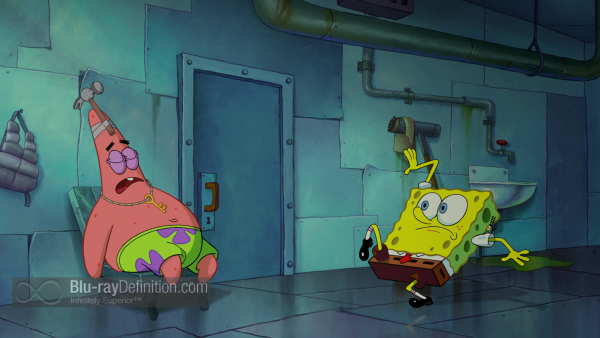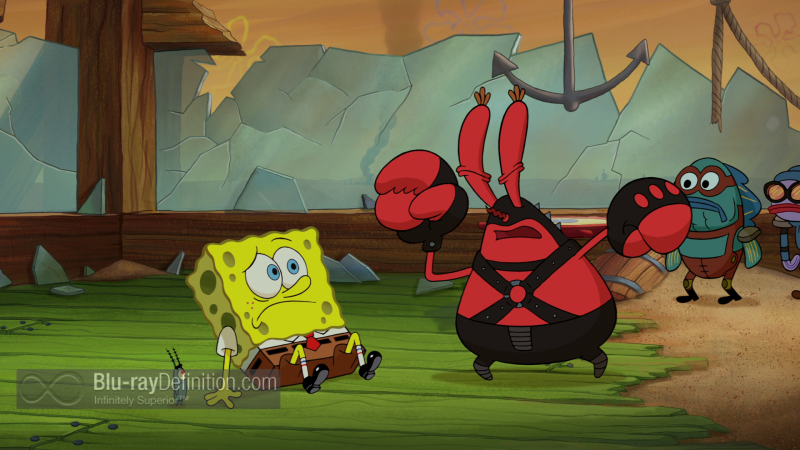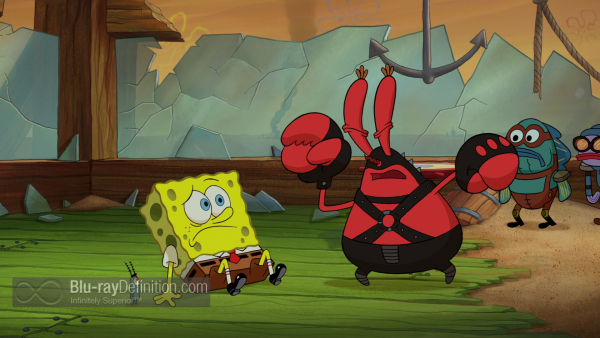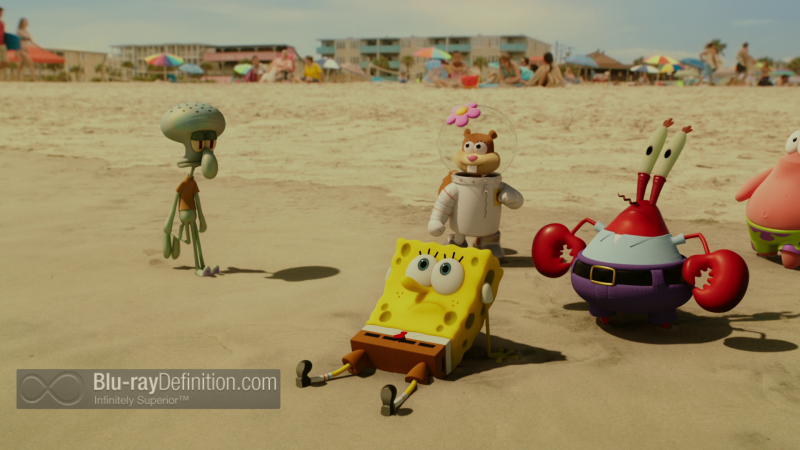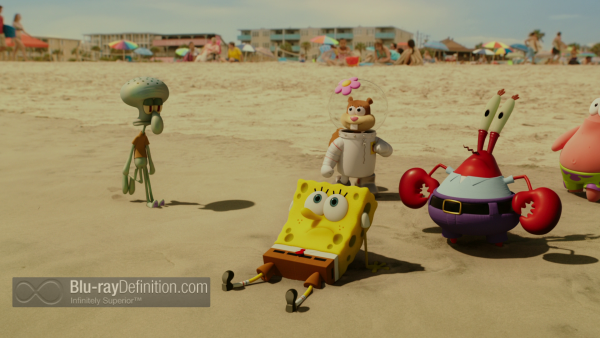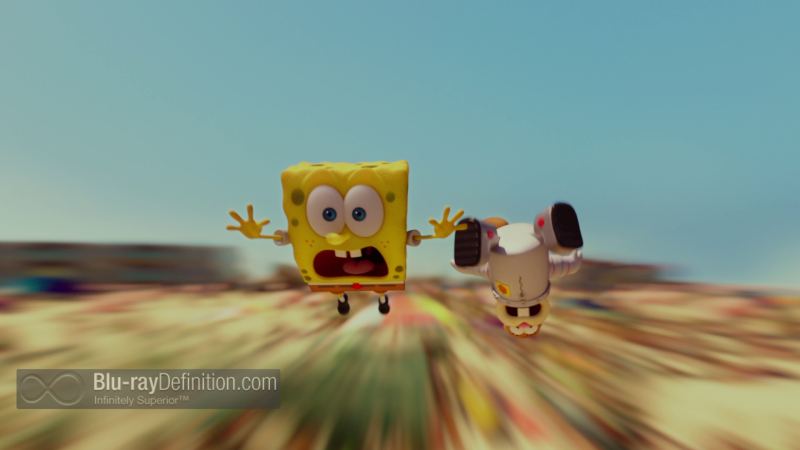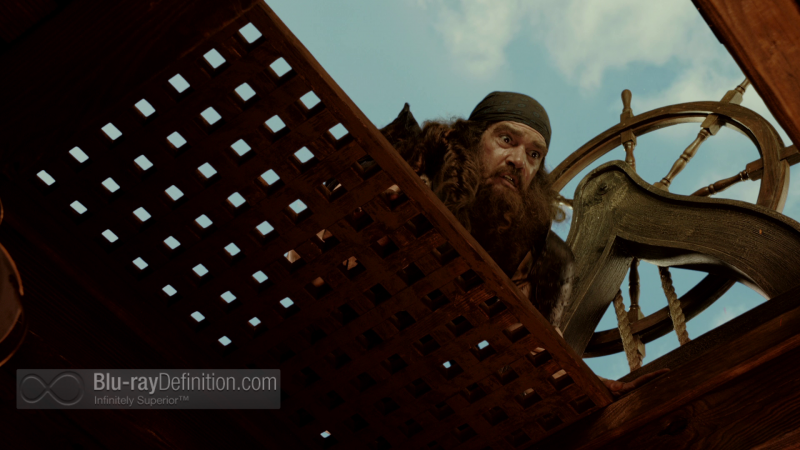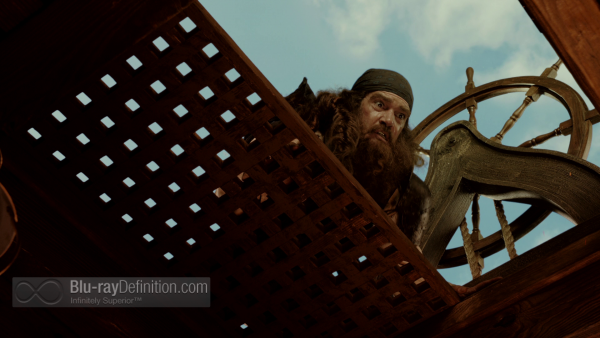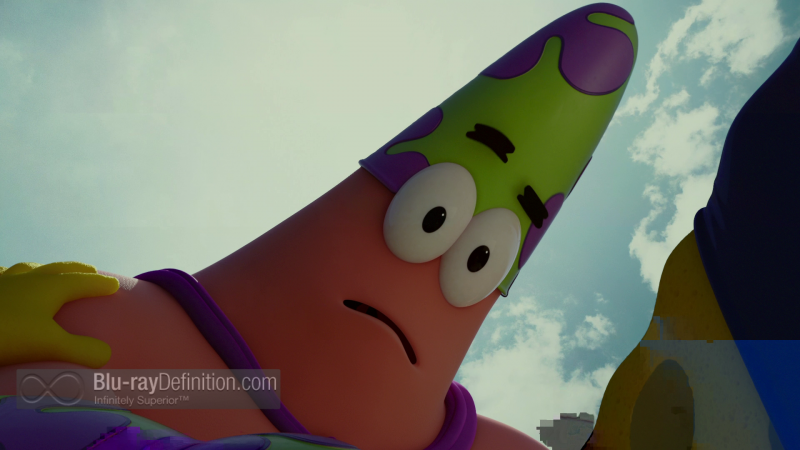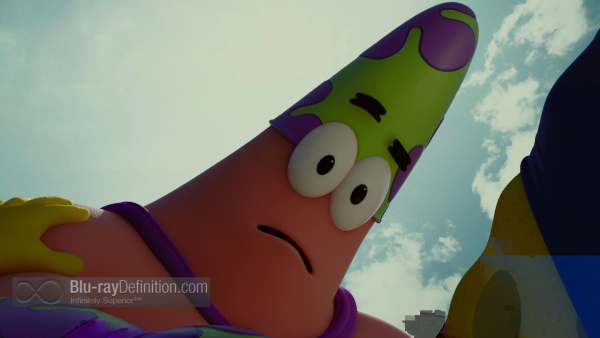 [amazon-product]B00TA8CRB8[/amazon-product]