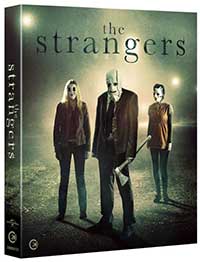 The debut feature from writer/director Bryan Bertino (Mockingbird, The Monster), The Strangers stars Liv Tyler (Lord of the Rings, The Leftovers) and Scott Speedman (Underworld, Animal Kingdom) as couple Kristen and James who come back to their secluded cabin in the woods after attending a friend's wedding and James' marriage proposal to Kristen has gone sideways. Now all the couple want to do is unwind, make it through the uncomfortable, painful night, and leave the next morning to decide what comes next in their relationship. That doesn't happen.
The two find themselves terrorized beginning at four in the morning by a group of three masked individuals who begin relentlessly banging on their doors and windows and are soon elevating their harassment to more violent tactics – but who are these people and what do they want? They are in for a long, terrible night.
Bertino's direction creates a very intense, and thrilling atmosphere, favoring darkly lit, natural looking light, earth tones, and shaky camera movements, and long lens closeups for a really claustrophobic, anxious feel. Combined with the sound design (as mixed for this Blu-ray release), which picks up the subtle sounds of a house, moves jump scares around and plays with dynamic range brilliantly, we are put in a world where our adrenalin will surely be pumping.
This is all good stuff, and Liv Tyler makes for a convincing "scream queen" – trust me, just listen to the scream she lets out in this film. If it doesn't do right down your spine, I don't know what will. She outshines Speedman in conveying the sheer terror and chaos of the situation.
While these elements are all fantastic, the film's plot device does run out of steam by the midway point of the film, which is probably also why the film itself starts to go a little but off the rails by the final act, not to give away any spoilers. Still, taking the film as a whole, it is an excellent debut effort and one that can be pulled out for some thrills on a horror movie night marathon.
[envira-album id="124903″]
The Video
The Strangers was originally shot in the anamorphic Super 35 format on Fuji Eterna 250D 8563 medium speed and Eterna 500T 8573 high speed film stock with Panavision cameras and lenses. The 2008 horror film tends to linger a darkly-shaded pallet with lots of ambers, browns, tera cotta, and other sorts of earth tones. While detail is crisp and there is little noise or any other issues due to the encodement, there are problems with black crush. Often the shadows become quite amorphous and there isn't much nuance there. Detail in cloth, especially darker objects, gets lost.
The Audio
The English DTS-HD Master Audio 5.1 mix for The Strangers is fantastic. It puts sounds in the surround channels at the appropriate times, like a loud banging coming from off to the side, and it makes excellent use of dynamic range, often dropping down to a whisper and going all the way up to a skin crawling scream as laid down by Liv Tyler.
The Supplements
The Strangers (Limited Edition) comes packed with lots of new interviews and collectibles, including a softcover book with essays and a poster.
Because You Were Home: An Interview with Bryan Bertino (1080p; 00:56:55)
(New) The Fighter: An Interview with Liv Tyler (1080p; 00:16:49)
(New) Cutting Moments: An Interview with Kevin Greutert (1080p; 00:43:01)
(New) The Pin Up Girl: An Interview with Laura Margolis (1080p; 00:19:55)
The Element of Terror (1080i; 00:09:10) – Interviews with cast and crew
Strangers at the Door (1080p; 00:09:37) — interviews with Director Bryan Bertino and cast
Deleted Scenes (1080p; 00:04:57)
Theatrical Trailer (1080p)
LIMITED EDITION CONTENTS

Limited Edition Box Set of only 3,000
Soft cover book with new essays by Anton Bitel and Mary Beth McAndrews plus stills and behind-the-scenes images
Poster with new artwork
The Final Assessment
This is undeniably a horror film that offers a tense, creepy, adrenalin rush and offers mostly the correct balance of atmosphere, gore, mystery, and terror. Second Sight's Limited Edition release is an excellent collector's set lacking only an audio commentary to make it an absolute must-have for horror fans, but it is still a strong set and well worth owning.
The Strangers (Limited Edition) is out 28 September 2020 in the UK from Second Sight
---
The Creative Content: 3.0/5
The Video: 4.0/5
The Audio: 4.5/5
The Supplements: 4.0/5
Rating Certificate: UK: 15
Studios & Distributors: Rogue Pictures | Intrepid Pictures | Vertigo Entertainment | Mandate Pictures | Mad Hatter Entertainment
Director: Bryan Bertino
Written By: Bryan Bertino
Run Time: 86 Mins.
Street Date: 28 September 2020
Aspect Ratio: 2.39:1
Video Format: AVC 1080p
Primary Audio: English DTS-HD MA 5.1
Subtitles: English HOH