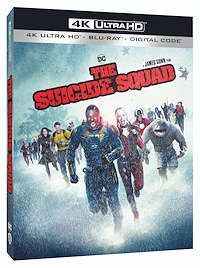 James Gunn takes the reins for the second outing of this DC franchise and reboots it to great success as The Suicide Squad ups the ante for these supervillains on the big screen.
Supervillains Harley Quinn (Margot Robbie), Bloodsport (Idris Elba), Peacemaker (John Cena), and more oddball, second rate supervillains from the government's Bell Reve maximum security prison must pick up the pieces of a black ops mission gone wrong when the first "suicide squad" gets wiped out infiltrating the South American island nation of Corto Maltese that has been overthrown by anti-American forces. They need to destroy the Nazi-era laboratory Jötunheim where an experiment known as "Project Starfish" on an alien being exists. The leader of the first team that is nearly completely wiped out, Colonel Rick Flag (Joel Kinnaman), eventually joins team 2 for their world-saving mission.
With its R-rated content, quick pace, and absolute dark comedy with major nods to Japanese kaiju genre films, James Gunn's The Suicide Squad not only offers up more satisfying entertainment and fleshed out characters but works both as a reboot of the first film and as a sequel to the original comic book series.
Gunn infuses the film with lots of kinetic energy, call backs to comic book panel visuals, and mashups of multiple genres. Look at the retro-style trailers included on the companion Blu-ray in the 4K Combo release to see how easily the film fits into several genres.
Harley Quinn may be the only character who feels wedged into the film here with her goofball one-liners and strange subplot seemingly incongruent with what is going on with Bloodsport, Peacemaker, et. al. That said, this motley crew of terrible supervillains, including the somehow loveable King Shark, work together well. The pissing contest between Elba's Bloodsport and Cena's Peacemaker is arguably what makes the film most engaging to watch.

The Video
The Suicide Squad was shot on the Red Komodo IMAX, Red Ranger Monstro IMAX, and Red Weapon Monstro IMAX at 8K resolution with some scenes shot at 6K. It utilizes a 4K DI and comes to 4K Ultra HD Blu-ray in a HEVC 2160p (4K UHD) encodement with Dolby Vision (HDR10 compatible) framed at 1.85:1. That this was shot digitally is astounding considering it really looks as if it could have been shot on Super 35, perhaps due to excellent in-camera settings or added effects in post-production. Either way, it's very organic and cinematic. The HCG courtesy of the Dolby Vision is also wonderfully applied, with a plethora of reds and oranges apparent in the flames or more vermillion 'pop' in the lighting as the second Squad take off on their mission in the chopper. There's lots of specular highlight dazzle in this presentation, even as the MaxLL is only 571 and the MaxFALL 257.
The Audio
The Suicide Squad comes with a bombastic Dolby Atmos (Dolby TrueHD 7.1 compatible) audio mix on 4K Ultra HD. This mix has superb height awareness, resounding, floorboard rattling low end that reverberates right through your bones when there are explosions, and lots of movement through the surrounds and overheads. I still needed to turn this one up a few db over where I normally listen, but it was still great sounding.
The Supplements
The overall 'making of' featurettes are fun to watch and include lots of interviews with James Gunn and other members of the cast and crew, but my favorite inclusions are the tongue-in-cheek retro trailers. There's also a Movies Anywhere digital code included.
Commentary by director/writer James Gunn
Harley's Great Escape (Scene Breakdown) (4K; 00:07:17)
Blu-ray Bonus Features:
Deleted & Extended Scenes (1080p; 00:17:27)
Gag Reel (1080p; 00:10:23)
Bringing King Shark to Life (1080p; 00:05:40)
Gotta Love the Squad (1080p; 00:11:37)
The Way of the Gunn (1080p; 00:07:50)
Scene Breakdowns (1080p):

It's a Suicide Mission (00:06:37)
My Gun's Bigger Than Yours (00:05:44)
Harley's Great Escape (00:07:16)
The Fall of Jotunheim (00:05:38)

Starro: It's a Freakin' Kaiju! (1080p; 00:06:17)
War Movie Retro Trailer (1080p; 00:03:24)
Horror Movie Retro Trailer (1080p; 00:01:23)
Buddy-Cop Retro Trailer (1080p; 00:01:17)
Commentary
The Final Assessment
A fun and vastly improved cinematic take on this motley crew of second rate supervillains on a fantastic 4K release from Warner.
The Suicide Squad is out on 4K Ultra HD Combo & Blu-ray October 26, 2021 from Warner Bros.

---
Rating Certificate: R (for strong violence and gore, language throughout, some sexual references, drug use and brief graphic nudity)
Studios & Distributors: Warner Bros. | DC Entertainment | Atlas Entertainment | The Safran Company | HBO Max | Warner Bros. Home Entertainment
Director: James Gunn
Written By: James Gunn
Run Time: 132 Mins.
Street Date: 26 October 2021
Aspect Ratio: 1.85:1
Video Format: HEVC 2160p (4K UHD)
HDR Format: Dolby Vision (HDR10 Compatible)
Primary Audio: English Dolby Atmos (Dolby TrueHD 7.1 Compatible)
Secondary Audio: English DD 5.1 | English Descriptive Audio (US) | English Descriptive Audio (UK) | Italian Dolby Atmos | French DD 5.1 | Italian DD 5.1 | Spanish (Latino) DD 5.1 | Spanish (Castilian) DD 5.1 | Hungarian | Polish lektor
Subtitles: English SDH | Italian SDH | Spanish (Latino) | Spanish (Castilian) | French | Danish | Finnish | Norwegian | Polish | Romanian | Hungarian | Polish | Swedish