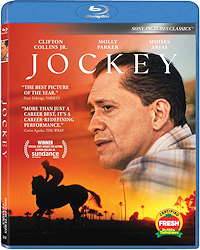 In the moving sports drama Jockey, Clifton Collins Jr. plays Jackson Silva, an aging jockey who has been a loyal and dedicated rider for his stable and horse trainer Ruth Wilkes (Molly Parker). Now, after receiving some disheartening news on his health and as he begins to feel its effects, Jackson is unwilling to admit his diminishing health and is looking to get one more season, hopefully a winning one, when Ruth finally gets a horse that seems to be championship caliber. Jackson's prospects are also further complicated by the entrance of a young man trying to enter the racing circuit, Gabriel Boullait (Moises Arias), who is looking to him for advice and has an unexpected revelation that is life changing.
Jockey is a slow-burning, atmospheric film that is subtle in its storytelling yet bold in its visual aesthetic. That is not to say it's a film that uses a heavy dose of visual and special effects. On the contrary, this is all about beautiful camera work and lighting, the eye candy that are the orange, purple, and amber sunsets, the close-ups on the worn faces of the jockeys, silhouettes of riders on the tracks at dawn, and those sorts of visual aesthetics marvelously captured. Clifton Collins, Jr. does an excellent job as the weary jockey in this film, carrying the film on his shoulders.
The Video
Jockey comes to Blu-ray in an AVC 1080p encodement framed at 2.39:1 from Sony Pictures Classics. This film has a very filmic appearance. At times it can seem a little soft in the far field, but this is the production, cameras, and lighting, which adds to the ambience of this film. The colors, especially in the sunsets and sunrises at the racetracks 'pop' nicely, and we see very nuanced shadow delineation that has no apparent crushing of detail. The finer details come through splendidly. One can see every wrinkle, fold, and scar on the faces of these veteran jockeys. This is a very pleasing and welcoming Blu-ray release.
The Audio
Jockey comes with an English DTS-HD Master Audio 5.1 audio track that is subtle. It at first doesn't sound like much and can certainly drop off into what sounds like a very dry mix, but it is exceptionally well suited for this dialogue-driven film. The subtlety works, with gentle atmospheric effects mixed into the surrounds, and when it is needed, such as during the racing scenes, the low-end frequencies extend nicely to offer a robust bottom to the galloping that fills the soundstage.
The Supplements
There isn't much here, just a few deleted scenes and the original trailer.
Deleted Scenes (1080p; 00:06:16):
Theatrical Trailer (1080p)
The Final Assessment
A wonderful indie film with great performances and gorgeous camera work is given a very satisfying Blu-ray transfer from Sony. Recommended.
Jockey is out on Blu-ray April 5, 2022 from Sony Pictures Home Entertainment
---
Rating Certificate: R (for language)
Studios & Distributors: Marfa Peach Company | Contrast Films | Sony Pictures Classics | Sony Pictures Home Entertainment
Director: Clint Bentley
Written By: Clint Bentley | Greg Kwedar
Run Time: 95 Mins.
Street Date: 5 April 2022
Aspect Ratio: 2.39:1
Video Format: AVC 1080p
Primary Audio: English DTS-HD MA 5.1
Secondary Audio: English Audio Descriptive Services
Subtitles: English | English SDH | French | Spanish