The weather's getting cooler, the nights are getting longer and the finish line is almost in sight. To everyone who's hung tough in 2020, congratulations. As I've done in the best of times and the worst, I'm celebrating with some worthy additions to my video library, and I invite you to do the same, taking note of these recent standouts.
More importantly, may all our readers (and non-readers) be safe this holiday season and into the new year.
The Last Dance (ESPN Films)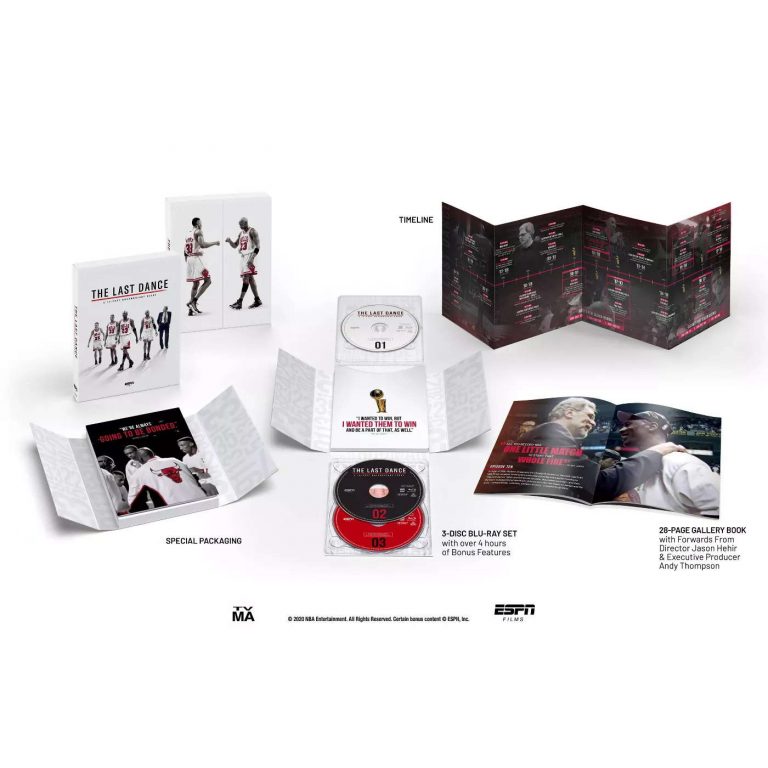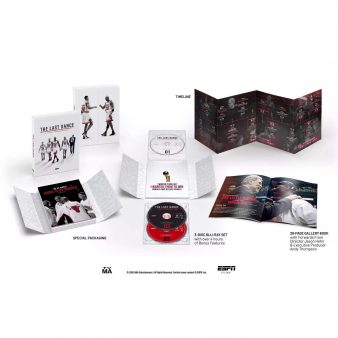 Put on your lucky shorts and settle in for a stretch. I've never been much of a sports guy, but Michael Jordan is one of those once-in-a-lifetime athletes who transcends the game. And so Jason Hehir's Emmy-winning ten-part documentary about the Chicago Bulls' their quest for their third straight championship and their sixth in eight years in the 1997-1998 season has the gravitas to hold even a casual fan's attention from beginning to end. The personal reflections combined with the masterful gameplay yield a very human real-life drama, one marked by the palpable sense that a dynasty was coming to an end. The handsome three-disc set is hefty with extras: a photo book, foldout timeline, and four hours of video bonus, notably Game 6: The Movie: a premium presentation of the historic Bulls v. Jazz contest, June 14, 1998. (Keep in mind, the live broadcast of that game wasn't even in high definition.)
---
Tex Avery Screwball Classics Volume 2 (Warner Archive)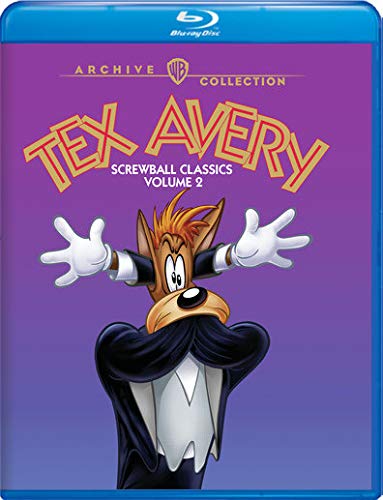 Continuing their progress through the singular Fred "Tex" Avery's canon of gleefully irreverent cartoons, Warner Archive has released a second platter with 21 more of his shorts in 1080p, reportedly from recent 4K scans of vaulted film elements and all at their proper aspect ratio. Quite a lot of good stuff was earmarked for this follow-up offering: more Droopy, Tex's future-focused "of Tomorrow" series, the remarkably sweet but still very Avery-y "The Flea Circus," and the if-you-see-only-one "The Cat Who Hated People." By way of bonus material, TBS' excellent, interview-packed 1988 King of Cartoons documentary is onboard. (As with its predecessor, this menagerie is "intended for the adult collector.")
---
4K Anime (hey, that rhymes):
Akira (Funimation)
Ghost in the Shell (Kôkaku Kidôtai) (Lionsgate)
Weathering With You (Tenki no ko) (Shout! Factory)
As my kids might say, Anime just hits different from Western animation. At the top of this trio is Akira, which is not only (arguably) the most spectacular example of this particular artform, but also one of the great achievements in all of animation. The beautiful artwork, with much of the movie animated "on the 1s" (24 frames per second vs. the usual 12); the inspired use of perspective and speed; the expansive color palette and clever exposure techniques combine to give us a cinematic experience like no other, mastered here in native 4K from the 35mm film. I'm not the guy to go into detail about this unique story, except to say that a bomb leveled Tokyo in 1988 (the year of the movie's release) and in the far-flung future of 2019, there are violent motorcycle gangs and a top-secret science project beyond all control. The movie is also here on 1080p Blu-ray, with a bonus features disc (mucho info on the sound) plus a substantive booklet that's not even touted anywhere on the package!
As Brandon pointed out in his review of the recent 4K disc of Ghost in the Shell, the audio and video are a modest step up over the HD Blu-ray which, if you never picked it up (as I did not), you shouldn't mind. The newly minted Dolby Atmos and Dolby Vision presentation is visually stunning and enhances the amazing action while we explore the nature of identity, as a futuristic super-cop tracks a hacker with the ability to control people's "ghost" (a soul by any other name) in a world where humans are opting to replace more and more of their tissue with tech.
Add to this seminal pair a relative newcomer, Japan's biggest hit of last year. From Makoto Shinkai, writer/director of the modern classic Your Name, comes this romance that takes us from the beauty of a remote island to the busy streets of the capital city, and a young woman with the power to manipulate the weather. The animation here is breathtaking, thoughtfully executed and as lovely as the themes demand. Currently the 4K version (with Dolby Vision HDR) is exclusive to the Limited Collector's Edition box, where you'll also find an HD Blu-ray of the movie, a feature-length documentary on its own disc, and the CD soundtrack (four discs in tutto), plus a poster, a sticker, a 100+-page book.
Merchant:

Right Stuf, Inc.

Price:

$71.98

Retail Price:

$79.98
Merchant:

Right Stuf, Inc.

Price:

$31.94

Retail Price:

$39.93
Merchant:

Right Stuf, Inc.

Price:

$18.73

Retail Price:

$24.97
*Editor's Note: As of publication date there is a recall from Funimation on the Akira release. The 4K Ultra HD disc was mastered without HDR. A replacement program has been setup. You will have to contact akira4kreplacement@funimation.com (US/CA) or akira4kreplacementuk (UK/IRE) with "AKIRA 4K" as the subject. You must provide your name, mailing address, email address, and proof of purchase (receipt or email confirmation of purchase and photo). If confirmation cannot be provided, you will be required to send in your current disc.
---
Mulan (1998) Meets Mulan (2020) (both Disney)
After a long and winding journey of self-discovery, lockdowns and premium pay-per-view, the fierce warrior Hua Mulan has finally arrived… on 4K. Niki Caro's most ambitious film to date, the 2020 live-action "remake" has evolved from a bouncy G to a far more serious PG-13 along the way, a vast and dazzling period piece awash in sumptuous colors. Ultra HD is the best way to take it all in, with an exceptionally high bitrate and none of the buffering issues of streaming. The consummate cinemacraft at work can also be felt in the detailed and expansive Dolby Atmos mix. Disney has smartly taken this opportunity to reintroduce us to their 1998 animated musical take on the beloved folk heroine as well, now in 4K/Atmos. It's a significant upgrade from the 1080p Blu-ray (included), porting a ton of legacy bonus content via that HD platter, notably an unexpectedly awesome Jackie Chan music video for the song "Be a Man." (The new Mulan packs lots of videos, perhaps too many, while the various featurettes could have delved deeper.) Both of these releases offer UltraPlay™ for a new generation of impatient viewers (and their parents) who want to skip right to the movie.
---
Hammer Films: The Ultimate Collection (Mill Creek)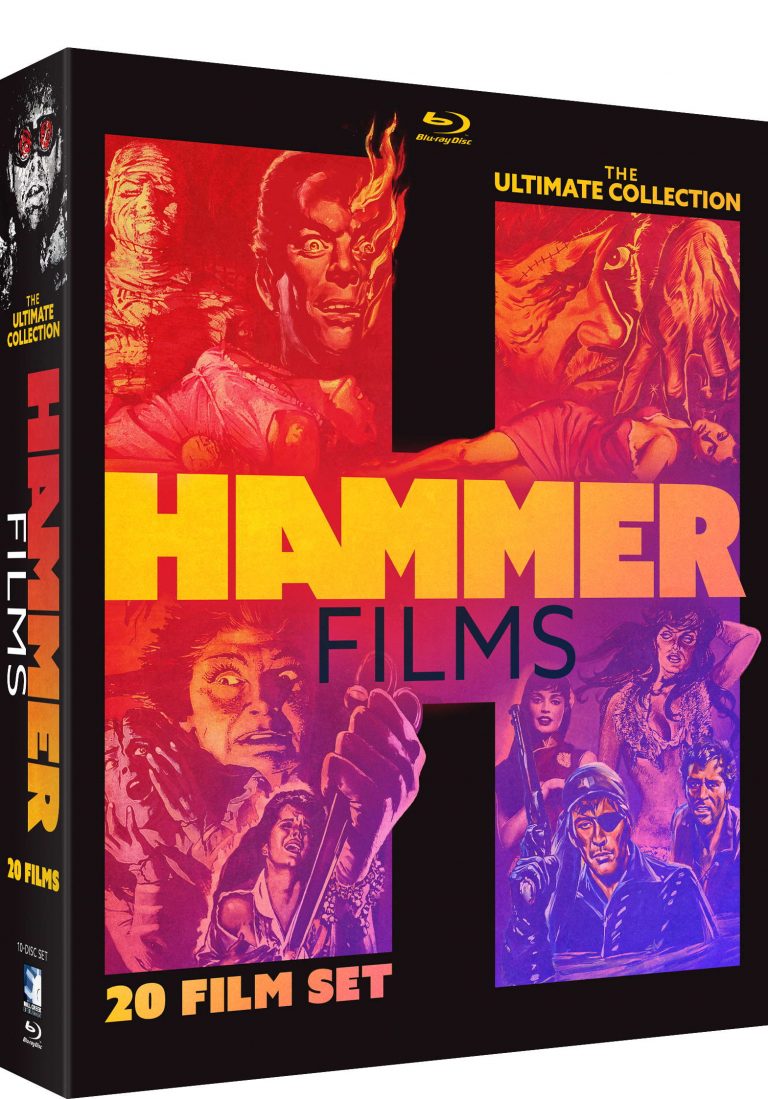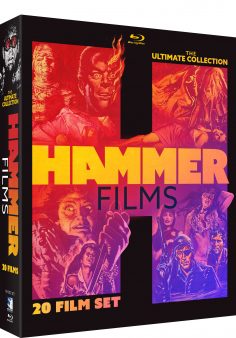 As Mill Creek's surprising and wonderful new set proves, there was a lot more to renowned British film studio Hammer than their iconic Christopher Lee Draculas. Spanning 1958 to 1971, these 20 films lean hard into that well-produced alternative output, albeit with several appearances by Lee, his stalwart co-star Peter Cushing, and many more familiar faces, in addition to directors such as William Castle, Val Guest and Terence Fisher… plus a few famous monsters. Here's the complete lineup: The Revenge of Frankenstein, The Two Faces of Dr. Jekyll, The Curse of the Mummy's Tomb, These Are The Damned, The Old Dark House, The Gorgon, The Snorkel, Maniac (no relation to Joe Spinell, below), Die! Die! My Darling, Scream of Fear, Stop Me Before I Kill!, Never Take Candy From A Stranger, Cash On Demand, The Stranglers of Bombay, The Terror of the Tongs, The Pirates of Blood River, Sword of Sherwood Forest, The Camp on Blood Island, Yesterday's Enemy and Creatures the World Forgot.
Excellent featurettes explore Hammer's partnerships and take a look back at The Mummy and Dr. Jekyll, while the half-dozen audio commentaries recruit a diverse group of experts and fans for some entertaining insights.


Pairs well with:
The Curse of Frankenstein Two-Disc Special Edition (Warner Archive)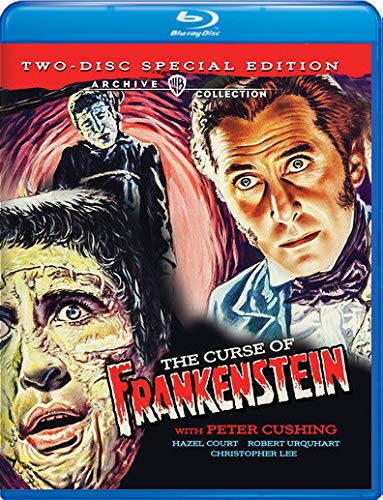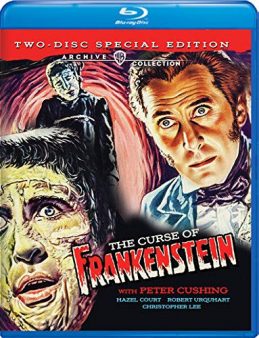 A milestone in the Hammer canon, 1957's The Curse of Frankenstein is the studio's first true horror outing and considered by many to be the first modern, post-Universal horror movie. It also marked the first time the legendary duo of Christopher Lee and Peter Cushing would appear on screen together (later to become frequent co-stars and offscreen besties), as monster and creator, respectively. Apart from being an engaging adaptation of Mary Shelley's original gothic novel in its own right, it also foretold many of the stylistic flourishes that would become beloved Hammer trademarks. Newly scanned at 4K/16-bit and meticulously restored for this high-definition edition, it is presented at three (!) different aspect ratios: standard full-width 1.85:1, British theatrical 1.66:1, plus a nostalgic 1.37:1 open-matte as so many of us grew up with on television. The results in all versions are gorgeous, a dramatic step up in color and overall clarity. In addition to an expert audio commentary, the set also features four brand-new bonus programs, including one each focusing on director of photography Jack Asher and composer James Bernard.


---
10-Movie Collections (all Universal)
These recent, thankfully slim sets give props to four upstart studios that have made their mark over the past couple of decades, with a steady stream of popular favorites and worthy Oscar winners. From kid-friendly to creepy-AF, these sets each make a bold statement, reflecting the taste of the giver as well as the recipient. Not insignificantly, all arrive with Digital Copy codes, which is especially nice for some of the older titles which pre-dated the de rigueur inclusion a streaming/downloadable version with the disc. (How did I not have Shrek in my VUDU library before now?!?) That's in addition to their original Blu-ray bonus material, which is quite a lot in some cases.
The DreamWorks 10-Movie Collection kicks off the animation-fest with Shrek of course, followed by Spirit: Stallion of the Cimarron, Madagascar, Kung Fu Panda, The Croods, Home, Trolls, The Boss Baby and Abominable. (All but Spirit are rated PG.) The (mostly) animated antics continue in the Illumination Presents 10-Movie Collection. It's the heaviest on sequels/franchises, with Despicable Me, Despicable Me 2, Despicable Me 3 and Minions, joined by The Secret Life of Pets and The Secret Life of Pets 2, the standalone Sing and live-action Hop, closing out with a double dose of Dr. Seuss: The Lorax and The Grinch, all PG.From the folks who have largely reinvented modern scares, the Blumhouse of Horrors 10-Movie Collection contains The Purge, Ouija, The Boy Next Door,
Unfriended, The Visit, Split, Happy Death Day, Truth or Dare, Ma and the oh-my-God-absolutely-indispensable Get Out. (Seriously, why are you not watching/re-watching Get Out right now?) The Focus Features 10-Movie Spotlight Collection is the most eclectic of the bunch, with Lost in Translation, Eternal Sunshine of the Spotless Mind, Pride & Prejudice, Brokeback Mountain, Atonement, Burn After Reading, Moonrise Kingdom, The Theory of Everything, On the Basis of Sex and Harriet.
As pandemic precautions carry over into the new year, it's simple math: More movies are definitely better.
---
The Captains Collection (Shout! Factory)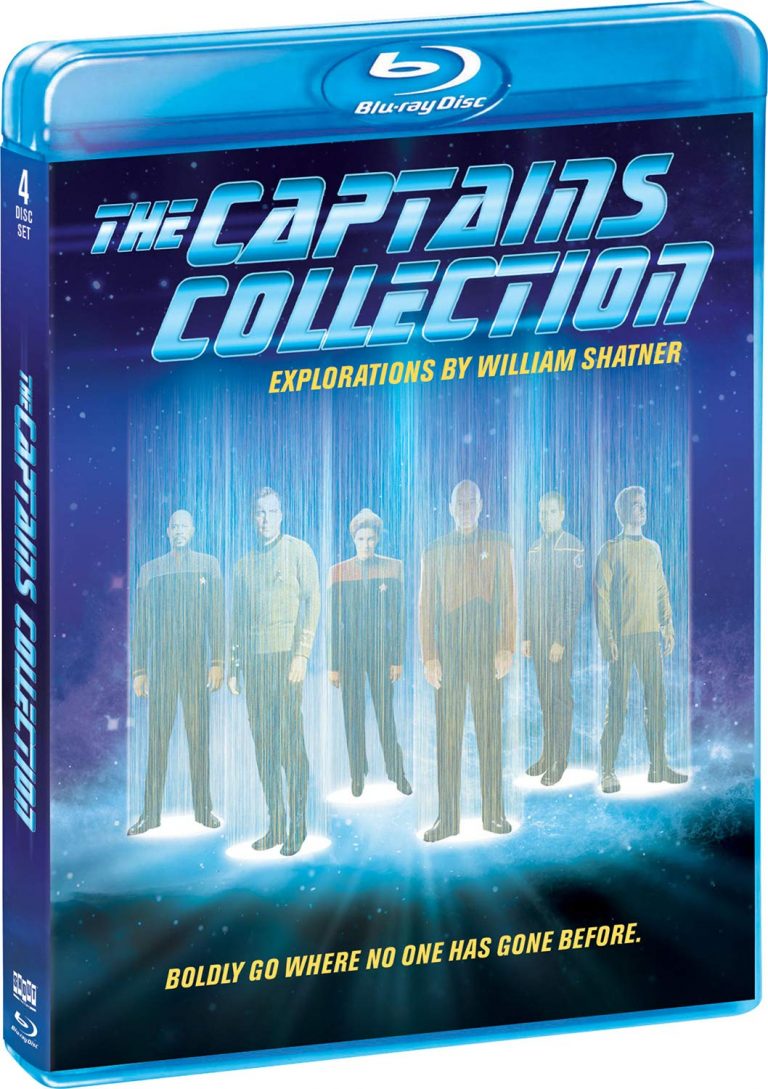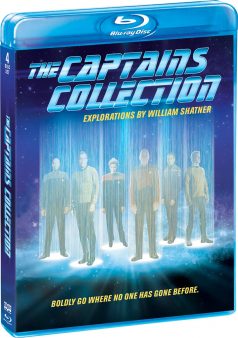 A decade or so ago, William Shatner indulged his creative side with his stylized documentary The Captains, sitting down with his fellow starship bosses for candid one-on-one discussions. Turns out that Star Trek thespian cohorts Sir Patrick Stewart, Scott Bakula, Avery Brooks, Kate Mulgrew, Chris Pine and even Christopher Plummer all have great stories to share. Their eager participation is also a testament to the charm and persuasion of–and reverence for–Shatner himself, although the impossibly affable Chris Pine does seem a bit wary in his confab, after famously taking over Bill's career-defining role of James T. Kirk.
My wife and I thoroughly enjoyed the movie shortly after its premiere, then it faded from memory, but as often happens in pop culture, it's come back as a whole thing, now with three additional platters, in fact. The Captains Close Up expanded the doc into a five-episode series by reinstating cut interview footage; the Shatner-directed Chaos on the Bridge details how Stewart's Next Generation came to be; and lastly his notorious, often tongue-in-cheek Get a Life! takes a look at Trek and Trekkies. They even managed to find a few extras to adorn this Final Frontier accessory.
---
4-Film Collections (Warner Archive)
As home entertainment continues to evolve from physical media to streaming et. al., it took a specialty label within a major studio to ensure a steady supply of our favorite movies on Blu-ray. This year, they pulled together previous individual releases into affordable, themed mini-volumes, each under $40.
The Alfred Hitchcock 4-Film Collection assembles a sampling from the great director's Warner years: Suspicion, I Confess, Dial M for Murder (in both 2D and 3D!) and The Wrong Man. Each is solid in its own way, with big stars of old Hollywood such as Cary Grant, Montgomery Clift, Grace Kelly and Henry Fonda. This also makes a fine complement to Universal's recent four-movie 4K box. The Horror Thrillers 4-Film Collection proffers lesser-known but well-liked scarers from the '80s and '90s: Abel Ferrara's Body Snatchers remake, John Landis' comedic spin on vampires for Innocent Blood, Tony Scott's more romantic take in The Hunger and then Michael Wadleigh's Wolfen. (I used to work for a guy who routinely used Wolfen as reference material. He never had the opportunity to check out this slick disc.) Lastly there's the Film Noir 4-Disc Collection with some real gems of the art form: Gun Crazy; Raymond Chandler's Murder, My Sweet; Robert Wise's look at the corrupt underbelly of the boxing world, The Set-Up; and arguably the best of the lot, Robert Mitchum in Out of the Past. The Curse of Frankenstein (covered above ) notwithstanding, Warner Archive is not generally known for creating new extras, but they've done a terrific job of porting over older audio commentaries, the occasional featurette and so forth.
---
MURPHY-PALOOZA! (all Paramount)
For you younger readers, be aware that actor/comedian Eddie Murphy practically owned movie screens for most of the 1980s, and his films are seriously re-watchable. And so props to Paramount for a bit of consumer-friendly course correction: Way back in January, they released the Beverly Hills Cop 3 Movie Collection, all remastered in 4K but all released on 1080p HD discs. Finally, likely after much request from physical media enthusiasts, they've issued Beverly Hills Cop, the first and most beloved of the trilogy, in true 4K Ultra HD… and Dolby Vision! A classic, and a must-own. But they didn't stop there: Also making its 4K debut–in regular and steelbook editions–is Coming to America, arguably Murphy's second-best comedy from the '80s with what is still one of the all-time best cameos/crossovers/callbacks. The premium Paramount Presents line has reached installment #11 with The Golden Child, remastered and in fancy packaging with some new extras, and the reissue of Trading Places arrives this time as a collectible steelbook, both of these last two on HD Blu-ray.
---
Sixteen Candles (Arrow)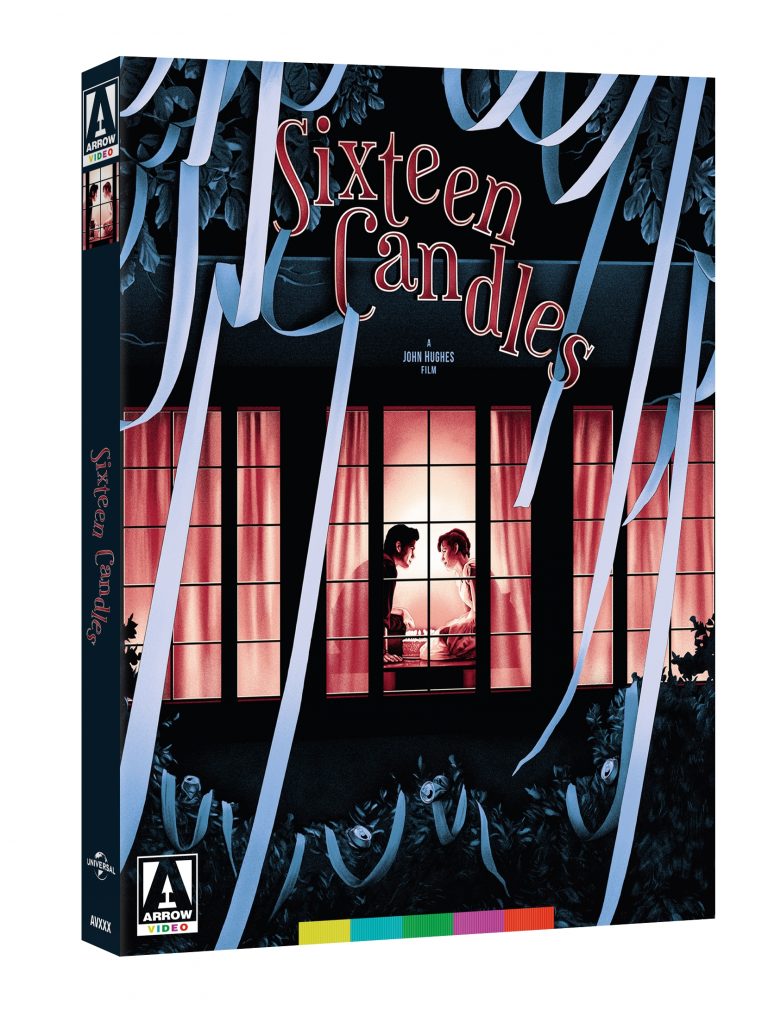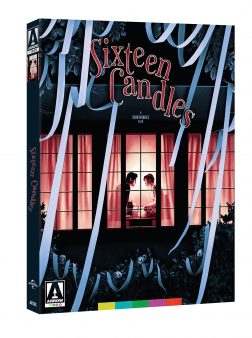 Frankly it's rare that a movie I hold so dear–I was a little too old for Sixteen Candles but I adore it anyway, as it transports me back to the halcyon summer of 1984–gets this much love. Arrow has undertaken a 4K scan and restoration from the original negative, presenting here in HD both the theatrical and extended (by two minutes) cuts, with the original lossless mono plus the notoriously butchered laserdisc/VHS soundtrack for comparison. Brand-new interviews and featurettes abound, alongside an archival documentary. And via BD-ROM, there's John Hughes' complete screenplay for his directorial debut, the one that would set the stage for the teen movie revolution.
---
Fleabag The Complete Series (Screen Media)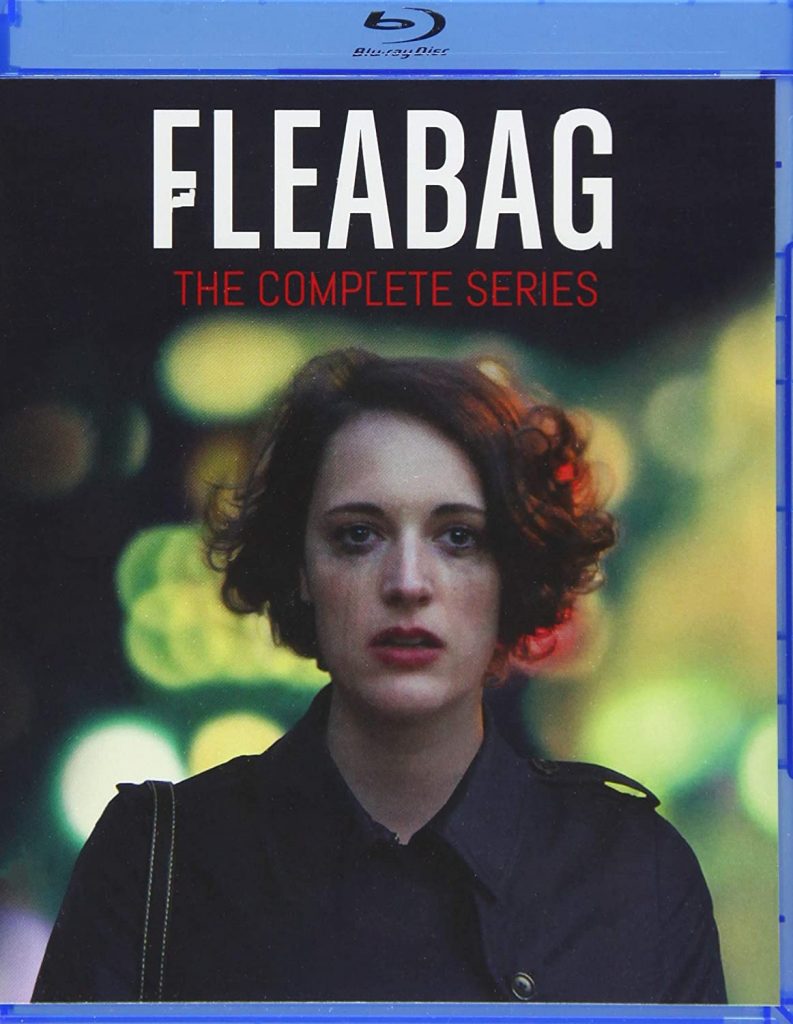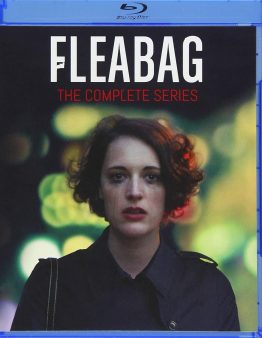 Hot on the heels of the first-season set I wrote about earlier this year come the final six episodes and goodness, do they fly by. No other TV comedy in recent memory has packed so much painful, hilarious honesty into so little run time, as star/creator/writer/everything Phoebe Waller-Bridge navigates both single life and family life with fourth-wall-breaking bon mots and a string of bad decisions. Season Two saw the introduction of Andrew Scott as The Priest (better known as "The Hot Priest," which assures my mom will never watch) in a plot that genuinely takes this show to new heights. If you own Season One on Blu-ray, rather than picking up the second-season disc, capitalist that I am, I recommend this Complete Series set (a two-disc affair in the width of a single case) and then passing along the original to a friend or loved one, if you think they can handle the unrepentant humor here. Fleabag, you are gone too soon, we hardly knew ye.


---
El Camino: A Breaking Bad Movie (Sony)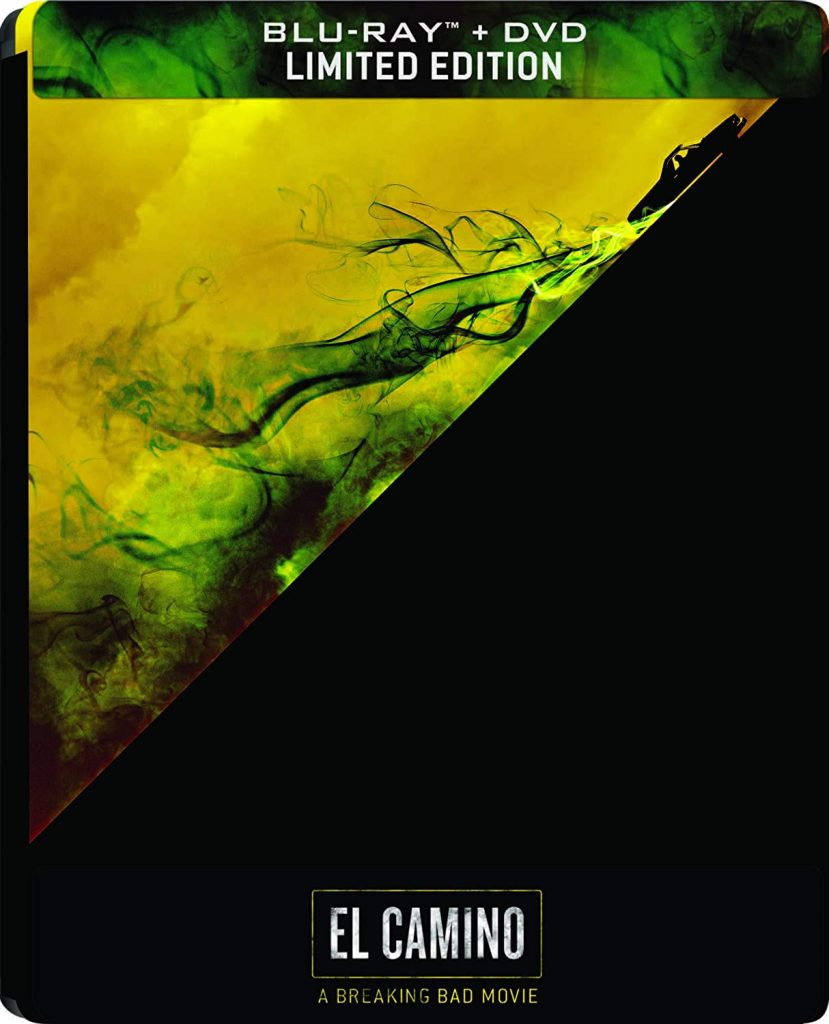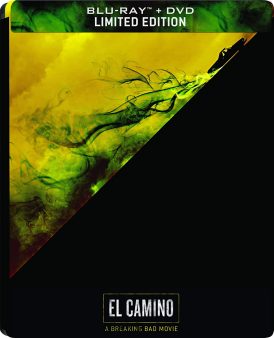 No Breaking Bad collection is complete without this 2019 epilogue of sorts, set immediately after the events of the final episode as Jesse Pinkman (Aaron Paul) is fleeing the scene of Walter White's last crime. Not gonna lie, I thought that the show ended just about perfectly, no burning questions per se, but El Camino is a welcome chance to revisit the this world and these characters, and a reminder of how much we missed them. Let's not overlook that this is a proper piece of filmmaking by writer/director/series creator Vince Gilligan, too, ambitiously framed at 2.39:1 and presented in HD from its 4K master. Understandably, there's no digital copy here (see: Netflix), but they make up for it with some killer extras starting with twin audio commentaries, one dedicated to Paul & Gilligan, the other a jam with more than 40 members of the cast and crew! It's actually more bonus goodies than you'd typically find on theatrically released feature films (back when we used to have those), with a subset of these carrying over to the bundled DVD as well, all packed into a snazzy steelbook. 


---
Chernobyl 4K (HBO)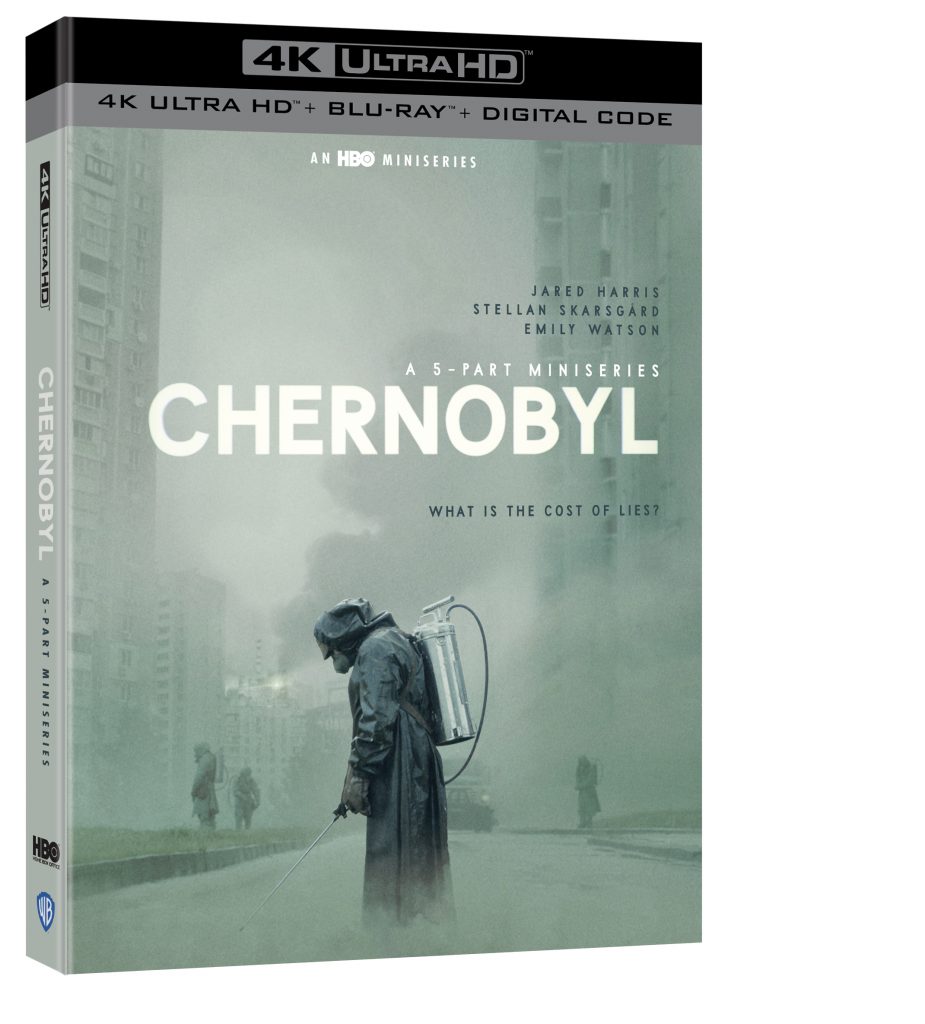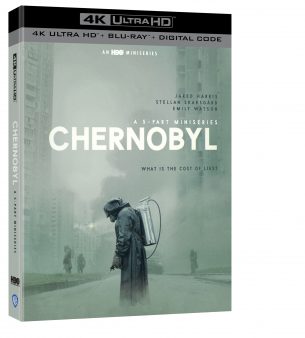 HBO scripted series tend to be marvelously entertaining, while their documentaries are wildly informative, some of the best in the business. And then there's this limited dramatic series from 2019 which detailed once and for all not only the run-up to and the aftermath of the 1986 nuclear disaster but also provided a searing exposé of the Russian social order that allowed it to happen in the first place, and managed to engage us emotionally while doing it. At the same time, we see the Russian working man as he truly is: humble, dedicated to his family, to his duty and his country, often at great cost. I'd posit that it's impossible to come away from these five hours without a different view of science, politics, and the intersection of the two. This native 4K/Dolby Vision two-disc set is highly recommended as the way to watch the seven-Emmy-winning Chernobyl, for the outstanding, effective cinematography plus its cadre of mostly illuminating vignettes.
---
The Flintstones The Complete Series (Warner)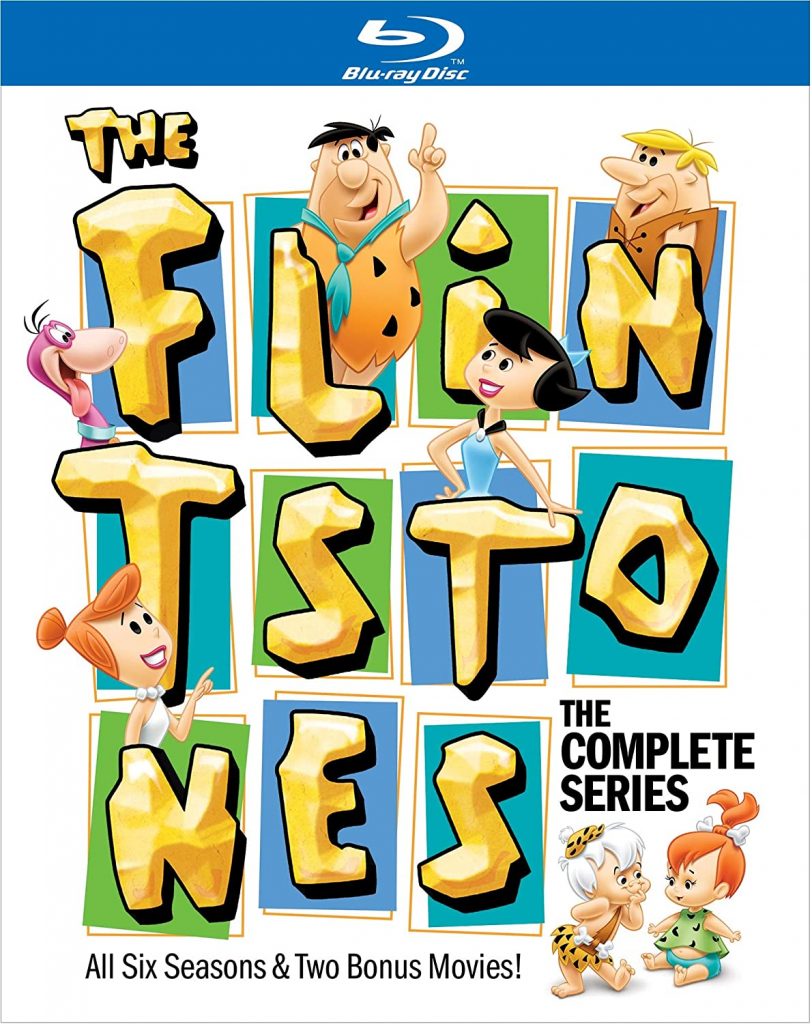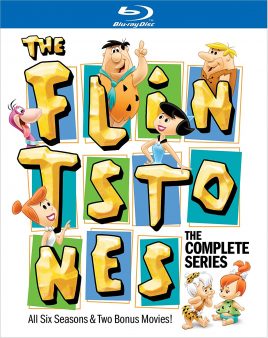 Fred & Co. were the epitome of Hanna-Barbera's small-screen animation: an enjoyably impressionistic reinterpretation of established TV tropes brought to life with every cost-cutting trick in the book in order to make it into our living rooms each week. There were goofy songs, endless puns, pop culture "homages," bizarre guest stars and more Honeymooners parallels than you could shake a club at, but it was also great fun, notably in the witty interactions between patriarch Fred and his various foils, chief among them Mel Blanc-voiced neighbor Barney Rubble. Six years is a respectable run by any measure, but the cave painting was on the wall when super-powered alien The Great Gazoo arrived in the final season, a Hail Mary ("Shale Mary"?) play that failed to keep them on the air.
The dual-mono Dolby Digital audio in this set is a letdown and the extras all appear to be ported from past releases in meh quality, even the two companion movies on Disc 10, 2015's 51-minute direct-to-video The Flintstones and WWE: Stone Age Smackdown and 1966's The Man Called Flintstone, the theatrically released coda to the series. The video quality across the episodes, however, is terrific, with crisp drawings and colors punchier than I have ever seen for this show. In this regard at least, The Flintstones have finally become a modern stone-age family.
---
Maniac 4K
Zombie 4K
Daughters of Darkness 4K Limited Edition (all Blue Underground)
Another reason to be thankful this year: Specialty label Blue Underground is still doing its thing, despite a low profile, continuing to give a handful of carefully selected genre titles prestigious treatment seldom seen for even the most sought-after mainstream fare. For these three, let's focus on their giftiness for the cinephiles who appreciate them, not necessarily the subject matter, which might not align with Hallmark-type holiday values.
Growing up in the tri-state area when I did, I came to equate the grindhouse cinema fare of late-'70s/early-'80s 42nd Street with Maniac, William Lustig's brutal, graphically violent tale of a serial killer on the loose. Despite having appeared in two Oscar-winning Best Pictures, the late Joe Spinell might best be remembered for his nuanced performance here as the emotionally tortured murderer who flirts with redemption. An unofficial sequel to George Romero's Dawn of the Dead, Lucio Fulci's Zombie forges its own path, as terrifying as any entry in the pantheon of the undead while also wildly inventive: If you've never seen the shark v. zombie fight, what are you waiting for? A decidedly "adult" horror film, Daughters of Darkness introduces us to a roving countess and her secretary, stopping at a grand Belgian hotel where the only other guests are a young newlywed couple. Forbidden desires and unnatural obsessions ensue in this one-of-a-kind contemporary look at vampires.
All have been scanned at 16-bit 4K from their original camera negatives (16mm, two-perf 35mm and "long-lost" 35mm, respectively), and all have Dolby Vision HDR with new Dolby Atmos mixes as well. I know Brandon and I say this a lot, but truthfully none of these have ever looked or sounded this good before. A vast array of bonus material has accumulated over the years, and most if not all is ported here: two archival audio commentaries per movie (plus a third, brand-new track for Daughters), with the extensive video content spilling onto a special features HD Blu-ray for each. Daughters, last visited by Blue Underground in 2011, now also includes a soundtrack CD by François de Roubaix.






---
Criminal Minds The Complete Series DVD (CBS/Paramount)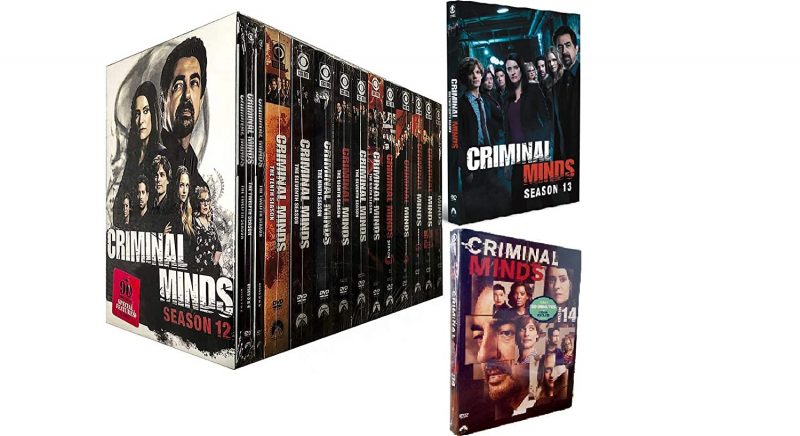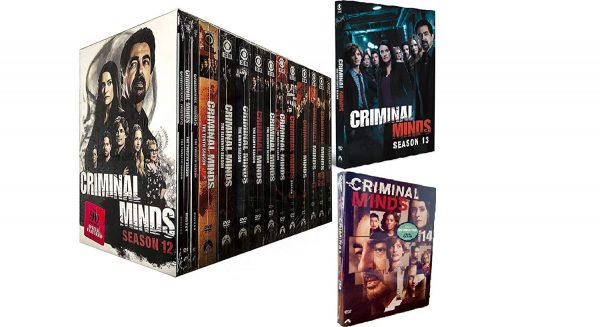 This is another one of those series that was kind on my radar, one of many such procedural dramas on CBS that quietly managed to amass a mind-blowing 15 seasons and 300+ episodes on its way to this 85-disc boxed set. The impressive cast began with Matthew Gray Gubler and Kirsten Vangsness before growing to include the likes of Joe Mantegna, Thomas Gibson, Paget Brewster, Jeanne Tripplehorn, Mandy Patinkin and a memorable roster of guest stars. These FBI profilers and their team known as the Behavioral Analysis Unit put their noggins to work stopping killers and other nasties before they struck again, and the show wound up as one of the smartest and most suspenseful hours on network TV before it was done. Collecting this many past seasons into one package means that there are many, many vintage featurettes to pore over, several audio commentaries, deleted scenes and, just to show that the BAU has a sense of humor, a few gag reels, too.
---
Gunsmoke The Complete Series DVD (CBS/Paramount)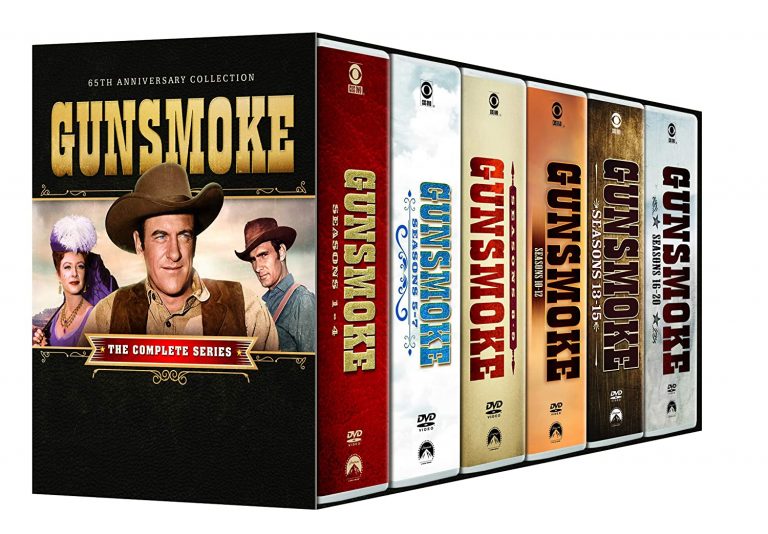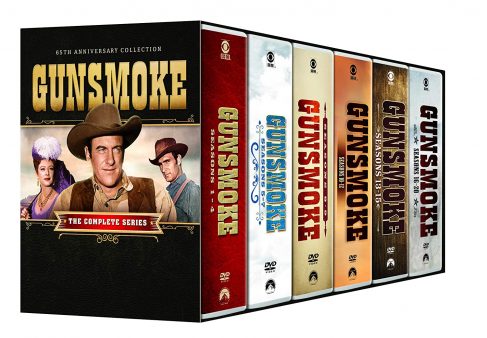 The Simpsons might be the longest-running scripted U.S. primetime television series, but they stole that crown from Gunsmoke, for generations the quintessential TV western. Its 20 seasons (1955-1975) contained a total of 635 episodes, here filling 143 DVDs, making this the most massive set I've ever come across. Gunsmoke saw the transition from 30 minutes to a full hour, from black-and-white to color, the comings and goings of several series regulars (including a young Burt Reynolds) as well as a staggering array of A-list guests, revolving directors (Sam Peckinpah!) and a who's-who of composers. At the center of it all, the noble Marshal Matt Dillon (James Arness), a tough lawman with a heart of gold, put his life on the line to protect Dodge City week after week, and set the hero bar pretty high for the rest of us at home.
Expert authors Ben Costello and Beckey Burgoine put the show into context with some often-fascinating background facts during their on-camera vignettes, for later seasons only. Costello also takes part in one of the set's two audio commentaries, these in addition to vintage promos, one of which shows the cast puffing away on L&M cigarettes. (The Flintstones, above, had the good sense to leave off their animated Winston commercials.)
---