With the good news about our progress toward reopening–yes, that includes theaters–and the warm, sunny weather arriving to lure us away from our TV screens, we need to cram in as much viewing as we can! Our top recommendations are below.
Rick and Morty The Complete Seasons 1-4 (Warner/[adult swim])
Warner has graced us with another "the story so far" set, now with all 41 adventures of cynical genius Rick Sanchez and his painfully naïve grandson Morty Smith, in time for a binge before the Season 5 premiere. A menagerie such as this makes it plain to see all of the various, curious directions the show has taken, not always to the liking of the (clears throat) extremely picky fans. I agree with those who say that the show has had its ups and downs, but I would counter that there has never been a bad episode, with jaw-dropping, mind-opening and laugh-out-loud moments every week. This slender box takes us up through the long-awaited two-part fourth season, which revealed Rick Sanchez's dream toilet before introducing us to snake jazz and a civilization of intelligent slithering reptiles with their own space program, featuring some of the best wordless storytelling of the entire series. Rick and Morty is at its best when it boldly goes to new frontiers of sci-fi, but it's not above having a bit of fun with classics like Alien and modern quasi-classics like Edge of Tomorrow too, always in the creators' own incredibly intelligent way. It's been known to riff on itself, too, as with the introduction of the lesser-quality Kirkland-variety Meeseeks.
The high-definition video is more than adequate for the deceptively simple animation, while the Dolby TrueHD 5.1 audio might surprise you with its surround details at times. The topics for the various behind-the-scenes featurettes might seem fairly predictable, but I must commend Adult Swim for their episode-specific vignettes, most no more than a-minute-and-change yet still managing to give real insight into the creative process. A foldout poster of the family is tucked inside the slipcase, along with a digital copy code now encompassing all four seasons past.

---
Damn Yankees (Warner Archive Collection)
I've been particularly fascinated by Bob & Gwen's terpsichorean partnership since watching the Fosse/Verdon miniseries on FX. In addition to her starring role as temptress Lola and his inspired choreography, Yankees features the only occasion the two performed together in a feature film. I went searching for a copy a year or two ago, only to discover that the DVD was long out of print and appropriately jacked up in price, the film was not streaming on any service I checked, and even YouTube didn't have any available clips. And so, Warner Archive's Blu-ray, sourced from 4K scan of preservation separation masters alongside DTS-HD Master Audio 2.0 mono on a roomy BD50 platter was like a godsend. Not gonna lie, the plot, the staginess and some of the songs haven't aged so great over the past 63 years, but the talents of  Gwen and Bob remain undeniable. (Fun fact: In my quest I discovered that it's also known as What Lola Wants, for squares… and for people who don't know who the Bronx Bombers are, I suppose.)

---
Thundarr the Barbarian The Complete Series (Warner Archive Collection)
Grab a bowl of Cheerios and a survival kit: It's post-apocalyptic animation for the Saturday morning crowd! Somehow, kids weren't traumatized by the sight of the runaway planet that wreaked havoc on Earth and split the moon in half, instead reveling in the adventures of Sunsword-wielding Thundarr, lovable Chewbacca clone Ookla the Mok, and sorceress Princess Ariel. (Like many viewers of a certain age, I had quite the crush on a royal highness I could name.) Two millennia after the traumatic events of fateful year 1994 (what else is the government not telling us?), the trio roams the wasteland righting wrongs, which often pits them against a slew of evil wizards, each with a different specialty. The show had quite the pedigree, too, created by noted comic book scribe Steve Gerber and produced by Ruby-Spears, with primary design work by the legendary Jack Kirby. The 21 episodes of the two seasons–1980-81–are spread across three discs, joined by a retrospective featurette rescued from a previous DVD release.

---
Harley Quinn The Complete First and Second Seasons (Warner)
Although she originated on the kid-friendly Batman: The Animated Series, Harley has evolved into an unapologetically angry, violent, foul-mouthed felon, coming to grips over a failed relationship with The Joker and forging a close but decidedly platonic friendship with Poison Ivy. Created for the now-defunct DC Universe streaming service, this gleefully MA-rated comedy-adventure seldom fails to shock and amuse. Eager to raise her cred, she assembles a crew of Z-list villains that no one else wants to work with, including Doctor Psycho (voiced by the singular Tony Hale) who's become a pariah after he calls Wonder Woman the C-word on live television. Events at the end of Season One devastate Gotham, and Season Two is thereby inspired by the 1999 "No Man's Land" story arc from the comics that sees the city cut off from civilization and carved up into territories ruled by various members of Batman's rogues gallery. Star Kaley Cuoco makes the psycho-cutie her own, in tales of hare-brained schemes and thrilling action with something to offend and entertain just about everyone. Harley Quinn manages to take a deep dive into DC canon, showing a real love and respect while making it all fresh and edgy as hell: highly recommended for comic fans with a thick skin and a funny bone.
---
Mel y Mel:
Spaceballs 4K
The Producers (both KL Studio Classics)
This is one of those instances where I can't just limit my selections and recommendations to titles I personally get jazzed about, rather I surrender to the legions who have embraced Mel Brooks' Spaceballs for more than 30 years now. For the uninitiated, it's parody of the Star Wars films from back when there were only three to skewer, with a few other classic sci-fi gems thrown in, before the plot and characters take a hard turn into the Borscht (Asteroid) Belt and go their own way entirely. It's feted and quoted by generations of fans… I just didn't think it was very funny. The new native 4K/Dolby Vision presentation however is terrific: Mel spared no expense for the special effects, tapping George Lucas' own Wars veterans at Industrial Light & Magic; as well as Apogee, Inc.; two of the best names in the business to enhance the visuals, old-school. This is a fine-looking disc. No new extras here but quite a lot is ported from DVD and Blu-ray, including a Brooks commentary.
Contrast that to Mel's very first film from 20 years prior, 1967's The Producers, released on Blu-ray day-and-date alongside Spaceballs. It in no way seeks to dazzle technically, nor is it a spoof of any film or genre, rather it was an utterly fresh high concept that won him the screenwriting Oscar right out of the gate. The chemistry between manic Zero Mostel and straight-laced-yet-corruptible Gene Wilder is simply irresistible as these would-be Broadway crooks team up with a hippie and a Nazi playwright to make the worst musical ever. Despite a sub-$1M production budget, the movie benefits from Kino Lorber's 4K restoration (albeit at 1080p here) with some wonderful period NYC scenery, most memorably an iconic shot of the Lincoln Center fountain that Channel 9 was compelled to letterbox back in their frequent 4:3 airings, eons ago. There's a new expert commentary, a fine archival documentary, plus a few surprises, too.
---
DCU: 4@4K:
Justice Society: World War II
Batman: Soul of the Dragon
Superman: Man of Tomorrow
Justice League Dark: Apokolips War (all Warner)
Warner has gone all-in with their ongoing DC Universe direct-to-video animated features, not only the ambitious storytelling but the 4K presentation quality which has been the standard for a few years now. Let's catch up: The sequel to 2017's Justice League Dark, the R-rated Apokolips War calls in special teams to do bloody battle with Darkseid himself, backed by his evil minions. They didn't skimp on the extras, with a filmmaker commentary, a mini-documentary about DC's biggest baddie, a new animated short starring Adam Strange, and more. Man of Tomorrow is a full-on reboot for the Man of Steel, with a concerted effort to ground him in today's environment of smartphones and paranoia, rendered in a friendly artistic style unlike any we've seen before. Lobo, Parasite and Martian Manhunter guest star.
An "Elseworlds" saga set outside established continuity, Soul of the Dragon is nonetheless not to be missed, teaming the Dark Knight with some obscure cohorts from the Kung Fu-fighting '70s. The action is again R-rated, with some keen attention to period detail, as explained in the fine extras. The newest movie, World War II, is aptly titled, giving us a wicked intersection of Flashes as Barry Allen discovers the Speed Force, sending him back in time to fight Nazis with Jay Garrick, Wonder Woman, Steve Trevor, Black Canary, Hourman and Hawkman as part of a golden-age super-group. It can be a little uneven but it's mostly fun, and screening these four back to back affords the chance to contrast the distinct approaches to the animation, which is superior on 4K disc when compared to the included 1080p Blu-rays. A Movies Anywhere digital copy for each is also supplied.
---
Drunken Master II (Warner Archive)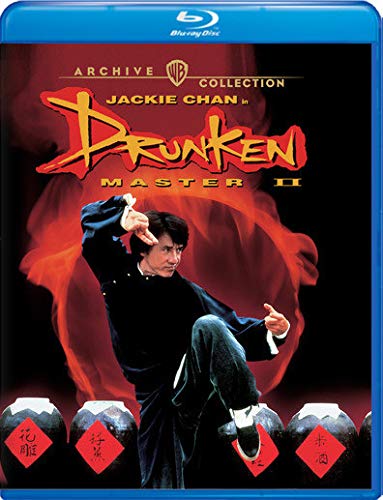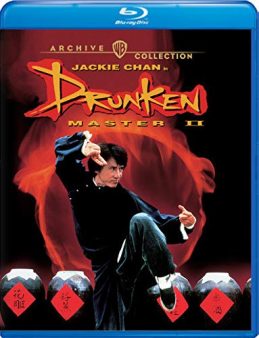 Also known as The Legend of Drunken Master, this 1994 follow-up to 1978's Zui quan might well be Jackie Chan's masterpiece. I don't say that lightly, considering his appearance in over a hundred movies across a stellar career spanning almost 60 years. Mild-mannered Wong Fei-Hung (Chan) once again becomes a formidable warrior in a distinctive, surprisingly graceful and highly effective martial arts style when he drinks, here fending off predatory westerners out to steal some priceless cultural artifacts. This movie pushed the boundaries of even Chan's own superhuman standards, as he ultimately choreographed and directed much of the movie himself, adding a layer of comedic performance over some of the most spectacular fight scenes ever captured, exceeding the sum of its parts to become something utterly thrilling and uniquely entertaining. (The late Anita Mui is also a hoot as his mom… despite being nine years his junior.) Long difficult to find as a good-quality, affordable Blu-ray, DM2 has arrived with a lovely new 4K scan of the original camera negative presented here at 1080p, packing  Chinese and English soundtracks plus a vintage English subtitle track, equivalent to Google Translate on a bad day.

---
DVD: Austin City Limits Country (Time Life)
Austin City Limits has quietly become the longest-running music show in TV history, providing a stage for musicians across all genres. For Time Life's substantial 10-disc set, they've brought together 164 performances from bona fide legends (Johnny, Willie, Waylon), contemporary superstars (Kenny, Keith, Alan) and pretty much everyone in between, captured live belting out some of their biggest hits and sharing the spotlight for some memorable collabs. There's certainly something for every country music fan here. Also included is the pilot episode from 1974, which features a full concert by Willie Nelson, in addition to backstage interviews, Q&A with some of the behind-the-scenes talent from the show, and a nicely researched booklet.
---
DVD: John Wayne Essential 14-Movie Collection (Paramount)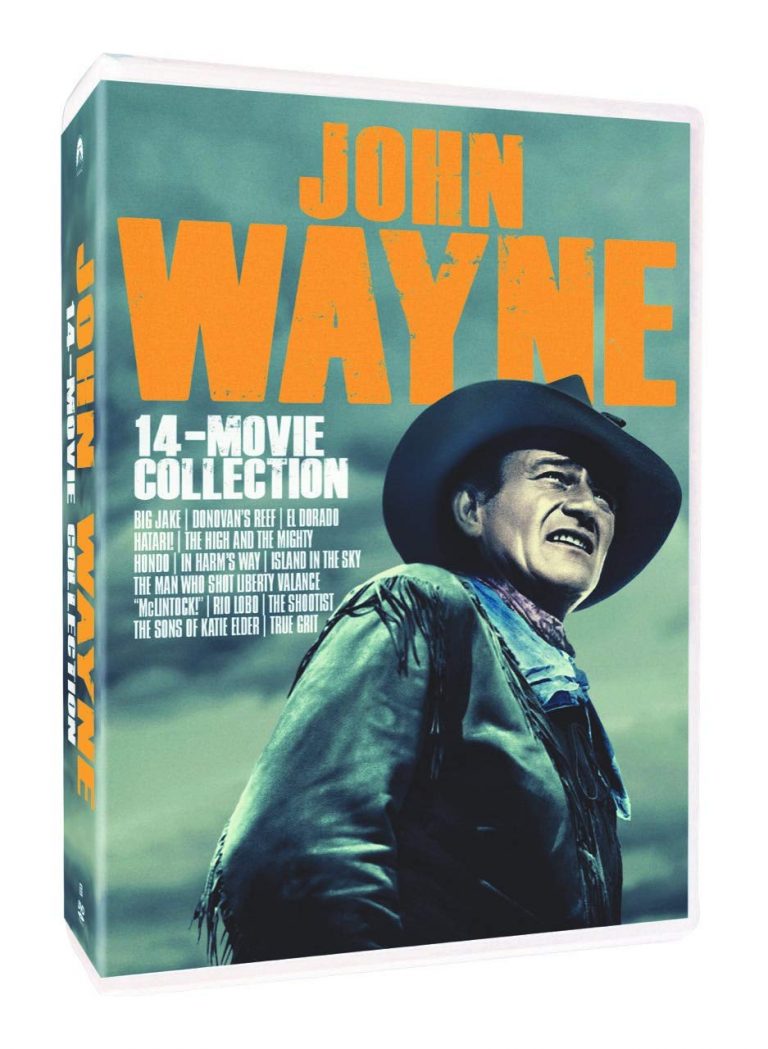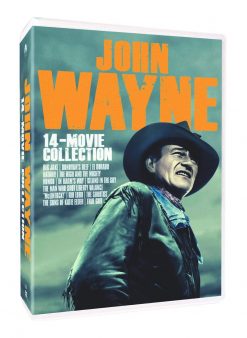 While recent revelations might have tainted my opinions of Mr. Wayne, the man, there's no denying that he was a quintessential Hollywood icon for the better part of the 20th century. The Biz was quite a different ballgame back then, and it wasn't unheard of for him to crank out as many as four movies a year, so it's no wonder Paramount was able to effortlessly amass 14 of 'em into this hefty set, dropping in plenty of time for Father's Day.
He might not have always ridden a horse or worn a cowboy hat, but in this menagerie, Wayne always plays the hero: Howard Hawks' similarly themed Westerns El Dorado (1966) and Rio Lobo (1970) are joined by the same director's Hatari! (1962), a Technicolor adventure shot on location in Africa. There's "McLintock!" (1963, The Duke sure liked his exclamation points!), Otto Preminger's In Harm's Way (1965), Island in the Sky (1953), Hondo (1953), Big Jake (1971), Donovan's Reef  (1963), The High and the Mighty (1954), The Sons of Katie Elder (1965) and John Ford's genre-redefining The Man Who Shot Liberty Valance (1962), on the way to Wayne's Oscar-winning True Grit (1969) and career-capping performance in The Shootist (1976). Most are in color, most widescreen, and more than half have been remixed for 5.1, for hours and hours of 480p enjoyment.
---
Snoopy 4-Movie Collection (Paramount)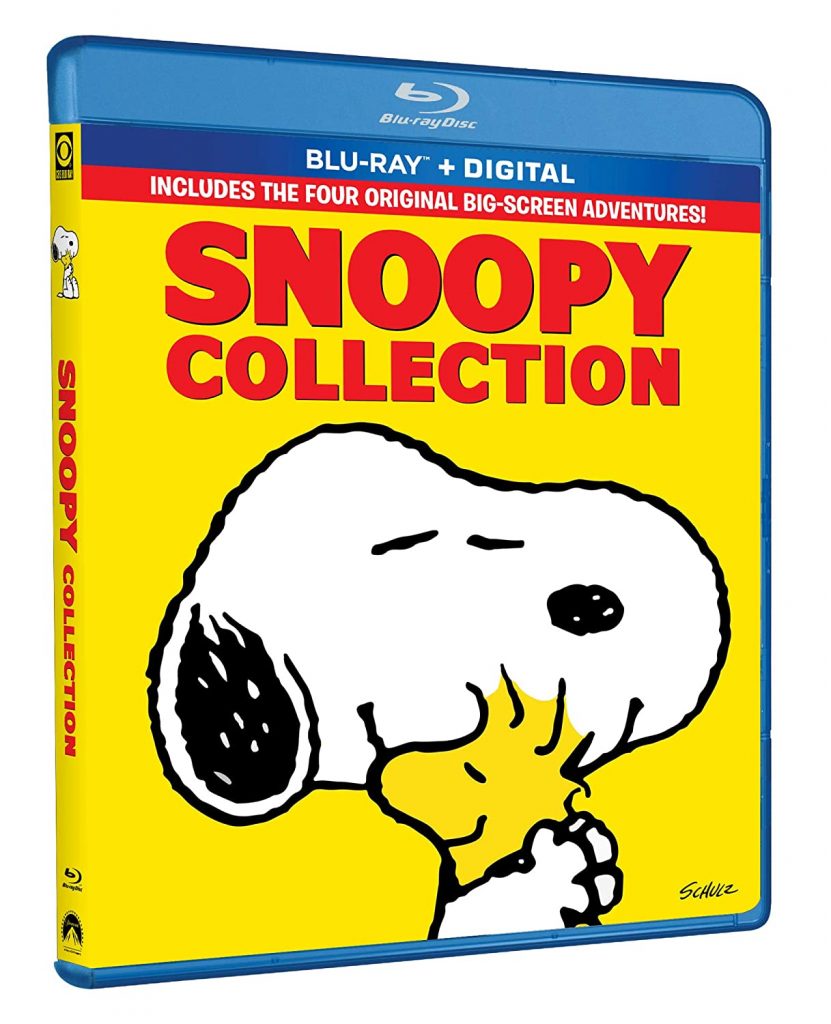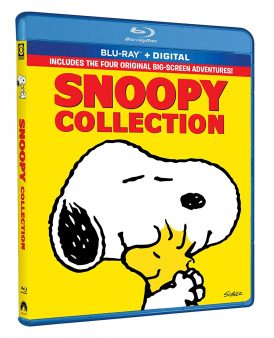 Let this theatrically released quartet transport you to a time when Charlie Brown and his semi-loyal beagle were pop culture kings. The G-rated shenanigans are still pretty charming, as the C-Man seeks his fortune at the national spelling bee, Snoopy hits the road for a reunion with his previous owner, and the Peanuts gang gets more than they bargained for at summer camp, before traveling abroad as exchange students. All of the hand-drawn originals are here: A Boy Named Charlie Brown (1969); Snoopy, Come Home (1972); Race for Your Life, Charlie Brown (1977) and Bon Voyage, Charlie Brown (And Don't Come Back!!) (1980, guess Charles M. Schulz also liked his exclamation points… and his commas, too!) The first two could be considered actual musicals, with Snoopy including a bouncy song score by the incomparable Sherman Brothers (in an attempt to capture some of their Disney magic), while the most recent pair is making their BD debut in this four-disc set.  It's lean on extras (just trailers plus a featurette for Bon Voyage) but digital copies are provided for all.

---
Dynasty (KL Studio Classics)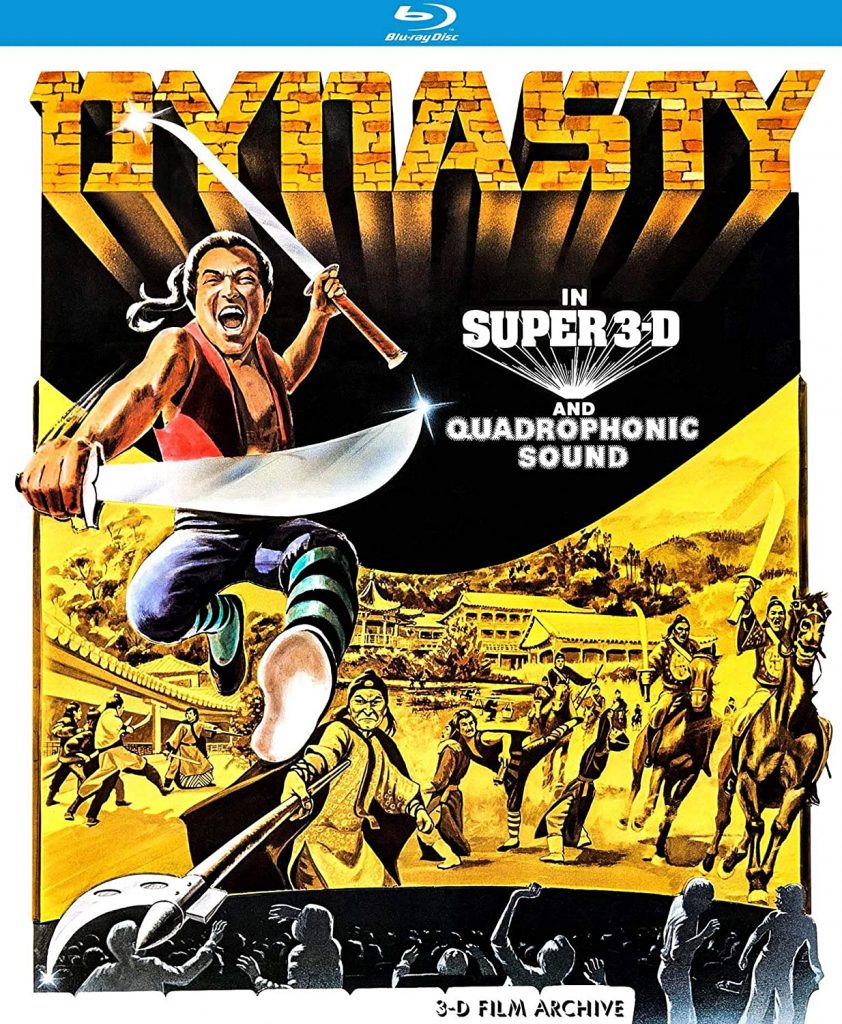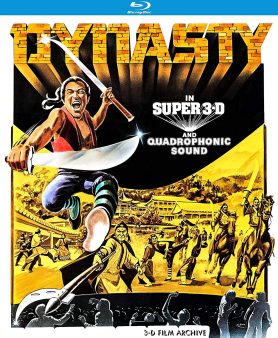 Who says 3D is dead? Kudos to Kino Lorber for rescuing this wild Chinese actioner from obscurity in a fine "Compatible 3-D" restoration from 3-D Film Archive, meaning that it's presented here in both modern polarized Blu-ray 3D (for 3D-enabled systems) and anaglyph 3D ('50s-style red/cyan), with one pair of old-school glasses supplied. The accompanying DTS-HD Master Audio 5.1 is born of the vintage quadrophonic soundtrack (new math), also refurbished. The extras are quite a treat, with some general 3D history and a look at the technology used specifically for Dynasty (at times aggressively so!), plus a 3D photo gallery, comic book and animated music video.