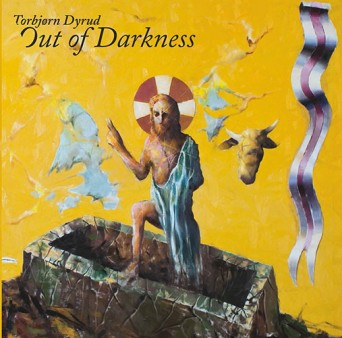 – –

The Album
[Rating:4/5]
Listeners expecting the Passion of the Christ will need to recalibrate their expectations as Torbjørn Dyrud's Out of Darkness will not give them the traditional retelling of the life, death, and bodily resurrection of Jesus. In the words of the composer, Torbjørn Dyrud, "what I want to convey in Out of Darkness Life is the light of mankind, and we can rise out of darkness."
Nontraditional as it is, this choral piece supported by two trumpets, Geir Morten Oien and Erelnd Aagaard Nilsesn, and percussionist Lars Sitter, with readings by Sarah Head, and emulates Leonard Bernstein's Chichester Psalms in its use of the modern musical idiom to express ancient beliefs.
There are many retellings of the Christ story, and revisionist as it may be in this piece there is no lack of dedication in the soloist, the chorus or instrumentalists. The playlist follows:
Prologue-In the Beginning
First Reading
First Scene: In the Garden of Gethsemane
Tristis
Interlude I
Then he returned to the disciples
Second Scene: In the Chief Priest's House
Third Reading
Third Scene: Before Pilate
Interlude II
Fourth Reading: Interrogation
When Pilate Saw
Fourth Scene: Along the way of sorrow
As they had led him away
Women who mourned and waited for him
Interlude III
Golgotha, the place of the skull
We are going to Jerusalem
My God, my God
Das Blumelein so kleine
Outside the tomb
But Mary outside the tomb crying
I have seen the Lord
Epilogue
This is a potent retelling of the last days of Jesus and is underscored by composer Dyrud's economical use of his musical forces. This approach gives us an account that is original, moving and true. It is hard to imagine a performance that could better convey the composer's intentions and convictions.
Audio Quality
[Rating:4.5/5]
The DXD 352.8kHz/32-bit resolution original recording is spectacular and does not suffer from its conversion to the Pure Audio Blu-ray 5.1 DTS-HD Master Audio or 2-channel LPCM (both 192kHz/24-bit) versions. The Nidaros Cathedral provides a most favorable venue and listeners with surround sound capability will get the full benefit of this site. Those with only two-channel playback will lose some of the substantial ambience of this recording, but will still receive a great listen.
Supplemental Materials
[Rating:4/5]
The extras include an SACD hybrid disc of this program and mShuttle downloads as MP3 and FLAC options. The program booklet provides an interview with the composer, track listings, recording credits, and a libretto.
The Definitive Word
Overall:
[Rating:4/5]
Many versions of the Christ story have been set to music with great success. The monumental passions of J.S. Bach began this tradition of choral works with narrator and instrumentalists, a tradition that has been upheld for three centuries. Add this one to that list. With superb sonics, profound lyrics, and a sense of devotion, Out of Darkness affirms what transcends our mortality and this expression of devotion will reach out and touch all of us.  A simply beautiful recording of an amazing musical experience that is easy to recommend.
[amazon-product region="uk" tracking_id="bluraydefinit-21″]B00HQSBNY6[/amazon-product]
[amazon-product region="ca" tracking_id="bluraydefinit-20″]B00HQSBNY6[/amazon-product]
[amazon-product]B00HQSBNY6[/amazon-product]