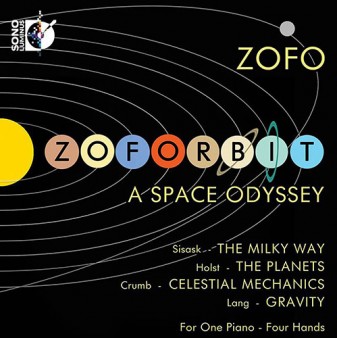 – –

The Album
[Rating:4.5/5]
A rather unique performing duo, ZOFO (Twenty Fingers Orchestra) is pianists Eva-Marie Zimmerman and Keisuke Nakagoshi who have been on stage together for the past five years. This recital Zoforbit takes its inspiration from our solar system as seen through the eyes of two well-known 20th century composers and two rising star composers of the 21st century. Three of the four pieces were specifically written for piano-four hands, while the final piece is ZOFO's own transcription of Gustav Holst's most famous orchestral work. The playlist is as follows:
The Milky Way (Urmas Sisask) (11:33): This piece uses the so-called "planetal scale" that turns out to be the same as the Japanese Kumayoshi mode or a pentatonic scale. Inspired by this Estonian composer's observations from his observation tower, it conveys the essence of space created by some unique pianistic sound effects, including the strings on the soundboard.
The Planets (Gustav Holst) (42:50):  The piano arrangement of this iconic 20th century orchestral work describes the seven known planets of the composer's era (Earth excepted). Those familiar with the original version will be amazed at the musical tour de force generated by just twenty digits.
Celestial Mechanics (Makrokosmos IV: Cosmic Dances for Amplified Piano, Four-hands) (George Crumb) (8:54): Inspired by Crumb's fascination with "Mikrokosmos," piano pieces of Bela Bartok, we get two movements, Alpha Centauri and Beta Cygni.
Gravity (David Lang) (5:08): This brief work by one of America's most lauded new composers effectively conveys the sense of falling by its musical descent.
This recital continues the dynamic performance style that we have come to associate with ZOFO and creates its own cosmos of musical wonderment.
Audio Quality
[Rating:4.5/5]
The two highest resolution versions (192kHz/24-bit) in DTS-HD Master Audio 5.1 and LPCM 2.0 stereo formats of this Blu-ray Audio both do a remarkable job in conveying the unique sound properties of the piano, its big sonorities, percussive effects, and overtones. Both audio accounts are superb, the former being somewhat more spacious.
Supplemental Materials
[Rating:4/5]
The booklet gives us good background pieces on each work and the artists involved in this album. A standard resolution audio CD will delight those listeners without Blu-ray capability. The added bonuses of MP3 and FLAC versions extend these performances to those who access their music from computers.
The Definitive Word
Overall:
[Rating:4.5/5]
This third offering in the Sono Luminus ZOFO discography is another revelation in to how much excitement that twenty fingers can generate. While two of the selections may be familiar to aficionados of 20th century music, the performance of Holst's The Planets in its four-hand transcription is absolutely riveting. The newer compositions exploit the many tonal colors that keys, hammers, pedals, and strings can generate. Come to this disc with no preconceptions and be prepared to leave it completely amazed!
[amazon-product region="uk" tracking_id="bluraydefinit-21″]B00K1JSQHO[/amazon-product]
[amazon-product region="ca" tracking_id="bluraydefinit-20″]B00K1JSQHO[/amazon-product]
[amazon-product]B00K1JSQHO[/amazon-product]