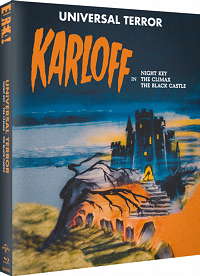 In the trio of films collected here as Universal Terror from Eureka Classics we get three films starring the iconic Boris Karloff from the vaunted vault of Universal, well known for its classic horror films. The one catch here is only two of the films are horror. Night Key has Karloff starring as a retired inventor pushed out by the security alarm company he once worked for. Now in possession of an invention that can render their locks and alarms useless, he sets off on a fun spree of burglaries to get them to pay him what he is owed, until a group of gangsters kidnap him for his device and things turn serious. In The Climax, the sole film in color in this collection, shot in vibrant technicolor, Karloff plays the house physician at an Opera house whose insane jealousy leads him to violence when the latest young phenom's voice reminds him of his dead mistress. In The Black Castle a group of people are held captive in a mad count's castle and Karloff plays a doctor who tries to save them from the madness.
Of the three films, spread across two discs in this new collection, The Climax is the most visually compelling, while The Black Castle is the most familiar given its strong gothic horror elements. In all three, Karloff is brilliant, but he is most out of type in Night Key, where he still turns in a wonderful performance.

The Video
Night Key and The Black Castle are presented from 2K scans of fine grain film elements and The Climax is presented from a 2K scan of the interpositive. All three films come in their original aspect ratio of 1.37:1 in AVC 1080p encodements on Blu-ray Disc from Eureka Classics. While none of these transfers come from the original camera negatives, they look remarkably good given their provenance and hold up very well. Yes, the grain is a little thicker and the contrast and dynamic range a bit narrower than they could have been, but everything looks clean and organic with a remarkable amount of detail, nevertheless. The two black and white films, Night Key and The Black Castle, have stark contrast and inky blacks without crush. The Climax, shot in three-strip technicolor, shows vibrant colors from its interpositive scan.
The Audio
Each film in the set comes with a LPCM 2.0 mono track of its original mix. These tracks sound full and as clear as can be given the ages, sources, and technologies used. The music in The Climax sometimes sounds a bit harsh and thin, but it's unavoidable given the age.
The Supplements
The audio commentaries provided for all these films are excellent. I really enjoyed the commentary for The Climax and The Black Castle given the casual, friendly tone and yet informative nature of each of them.
Limited-Edition O-card Slipcase (First 2000 copies)
A Limited Edition Collector's Booklet featuring new writing by Karloff expert Stephen Jacobs (author of Boris Karloff: More Than a Monster) (First 2000 copies)
Night Key
Audio Commentary by Kevin Lyons & Jonathan Rigby
Trailer (1080p)
Stills Gallery (1080p)

Production Stills
Artwork and Ephemera
The Climax
Audio Commentary by Kevin Lyons & Jonathan Rigby
Trailer (1080i/60)
Stills Gallery (1080p)

Production Stills
Artwork and Ephemera
The Black Castle
Audio Commentary with Stephen Jones & Kim Newman
Stills Galleries (1080p):

Production Stills
Artwork and Ephemera
The Final Assessment
An out of the ordinary but entertaining selection of Boris Karloff performances out of the Universal vaults nicely restored and transferred to Blu-ray in this collection from Eureka Classics.
Universal Terror: Three Films Starring Boris Karloff is out on Blu-ray in the UK on 18 July 2022 from Eureka Entertainment's Eureka Classics label.
---
Rating Certificate: UK-PG
Studios & Distributors: Universal Pictures | Eureka Entertainment
Directors: Night Key (Lloyd Corrigan) | The Climax (George Waggner) | The Black Castle (Nathan H. Juran)
Run Time: 237 min.
Street Date: 18 July 2022
Aspect Ratio: 1.37:1
Video Format: AVC 1080p
Primary Audio: LPCM 2.0 Mono
Subtitles: English SDH