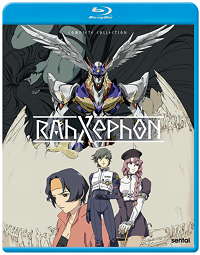 RahXephon is the Japanese anime television series created and directed by Yutaka Izubuchi. The mecha series is set in a near-future Tokyo and revolves around the 17-year-old male protagonist Kamina Ayato. his life as a student is disrupted when he finds himself caught in a multi-dimensional war between humans and creatures called Mulians. The Mu are creatures normally indistinguishable from humans, but they have immense powers, and their blood is blue. Ayato, it is uncovered, has the ability to control a powerful mecha known as the Xephon used to fight invading Mu – but his connection to this machine and the multi-dimensional war it is later revealed is much deeper than he ever expected.
RahXephon is a multilayered action-drama that draws on many influences from the genre. Yutaka's series makes no bones about dipping into the well and drawing up buckets-full of Neon Genesis Evangelion, with its heavy doses of metaphysical and spiritual ponderings. That's not to say it doesn't stand on its own, because it does and in many ways outstrips Evangelion by going off into places that Evangelion never went. There are also elements here indicative of its era. One can't help but notice similarities to Cowboy Bebop, another big series from the same year, in both the jazz-influenced soundtrack and some of the character designs.
Overall, this series has earned a spot as a classic mecha series in its own right with its gorgeous animation, compelling is at times slow story arc, solid character development, and slightly philosophical bent.
RahXephon (TV) (Anime Series) (2001)
The Video
RahXephon is obviously upscaled from a standard definition video source to a 1080p AVC encodement framed at 1.33:1 for this Blu-ray release. While it is not and will never be one of the best-looking HD transfers since it was not done on film or in high definition, the new upscale and higher bandwidth of Blu-ray give it a slightly cleaner look than on DVD and definitely improve upon any streaming versions.
The Audio
RahXephon is provided with the original Japanese-language mix in DTS-HD Master Audio 2.0 Stereo and the English dub in DTS-HD Master Audio 5.1. My preference here is for the Japanese track as it is the one, I first encountered this series with and I like the performances of the cast better. Furthermore, the 5.1 mix for this series doesn't bring much to the table other than some very subtle atmospherics in the surround channels and a mild boost in the low frequencies.
The Supplements
This collection is stuffed with just about everything a fan of this series could want to watch, including the movie adaptation, the two OVA specials, interviews with both the Japanese and English cast and crew and more.
RahXephon: Pluralitas Concentio (Blu-ray, HD, 1.33:1; Japanese DTS-HD MA 5.1; English DTS-HD MA 5.1) – Movie Adaptation of the Series. It uses most of the material from the series but adds a few scenes and changes the ending. I prefer the series even if the movie moves at a more palatable pace.
Special Features Blu-ray
Special 1 – "Her and Herself" (1080p; 00:15:32)
Special 2 – "Memory" (1080p; 00:35:41)
Fate of Katun Music Video (SD; 00:04:58)
Production Art (1080i; 00:02:25)
Production Sketches (1080p; 00:09:07)
Original Japanese Cover (1080p; 00:01:08)
Japanese Previews (1080p; 00:04:54)
Japanese BD & DVD Promos (1080p; 00:02:15)
Clean Opening Animations (1080p)
Clean Closing Animation (1080p)
Additional Extras from the Archive:

Interview with Hiroki Kanno (SD; 00:09:26)
Interviews with the Japanese Staff & Cast of RahXephon (SD; 00:20:17)
Interview with English Cast (SD; 00:13:48)
Interview with English Cast II (SD; 00:42:27)
Interview with English Cast – Finale (SD; 00:44:13)
The Final Assessment
This collection will be a boon for fans of this now twenty-year-old series. It has become 'classic' in the annals of anime and deserves the moniker for multiple reasons. Sentai Filmworks bring it all together here in a set well worth owning for any otaku worth their salt.
RahXephon (Complete Collection) is out on Blu-ray July 12, 2022 from Sentai Filmworks

---
Rating Certificate: TV-14 (VS)
Animation Studio: Bones
Distributor: Sentai Filmworks
Director: Izubuchi Yutaka
Written By: Konaka J. Chiaki | Ichirō Ōkouchi | Ōnogi Hiroshi | Enokido Yōji | Takayama Fumihiko | Izubuchi Yutaka | Iso Mitsuo
Run Time: 770 Mins.
Street Date: 12 July 2022
Aspect Ratio: 1.33:1
Video Format: AVC 1080p
Primary Audio: Japanese DTS-HD MA 2.0 Stereo
Secondary Audio: English DTS-HD MA 5.1
Subtitles: English SDH