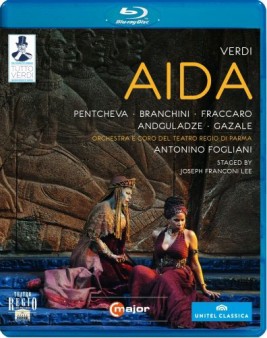 Mouse-over Cover Art for Details
Click thumbnails for high-resolution 1920X1080p screen captures
(The below TheaterByte screen captures were taken directly from the Blu-ray Disc and losslessly compressed in the PNG format. There should be no loss of picture quality with this format. All screen captures should be regarded only as an approximation of the full capabilities of the Blu-ray format.
The Performance
[Rating:1/5]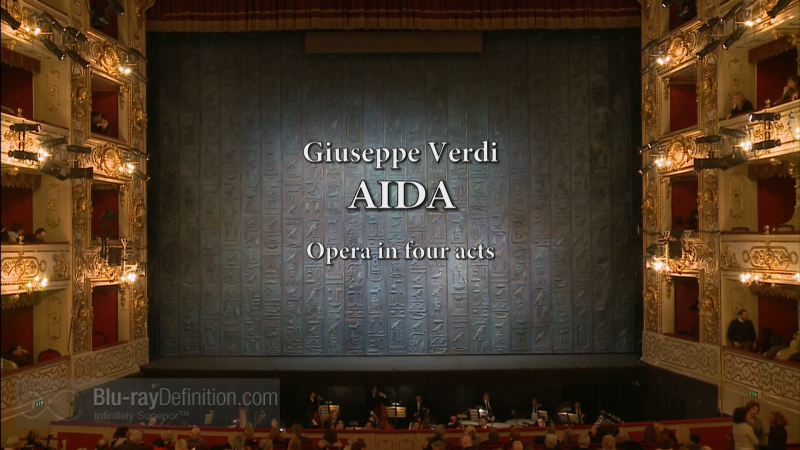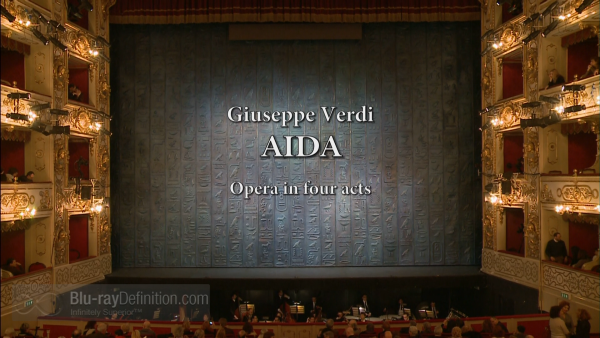 Mention Grand Opera and Giuseppe Verdi's Aida usually comes to mind. This 2012 Tutto Verdi series contribution comes the Teatro Regio di Parma, the most frequently represented opera house in this twenty-six Blu-ray Disc collection, intended to mount all of the Maestro's works by 2013, his centenary year.
Like a number of Verdi's music dramas, the plot revolves around a love triangle, in this case the principals being Radames, an Egyptian Army commander (Walter Fraccaro), Amneris, Princess of Egypt (Mariana Pentcheva), and Aida (Susanna Branchini). To complicate matters further, Aida is the daughter of Amonasro, the King of Ethiopia (Alberto Gazale).  Although Amneris has her eyes on Radames, he has fallen in love with Aida.  Eventually, led by Radames, the Egyptian forces defeat the Ethiopian troops and, among those captured, is King Amonasro. Father and daughter reunite and the King convinces her to extract military secrets during a clandestine tryst with Radames. Matters go terribly wrong as Radames is discovered in this plot by none other than Amneris. Although, Amneris gives him an opportunity to save himself, Radames prefers to be tried, convicted, and sentenced to burial alive. Entombed, he finds that Aida has hidden herself there to be with him in death.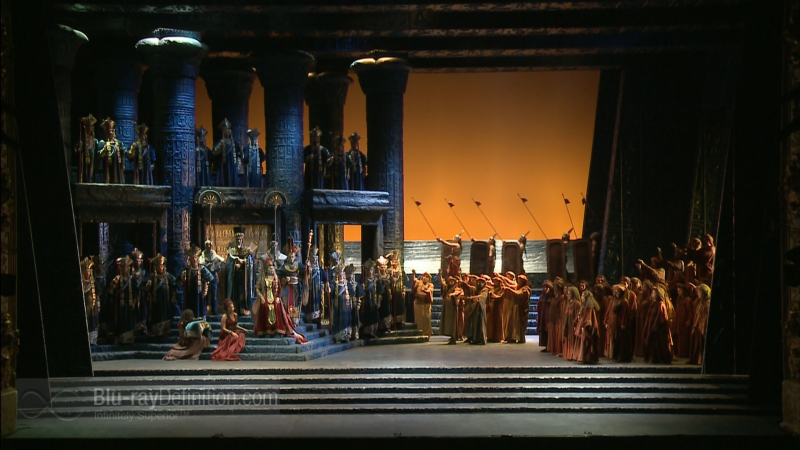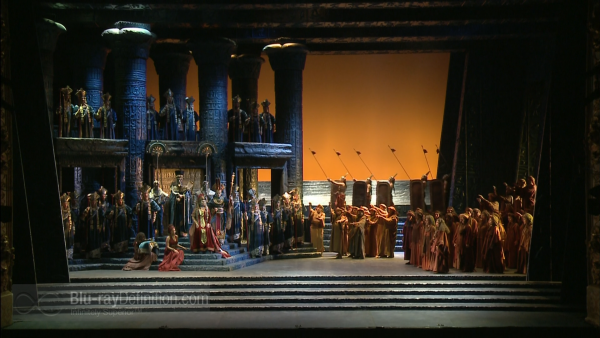 Youthful conductor Antonino Fogliani has already made considerable inroads into the Verdi repertoire and leads his Parmese forces with strength in the large-scale moments and sensitivity in the more intimate ones.  Unfortunately, from a vocal perspective, this is a largely disappointing affair.  Soprano Branchini (whom I last saw in Attila in the same house) certainly looks the part of Aida but she is simply not up to the extreme demands of this role either in its forte passages or its touching pianissimos.  Pentcheva (the Preziosilla in a recently reviewed Forza del Destino) has a vibrato-riddled voice that offers up many sour notes.  Our tenor, Fraccaro, delivers one of the worst "Celeste Aida" renditions that I have ever heard, ignoring the composer's vocal instructions at every turn. Of the three low-voiced male principals, the King of Egypt (Carlo Malinverno) and High Priest Ramfis (George Anguladze) both sounded over parted while baritone Gazale turns in a solid if not distinguished contribution. The vocal saving grace of this production, if there is one, is the excellent work by the Parmese chorus.
Video Quality
[Rating:4/5]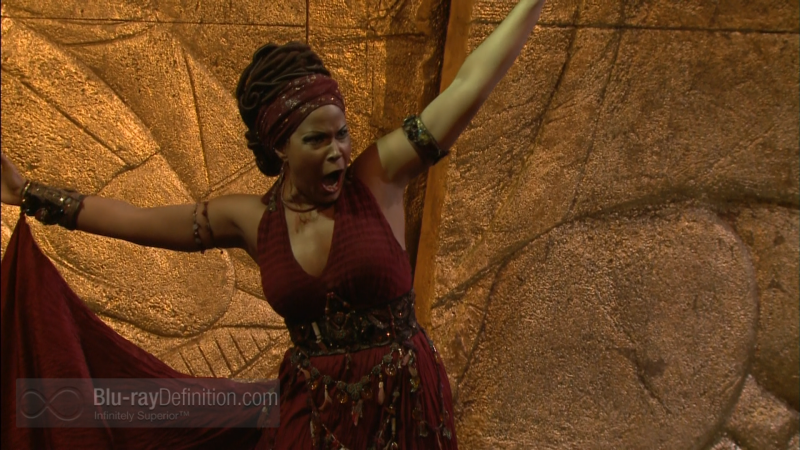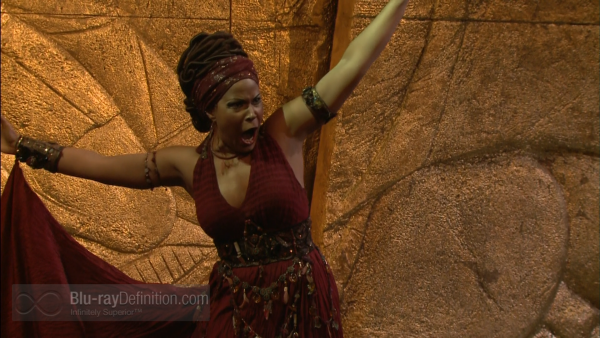 I am continually amazed by the video magic wrought by Tiziano Mancini's cameras, making this small stage look much larger than it really is.  The costumes are a strange mishmash of styles, only the Egyptian Royal family and High Priest looking remotely Egyptian. Sets have a "home-made" appearance and fall short of the spectacular that this opera requires. Colors and details are up to snuff with a nice balance of full stage and close ups.
Audio Quality
[Rating:3/5]
The dts HD-MA 5.1 surround sound track sounded a little muddy to my ears with voices occasionally overwhelmed by the orchestra. The two-channel version was nearly as "good."
Supplemental Materials
[Rating:2/5]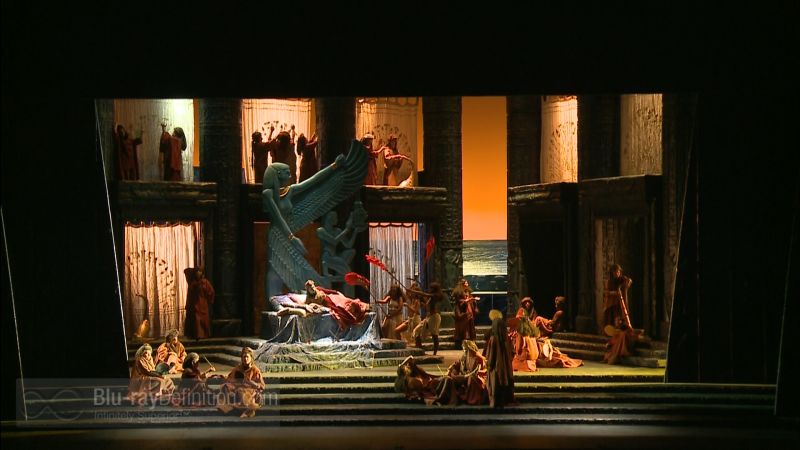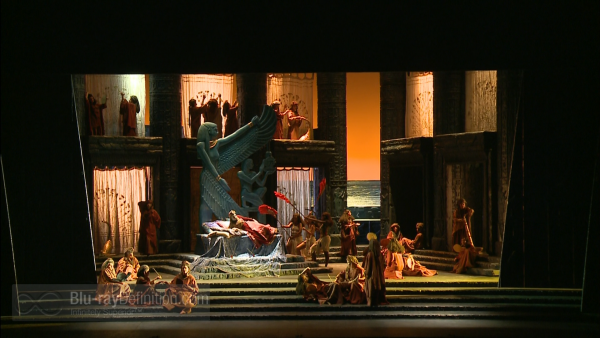 The Tutto Verdi series features a 10-minute background feature with shots from the production that give a background of the opera's creation and a visual synopsis. The program booklet gives a nice essay on Verdi's creative process, a synopsis, and musical selection tracks.
The Definitive Word
Overall:
[Rating:1.5/5]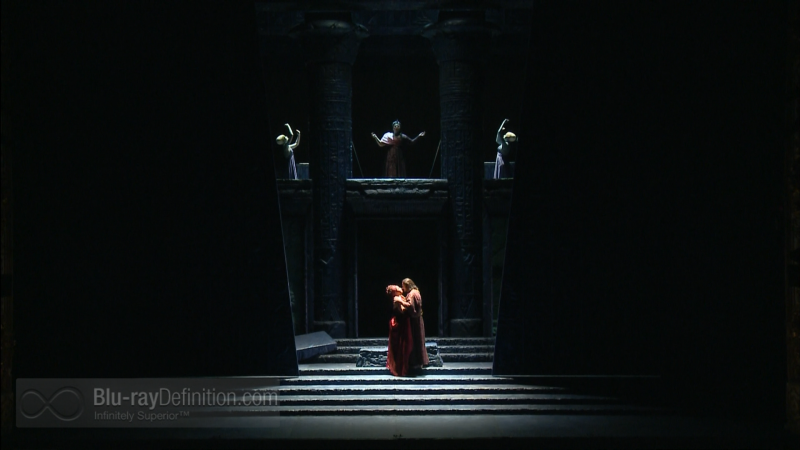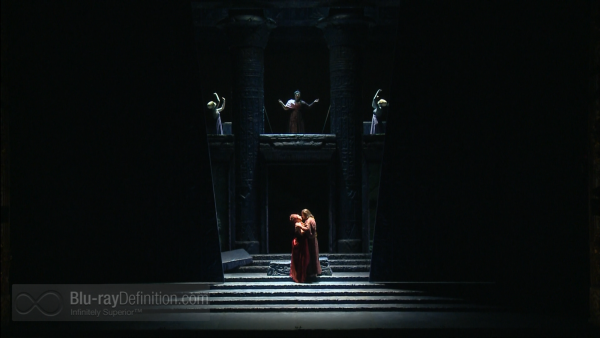 There are now, including the present offering, five Blu-ray Discs of Aida, two of which have been reviewed on this site, the Bregenz Festival "Waterworld" performance and the Florence May Festival rendition. Neither yield very satisfying accounts of this grand opera. The other two available productions use the huge, visually striking Zeffirelli staging but  are vocally mixed bags. This most recent Blu-ray Disc is the worst of the bunch by a significant margin and possibly near the bottom of the entire Tutto Verdi series. With the exception of a competent account of Amonasro (but who goes to Aida for this character?), the other principals are nearly unlistenable. Only the choral performance and some nice work in the pit from maestro Fogliani confer any value at all to these rather dismal proceedings.  As I have stated before, and still maintain, the 1989 Met Opera DVD with Aprile Millo, Placido Domingo and James Levine is the one to get.
 Additional Screen Captures
[amazon-product region="uk" tracking_id="bluraydefinit-21″]B0094AH33O[/amazon-product]
[amazon-product region="ca" tracking_id="bluraydefinit-20″]B0094AH33O[/amazon-product]
[amazon-product]B0094AH33O[/amazon-product]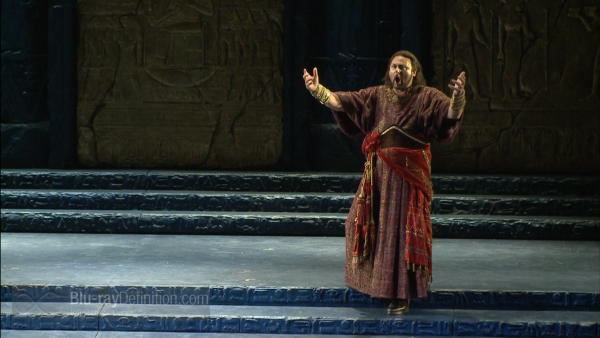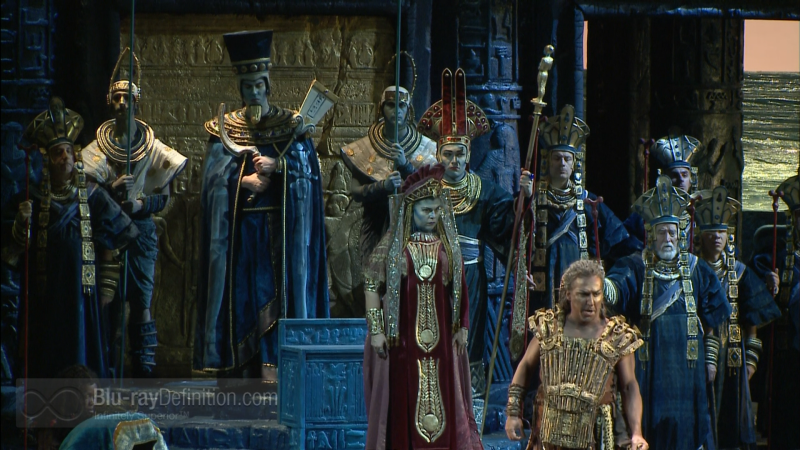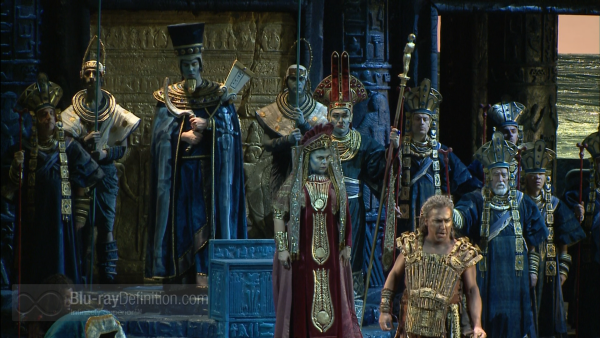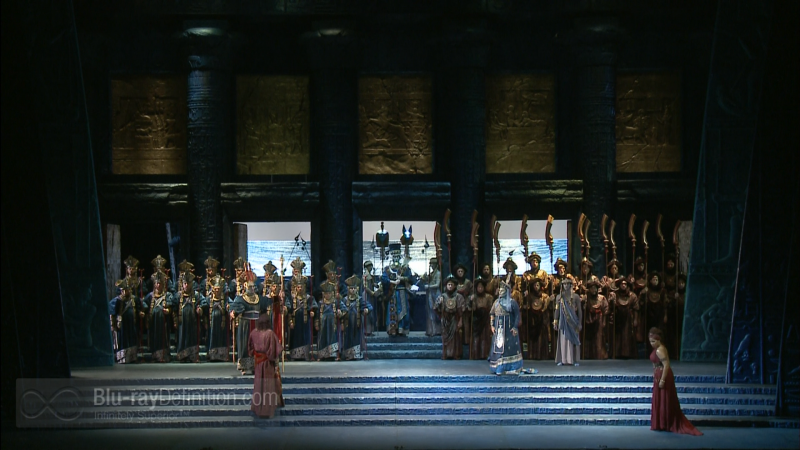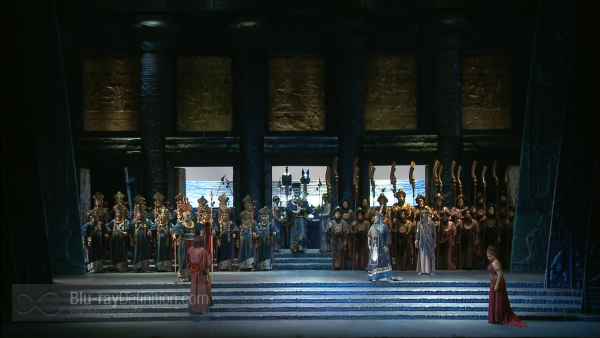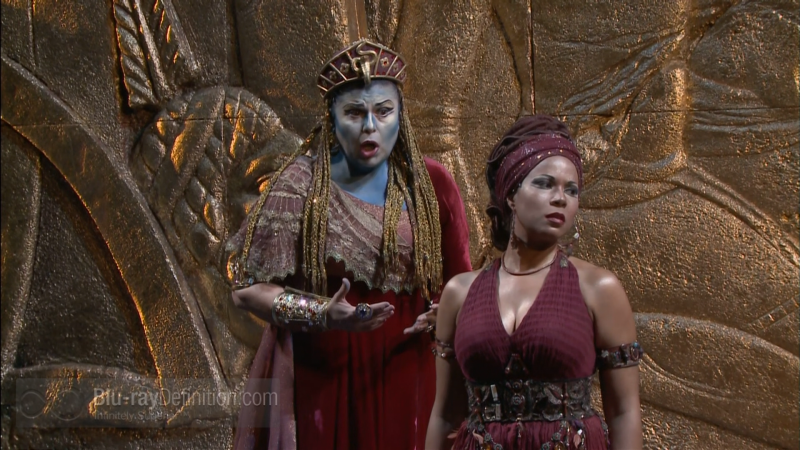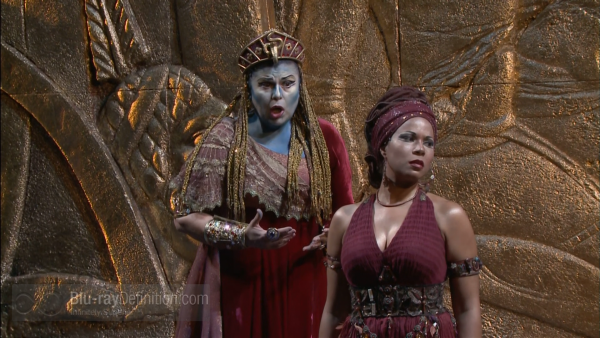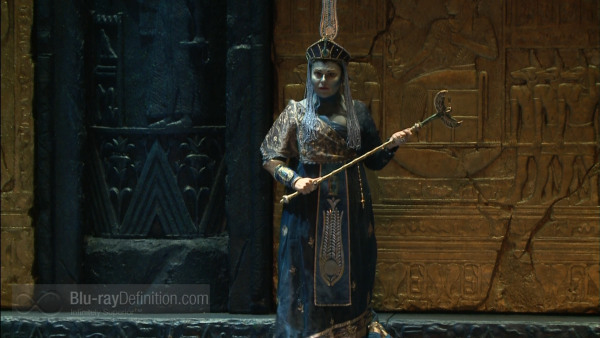 [amazon-product region="uk" tracking_id="bluraydefinit-21″]B0094AH33O[/amazon-product]
[amazon-product region="ca" tracking_id="bluraydefinit-20″]B0094AH33O[/amazon-product]
[amazon-product]B0094AH33O[/amazon-product]