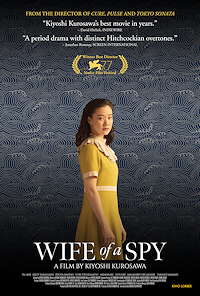 Kiyoshi Kurosawa (Pulse, Cure, Tokyo Sonata) won the Silver Lion (Best Director) at the Venice Film Festival for Wife of a Spy, a Hitchcockian thriller shot in 8K.
The year is 1940, and Japan has joined the Tripartite Pact with Germany and Italy. Satako (Yu Aoi) is the wife of wealthy business owner Yusaku (Issey Takahashi.) She quickly becomes concerned after a business trip Yusaku goes on to Manchuria. It's during this trip that Satako is visited by a childhood friend turned military policeman officer. Satako is informed that her husband's business has some less than legal aspects to it. Satako struggles with whether or not she should address this with her husband (women, at this time, especially in Japan, aren't really suppose to 'speak' up or show signs of intelligence.) At the same time, she's trying to give her film career a go via a modest melodrama.
One of the strongest aspects of Wife of a Spy lies in how Kurosawa deals with this time in Japanese history. Taking place beginning in 1940, Kurosawa and screenwriter Ryusuke Hamaguchi deal with this tumultuous time in Japanese history with suspense, intrigue and a pace in film that (while slow towards the beginning of the film,) quickly relays its message. Here we deal with country loyalty to a fault, themes of gender inequality, as well as espionage.
On top of all this, Aoi's performance is nothing short of remarkable. The fact that in her heart, she has ideas that her husband may not be completely up front with her, but she can't just confront him. This leads to a palpable amount of tension that keeps the audience engaged throughout.
Another bright point is the cinematographer Tatsunosuke Sasaki and the use of varying colors that all but help to convey thematic issues. Creamy daylight colors and military greens offer up a palette that really brings home all these themes Kurosawa and company want.
All in all, Kurosawa has made a film, one of which is a must see for fans of his career, but also one that newcomers to his style can easily watch with no knowledge of who he is. Well recommended.
Wife of a Spy opens 9/17 at IFC Center in NYC before expanding to select theaters and virtual cinemas nationwide: https://bit.ly/wifeofaspy
---
Rating: NR
Studios & Distributors: C&I Entertainment | ENBU Seminar | Incline | Kirinzi | NHK Enterprises | NHK | Weroll | Kino Lorber
Country: Japan
Language: Japanese | English
Run Time: 115 Mins.
Aspect Ratio: 1.85:1
Director: Kiyoshi Kurosawa
Written By: Ryûsuke Hamaguchi | Kiyoshi Kurosawa | Tadashi Nohara
Release Date: Ryûsuke Hamaguchi | Kiyoshi Kurosawa | Tadashi Nohara